Melania Trump, the wife of U.S. presidential candidate, Donald Trump, is in hot water for plagiarizing the 2008 speech of then First Lady in waiting, Michelle Obama. There are similarities between Trump's speech last night at the

R

epublican National Convention and Obama's words from the Democratic National Convention 8-years priors. Ironically, Michelle Obama's speech plagiarized the works of Saul Alinsky.
The individuals that wrote Melania Trump's speech did her a great disservice. This was her debut on the political stage. It was not the time to steal from others. Actually, it's never the right time to steal from others, as it is morally wrong. Trump is a university educated woman who speaks five languages. She's no fool. Next time she should rely on her own words.
..........................................
Barack Obama's acts of plagiarism
Obama has taken his plagiarism to new heights, in having resentful, disgruntled FBI agents spy on scientists, doctors, scholars, journalists and bloggers, then relay private, hacked emails, computer documents and transcripts of their illegally recorded calls to him, which he then uses in his speeches and political policies, without permission or credit. Obama is unlawfully mining innocent people's emails, computers, calls for his personal use, which is dishonest, highly unethical and criminal.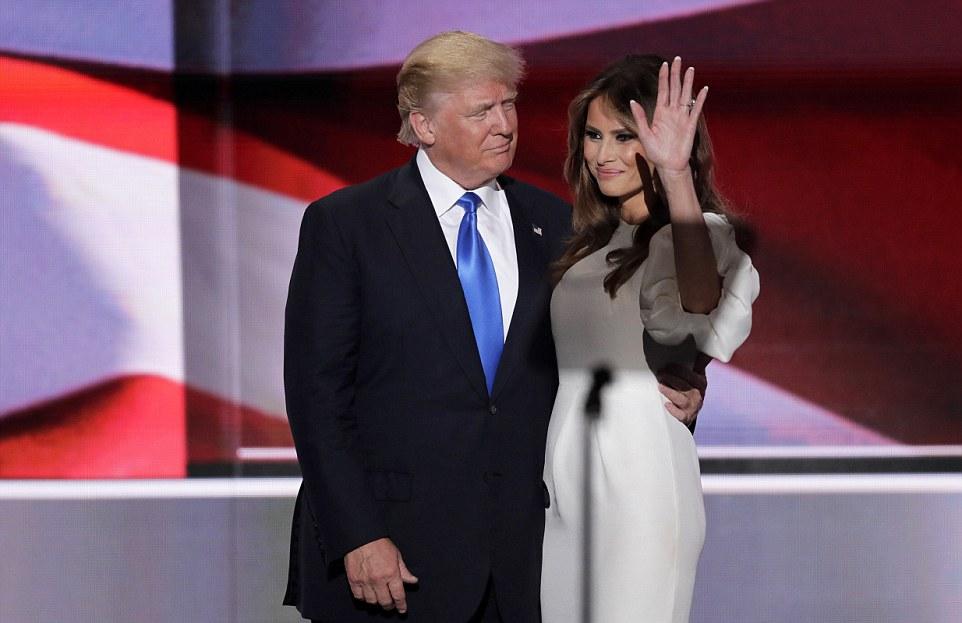 Donald Trump and Melania Trump
Both Obamas have plagiarized this time stamped, copyrighted website on noted occasions and that of many of my blogging peers, who have publicly complained of the president lifting items from their work without attribution. Presidential candidate, Hillary Clinton, has also been plagiarizing people's work left, right and center for her speeches. Not to mention, it looked crazy the way Clinton kept mimicking the words and actions of former rival Bernie Sanders. Anyone of sound mind who is incapable of independent, original thought is a poor leader.
The grand issue with such behavior is this tells the public you are incapable of thinking for yourself and thereby unqualified. It also sets a terrible example for the nation, promoting a culture of theft and dishonesty from the government stage.

A

nyone who wishes to reason this poor, dishonest conduct away, do remember universities kick people out for plagiarism.
STORY SOURCE
Michelle Obama Copied Alinsky in Speech Melania Trump Allegedly Plagiarized
19 Jul 2016 - Melania Trump, wife of imminent Republican presidential nominee Donald Trump and potential First Lady, faces accusations of plagiarism after several passages in her speech to the Republican National Convention in Cleveland appeared to echo lines from Michelle Obama's speech to the Democratic National Convention (DNC) in Denver. Trump's wife joins Hillary Clinton, Barack Obama and Joe Biden as accused plagiarists. Even Michelle Obama was accused of plagiarizing part of her own 2008 DNC speech.
Barack Obama: "Don't tell me words don't matter." As then-Sen. Barack Obama (D-IL) surpassed Hillary Clinton in the Democratic primary, largely on the strength of his oratory, Clinton said that Obama's record was "just words." Obama responded in a speech whose refrain was lifted from then-Massachusetts Gov. Deval Patrick. The Obama campaign did not even bother to refute the claim. Instead, it circulated examples of lines that it said Clinton herself had borrowed from Obama. The left media defended Obama, saying that he had not committed plagiarism, but merely, at worst, "poor footnoting."
Hillary Clinton: "No bank can be too big to fail, no executive too powerful to jail." After the Obama campaign accused Clinton of stealing lines in 2008 — a claim supplemented by The New Republic, which accused her of stealing lines from then-Sen. John Edwards (D-NC) — she ought to have learned her lesson. But in 2016, she stole lines from Sen. Bernie Sanders (I-VT), who responded by telling NBC News' Meet the Press, jokingly: "We're looking into the copyright issues here." Clinton was accused of lifting other lines, too — and Sanders supporters responded on Twitter with the wry hashtag: #StealtheBern.
Joe Biden: "My ancestors who worked in the coal mines…". Biden was found to have borrowed heavily from the oratory — and the biography — of British Labour Party leader Neal Kinnock, without attribution. In addition, it was discovered he had committed plagiarism while in law school. The scandal helped bring down Biden's presidential campaign in 1988 — though Biden's angry outburst at a reporter — "I think I probably have a much higher IQ than you do, I suspect" — didn't help, either.
Michelle Obama: "…the world as it should be." In 2008, the aspiring First Lady was accused by bloggers of lifting lines for her DNC speech from Saul Alinsky. Alinsky wrote, in Rules for Radicals (emphasis added): "The standards of judgment must be rooted in the whys and wherefores of life as it is lived, the world as it is, not our wished-for fantasy of the world as it should be." Michelle Obama said: "And Barack stood up that day, and he spoke words that have stayed with me ever since. He talked about 'the world as it is' and 'the world as it should be.'" (Perhaps Mr. Obama who left out the attribution.)...
Posted Tuesday, July 19th 2016 - The mainstream media is up in arms about similarities between passages found in the speech delivered by Melania Trump during Monday's Republican National Convention and a few lines from the 2008 Democratic Convention speech delivered by Michelle Obama. However, it wasn't too long ago that the media turned a blind eye when President Barack Obama was busted plagiarizing some of the most memorable lines from his speeches.
In 2008, then-candidate Obama was found to have plagiarized the speeches of former Massachusetts Governor Deval Patrick on a number of occasions. "I am not asking anyone to take a chance on me, I'm asking you to take a chance on your own aspirations," Patrick said in a speech delivered in June of 2006. Obama repeated the line verbatim in a speech in South Carolina in November of 2007. In addition, Obama's famous refrain of "just words" in a 2008 speech was lifted directly from a speech Governor Patrick delivered in October of 2006.
When the Clinton campaign cried foul, The New York Times reported: With the next round of voters set to weigh in on the Democratic presidential race, Senator Hillary Rodham Clinton's campaign on Monday accused Senator Barack Obama of committing plagiarism in a weekend speech. Mr. Obama dismissed the charge as absurd and desperate.
Mr. Obama told reporters he should have credited Gov. Deval Patrick of Massachusetts, a friend, for a passage in a speech he delivered on Saturday in Milwaukee. But Mr. Obama said his rival was "carrying it too far." While the Obama campaign might have been dismissive of the charges, the video evidence made it absolutely clear that the then-Illinois Senator did indeed lift passages directly from Governor Patrick. Take a look for yourself:


FLASHBACK: Obama plagiarized — George W. Bush!
July 19, 2016 - As the media whips up controversy over Melania Trump's speech to the Republican National Convention on Monday, they likely won't remind voters about the times President Obama was accused of lifting words from others. For George W. Bush speechwriter Marc Thiessen accused Obama of plagiarizing portions of President Bush's 2007 State of the Union address.
Talking to Megyn Kelly about Obama's 2014 State of the Union speech, Thiessen said, "It was eerily familiar. There were lines like 'Our job is to help Americans build a future of hope and opportunity, a future of hope and opportunity begins with a growing economy, a future of hope and opportunity requires that all citizens have affordable and available healthcare, extending opportunity and hope depends on a stable supply of energy,' all of that came from the 2007 State of the Union from George W. Bush." He added, "Barack Obama has gone from blaming George W. Bush to plagiarizing George W. Bush."...