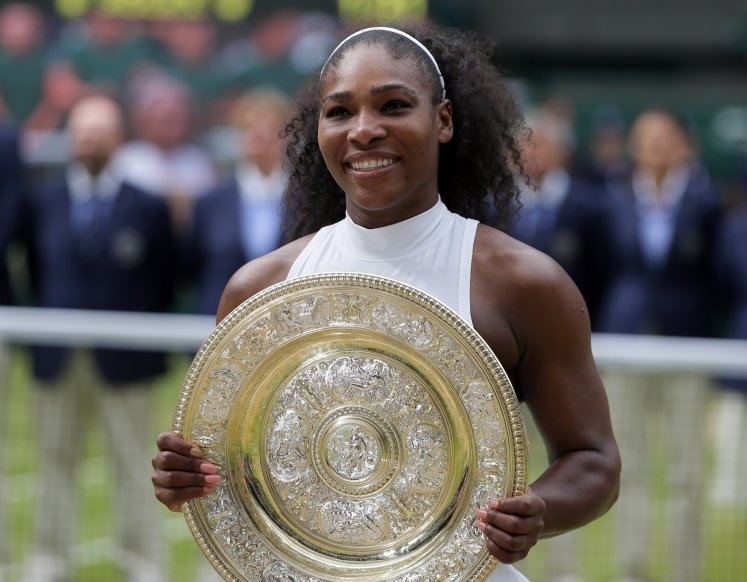 Serena Williams
Singer Beyonce and her cheating husband Jay Z are two attention seekers. They go to public events for publicity and half the time don't know what's going on. This past Saturday was no different. The clueless couple attended the women's final at Wimbledon in England in support of tennis superstar, Serena Williams, who clinched the title in a sensational, hard fought victory. Congrats to Serena.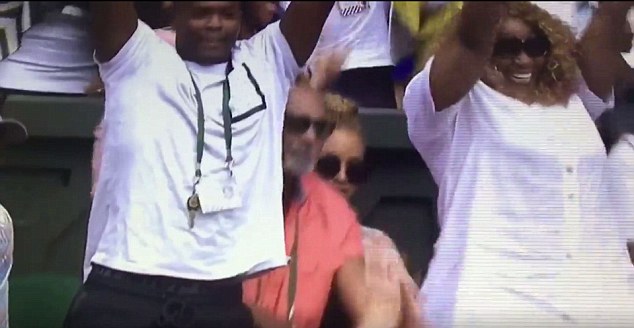 Beyonce still not getting the fact Serena won and is sitting down looking confused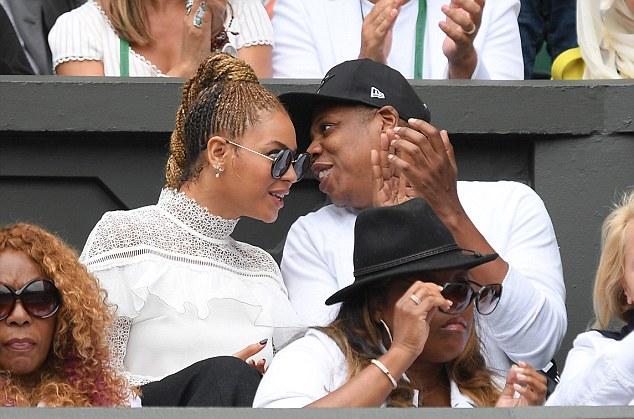 Beyonce to Jay Z: what happened? Did Serena get a free throw or a three pointer?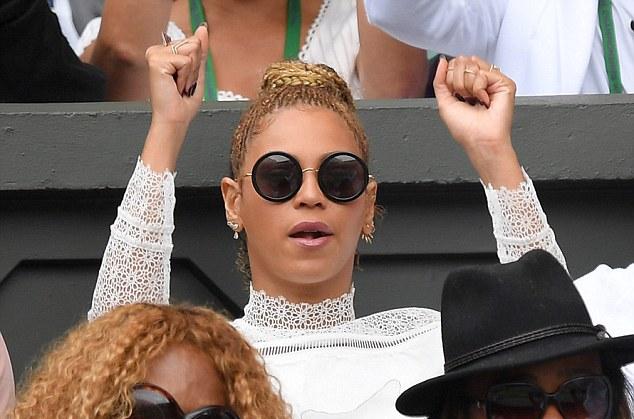 Beyonce's delayed reaction after everyone finished cheering

When Williams won, she collapsed to the ground in exhaustion and jubilation. However, Beyonce still didn't get it that Williams had won. Beyonce, who really isn't too bright, in what is not really a secret on social networking, is now being mocked for cheering too late in what is being referred to as a delayed reaction. After all these years of knowing Williams and attending a few tennis matches for publicity, Beyonce and Jay Z still don't understand the game.
STORY SOURCE
'She don't know a thing about tennis!' Beyonce is mocked on Twitter over her hilarious 'delayed reaction' to Serena Williams' Wimbledon victory
Published: 03:55 EST, 11 July 2016 | Updated: 10:14 EST, 11 July 2016 - Beyonce and Jay-Z were at SW19 supporting Serena Williams on Saturday. But when Williams won her match point, Beyonce didn't seem to notice. Star looked confused before finally rising to her feet as the penny dropped. Twitter was awash with comments about Beyonce's delayed reaction. Williams made tennis history, equalling Stefi Graf's 22-title record.
It was a moment that propelled Serena Williams into tennis history books...but it seemed to pass the biggest star in the audience by. Beyonce, 34, joined husband Jay-Z and sports fans on Centre Court on Saturday afternoon to watch the women's world number one - and her close friend - Serena clinch her 22nd career title.
But it seems the global pop icon isn't exactly au fait with how you win a tennis match. When Serena hit the winning shot to defeat opponent Angelique Kerber 7-5, 6-3, the crowd leapt to its feet - but it took Queen Bey a little longer to register what had actually just happened. Moment of victory: Beyonce and her husband Jay-Z appear to be still engrossed in the game on tenterhooks while Serena Williams' family are about to launch themselves from their seats in joy as Serena wins.
What happened? While the rest of Serena's box rose to their feet as the 34-year-old world number one captured her 7th Wimbledon title, Beyonce looked a little confused. Earlier in the match; a braided Beyonce, sat next to husband Jay-Z had gestured her support for her friend...