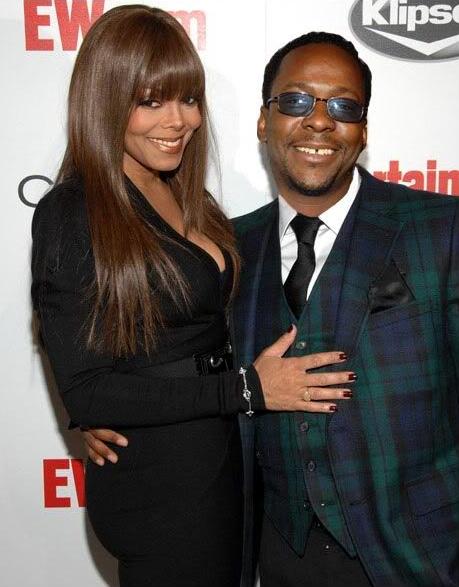 Janet Jackson and Bobby Brown
In the 1980s and 1990s, singer Bobby Brown was the Chris Brown of his day, in terms of being the top R&B star in music and struggling with a drug problem. Bobby Brown dated several female singers such as Karyn White, Janet Jackson and the late Whitney Houston. Brown later married Houston. Brown has written a tell all book in the form of a biography. In the book "Every Little Step" after his massive hit song of the same name, Brown stated he did not like the way the late singer Michael Jackson interacted with his sisters Janet Jackson and LaToya Jackson.

Brown stated, "Michael loved playing jokes on people, so he kept running through the house and smacking his sisters on the a**." Jackson is now under renewed scrutiny in the press, even in death, as evidence surfaced this week indicating he was a pedophile, who kept a stash of photos of underage nude boys, as well as pictures of children being tortured.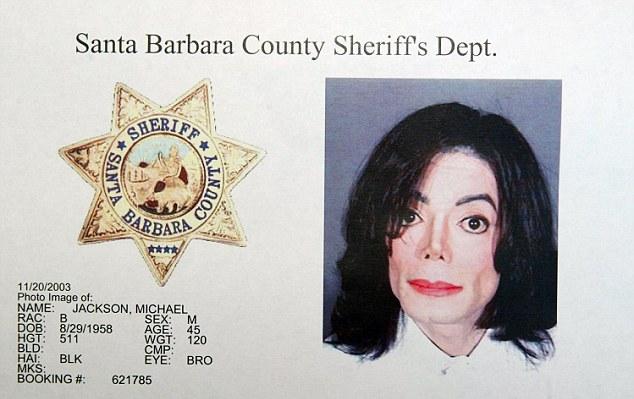 Michael Jackson's mug shot on child molestation charges in 2003
Brown also stated Janet Jackson dumped him after her father Joe Jackson insisted they break up. Brown, who had a bad image at the time, due to his drinking, drug taking and womanizing, was angry at the news from Jackson, "Cursing the whole time, I pulled her out of bed and pushed her out of the room, naked."

Jackson is now married to Muslim billionaire, Wissam Al Mana. In 2015 Jackson revealed to MTV she nearly committed suicide after converting from Christianity to Islam in order to marry him. Jackson is finding it very difficult to handle what she says are the restrictions that come with being a Muslim stating such as wearing a full black abaya, not being able to drive, listen to music or wear designer clothes.

STORY SOURCE
Michael Jackson Exhibited Bizarre Sexual Behavior Around Sisters, Bobby Brown Claims The King of Pop was allegedly too touchy with Janet and LaToya
Posted on Jun 8, 2016 @ 6:48AM - Before his 2009 death, Michael Jackson had been accused of acting inappropriately around children many times. But now, in his upcoming memoir, Bobby Brown claims the late King of Pop exhibited bizarre sexual behavior around his own sisters as well. Brown claims he befriended Jackson soon after the "New Edition" singer rose to fame in the late '70s. When the teen heartthrob met up with the star and his sisters, Janet and LaToya, at the famous family's Encino, California, home, he couldn't help but notice the siblings' strange relationships.

"Michael loved playing jokes on people, so he kept running through the house and smacking his sisters on the a**," Brown recalls in Every Little Step: My Story, out June 14. But Brown wasn't exactly creeped out by the touchy-feely interactions. "I don't even know why he thought it was funny to slap his sisters on the a**, but I was certainly enjoying it, too!" he says.

Years later, Brown would go on to date sexy singer Janet. "We were young, horny, and extremely taken with each other," he boasts of the tryst. Much to Brown's chagrin, she ended the relationship at her controlling father Joe Jackson's demand. "Cursing the whole time, I pulled her out of bed and pushed her out of the room, naked," he claims.
http://radaronline.com
'I Almost Committed Suicide'- Janet Jackson



August 12, 2015 11:00 am - Sister to legendary Pop icon and music artist, Michael Jackson, Janet last month was reported to be quitting the entertainment industry because of her new religion. Janet who is married to Quatari Muslim Billionaire Wissam Al Mana, disclosed that she almost committed suicide because of the restrictions and burden her new life and religion brought upon her, saying it was not an easy transformation.


According to MTV News, she revealed that she has been deprived of almost everything in life, as she cannot listen to music, drive a car, wear designer clothes only the "Black Abaya" and cannot even move outside her residential home, in Doha as she is always surrounded by heavily armed security men. Janet further added that, her new song feat J.Cole "No Sleep" says it all from her marriage, to the difficulties involved in adapting to her new life, the stress involved in being a Muslim wife and the regrets she had due to the choices she made.