You Know When Voting Time Is Near, As Everybody's Business Starts Coming Out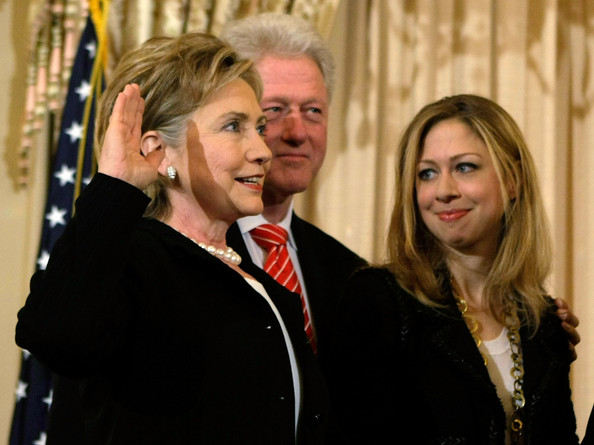 Hillary Clinton, Bill Clinton and their daughter Chelsea Clinton

Sally Miller, a former Miss Arkansas, who did a tell all alleging current U.S. presidential candidate, Hillary Clinton is a lesbian (which has been stated by many), took cocaine and had an abortion when then boyfriend, now husband, Bill Clinton knocked her up before they got married. Miller, who had an affair with former President Bill Clinton, stated he has a small penis alleging he is, "Hung like a child." Those are some serious allegations. The gay rumors have circled Hillary Clinton for years, with many stating she is having a lesbian affair with her aide,
Huma Abedin
.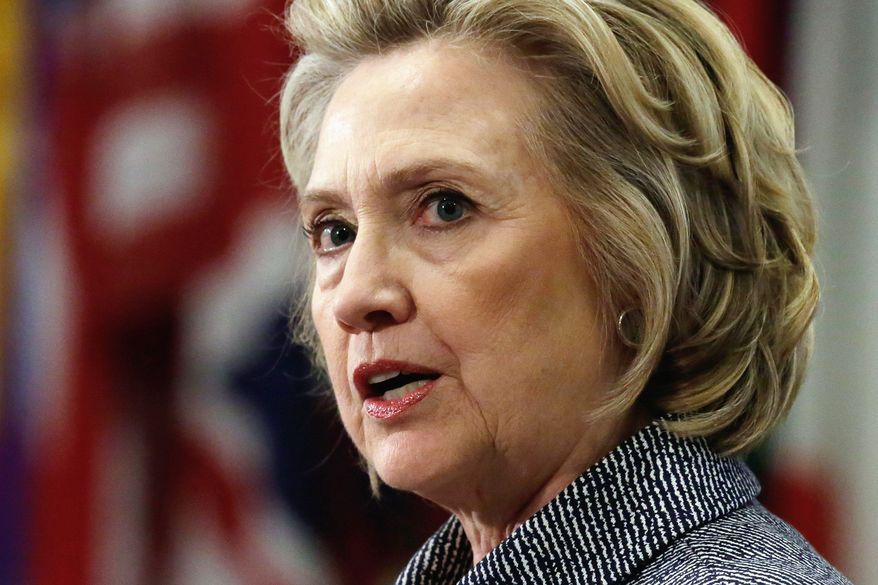 Hillary Clinton

The most serious claim that hit Clinton this week is that she allegedly referred to disabled children as "r*****s." Tell all author Dolly Kyle stated Clinton made the comment at the Governor's mansion in Arkansas. Clinton is accused of stating during an Easter egg hunt,"When are they going to get those f—ing r******s out of here?'" I really hope she didn't say that about disabled children. That would be a really foul and vile thing to say.
STORY SOURCE

SALLY MILLER: Hillary and her 'coke habit'
May 10, 2016 - When I asked Bill if he shared his fantasies with Hillary, he laughed. "What a joke! Sex is a waste of time to Hillary. When we were dating, she talked about making-out with her girlfriends in college because she knew it turned me on. Hillary seemed worldly and more sexually-experienced than me and, at the time, I liked it."
"Before we married, I got her pregnant and she had an abortion. It bothered me because I didn't know about it until it was over. Then, several months after the wedding, she slipped up again because she was too lazy to take the pill. "Hillary hates kids. She was one nasty b**ch when she was pregnant. My G-d, for nine months, she made my life a living hell and blamed me!
"From the beginning, our political advisors warned us that Hillary must take my last name and concentrate on having a child if I was going to have a future in politics. I saw the real Hillary after we got married. "She's a damn frigid b***h who prefers women; she won't even compromise and be bi-sexual. All I hear is how much she despises penises; she thinks they are f***ing ugly, like snakes."
Bill mentioned, "The only time Hillary gets aroused or agree to 'play sexy' is after she snorts coke. But, even then, she's rigid and frigid. Hillary goes ape-s**t crazy–I mean screams, hits, and cusses–if I touch her breasts! Right after we started fooling around, she warned me to stay away from her tits, even telling me: 'If you want to nurse–go home to your momma!'"
Hillary Clinton despised Bill's brother Roger but, she had to be nice to him since he supplied her coke habit. (Roger Clinton was charged with and convicted of a cocaine-related offense in 1985 and pardoned by Bill in 2001.) Bill talked about Hillary taking off work lots of times, desperate to find Roger. She cursed Roger but, at the same time, she had to be nice since he was her only source of coke. She smoked weed but coke was her addiction.
I recall Bill saying, "Everyone, including my staff, people at the law firm, even friends, knows Hillary is a cokehead but that's okay. We tolerate Hillary on coke cause without it, Hillary's a raving maniac. "My G-d, we've had to borrow money to replace lamps, chairs, all kinds of valuable shit in the governor's mansion just because of Hillary's temper! I've had to take Chelsea outside many times to keep her out of Hillary's 'line of fire.' Without her 'fix' Hillary's Hell on Wheels."...
11:59 AM 05/03/2016 - Former Miss Arkansas Sally Miller — allegedly once President Bill Clinton's mistress — wrote this week that the former president's manhood "performed well but, it was a little-boy penis that just never quite–grew-up." In a sexually graphic column, Miller wrote, "I have no doubt Bill perfected his oral-sex skills by practicing on women other than Hillary [Clinton]."
Writing for The American Mirror, Miller recounted her alleged experiences in a torrid three-month affair with Bill Clinton in 1983, when he was governor of Arkansas. Miller wrote that she and Clinton had 14 total rendezvouses. "Bill's not the most handsome man I've known but he made me feel like my breasts were the right size, my legs were the perfect length, I had an incredible body and, on top of all that, I was beautiful," Miller claimed. "There aren't many men who know how to make a woman feel that way."
Miller went on to write that Clinton "could sometimes be a clown in the bedroom and… I soon guessed why. As long as our relationship stayed playful, I might not take a 'second look' at the size of his penis. Yes, it performed well but, it was a little-boy penis that just never quite–grew-up." The future president was "multi-faceted in bed which made up for his small package," alleged Miller...
Published: 2 days ago - Those are said to be the infamous words of Hillary Clinton – also known as Arkansas' "Mother of the Year" in 1984 – when Hillary reportedly grew frustrated that handicapped children weren't collecting their Easter eggs quickly enough on the lawn of the Arkansas governor's mansion.
"[T]he children were having a wonderful time. But they were having a v-e-r-y, v-e-r-y, v-e-r-y s-l-o-w time of finding and picking up the Easter eggs," wrote Dolly Kyle – a childhood sweetheart of Bill Clinton who had a 33-year relationship with him – in her new book, "Hillary the Other Woman: A Political Memoir." Kyle recounted the story as told to her by Arkansas State Police troopers and Louise, a mutual friend of both Kyle and the Clintons and a longtime advocate of what was then the Arkansas Association for Retarded Citizens.
"Hillary had enough. She stomped up the grass to the shaded veranda on the back of the mansion … and accosted one of the troopers," Kyle wrote. "At this point the story diverges a bit. Some people say there was an open microphone; others said that Hillary could be heard across the yard because she was yelling. … At any rate, the frustrated Me-First Lady demanded, 'When are they going to get those f—ing r******s out of here?'"...