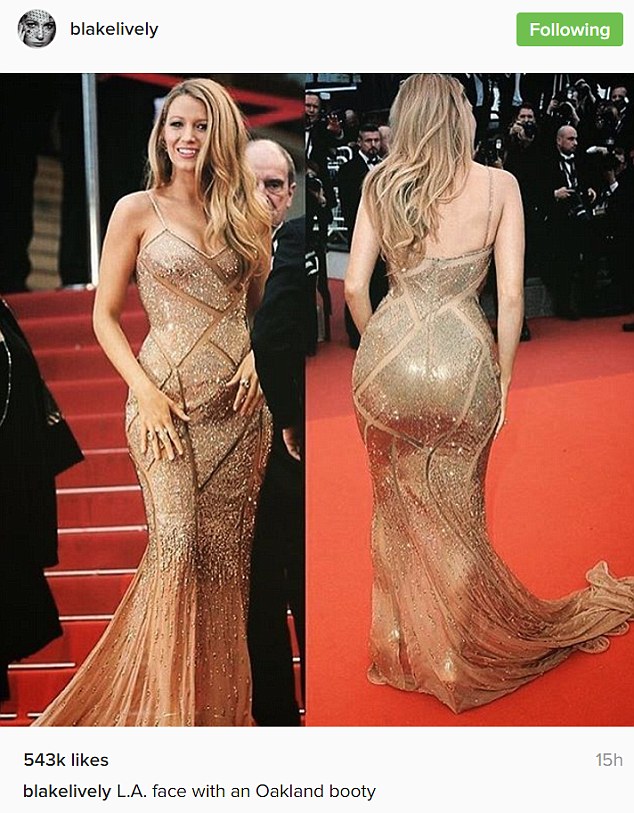 Blake Lively post on Instagram with the caption "L.A. face with an Oakland booty" which is a line from the rap song "Baby Got Back"

Hollywood actress Blake Lively is being slammed over a photo and caption she posted on Instagram about her butt. The people complaining about her post on Instagram need to choose their battles more carefully. I don't see anything racist regarding what Lively stated. There are mentally disturbed racists wearing white sheets attacking people of color. Racist neighborhood watchman, George Zimmerman, murdered 17-year-old unarmed teen, Trayvon Martin, for being a black kid in his predominantly white neighborhood, confronting him and demanding to know, "what are you doing around here" before attacking and killing the innocent youth.
Yet some of you are complaining about Lively. I've got news for you, since she had her baby, her butt got big. It is not a social or racial issue. It's a fat shifted to her butt issue. Leave it alone. There are more serious things to discuss and petition about regarding racial inequities than the size of someone's butt, citing it as racial appropriation. If that's the case white people would be picketing hair supply stores, a $5 billion dollar a year industry in America, regarding black women wearing European weaves. Shouldn't white people be crying "they've stolen our hair" like some of you are crying "they've stolen our butts!"
If a white woman wants to have a big butt, let her have a big butt. If a black woman wants a European weave, let her have a European weave. There are more important things to discuss - like cancer, AIDS, Parkinsons, Alzheimers, poverty, war, nuclear disarmament, global pollution, real racism (George Zimmerman ect). Let all this other trivial stuff go.
STORY SOURCE

Blake Lively accused of racism after she jokes about her 'L.A. face and Oakland booty' on Instagram snap from Cannes

Published: 11:33 EST, 18 May 2016 | Updated: 16:06 EST, 18 May 2016 - Blake Lively has come under fire for racism after posting a controversial caption about her body on Instagram. The 28-year-old star shared a split of two images from the Cafe Society premiere last week with the caption 'L.A face with an Oakland booty'. Immediately the pregnant actress came under fire for being 'white and privileged' but using black women and culture 'as a punchline'.
'Another day, another rich white woman using WOC's bodies as a punchline and commodity. As if Blake Lively wasn't the worst already,' read a post from @katbeee. User @mindamaureen wrote: 'So much privilege even GOOP feels uncomfortable.' While @HellaBootsy questioned if the star had ever visited Oakland at all.
The blonde beauty was quoting lyrics from Sir Mix-a-Lot's 'Baby Got Back' but the defense did little to stem the tide of social media outrage. 'Unbelievably problematic, using women of color's bodies as a joke. I guess you just want people to know you're racist and you don't give a s--t', one follower wrote.
Another added: 'Used to like you Blake … turns out you appropriate black culture #unfollowed'. The lyric refers to Oakland - an area of California considered traditionally black - compared to L.A. The actress, who made her name in the hit TV show Gossip Girl, isn't the first star to use the lyric to describe a selfie online.