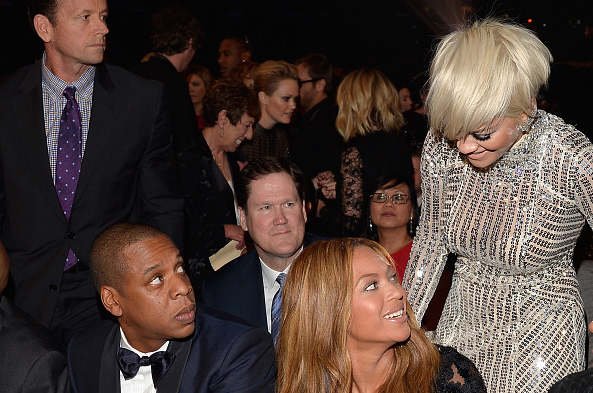 Jay Z giving mistress Rita Ora an annoyed look like you better shut up and watch what you say to my wife, while Beyonce puts on her best, fake, uncomfortable smile, well aware of the rumors of their affair

A trusted, unimpeachable source informed the Judiciary Report that singer Beyonce now fears her cheating husband Jay Z hates her, after the release of her "Lemonade" album humiliated him all over the world, by disclosing his bad behavior that she is embarrassed by in many ways. Make no mistake, Jay Z has cheated on Beyonce many times. Industry people have seen him going into hotels with women, while dating and married to Beyonce.
People in the industry have quietly commented on it for years and the stories have been getting around. He is arrogantly disrespectful and very delusional, thinking he is some hot stud (*cough* he needs to look in the mirror).The incident that also confirmed the cheating rumors is Beyonce smirking when her sister Solange punched and kicked Jay Z in an elevator for trying to ditch his wife to go cheat again.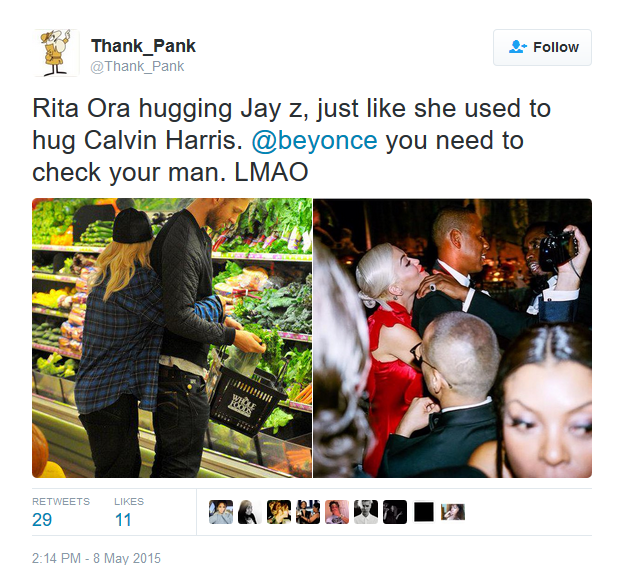 Show of hands, how many married women reading this article would want a woman hugging her husband in the manner seen in the photo on the right of Rita Ora coming up to Jay Z from behind and intimately hugging him, like she used to do her boyfriend, Calvin Harris, in the picture on the left (and she did this in front of everyone at a music industry gathering, where Jay Z did nothing to stop her, disrespecting his wife). I would never hug one of my friend's husbands like that. It is very disrespectful.

"Lemonade" has exposed Jay Z to stinging public criticism his ego can take, via opening him up to massive online criticism in people repeatedly stating he is "
Too 'Ugly' To Cheat
." I was informed this is why Beyonce dedicated "Halo" to Jay Z on the opening date of her current tour and stated, "To my beautiful husband, I love you so much." Jay Z is not beautiful (LOL).
Beyonce was apologetic for the backlash "Lemonade" created in his life, even though he deserves it, for fear of ruining her money train as half of a high profile couple. I was also informed, "Beyonce does not love Jay Z. It is a business arrangement." They are in it for the money of being a so-called power couple. I was also informed she is still in love with her ex-boyfriend, Lyndall.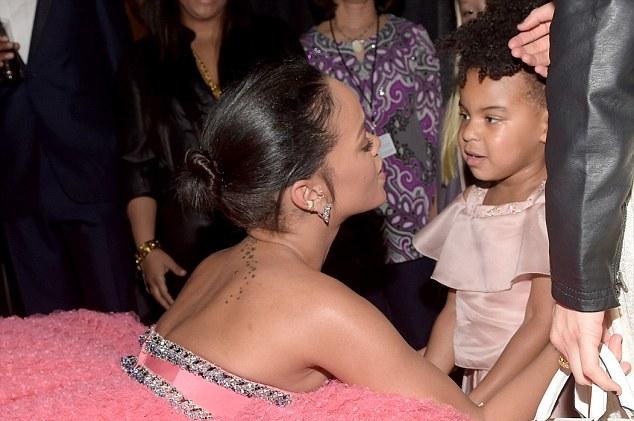 Beyonce and Jay Z's daughter Blu Ivy to Rihanna: leave my daddy alone you big forehead fivehead tramp! (LOL)

Beyonce being apologetic over humiliating Jay Z will only serve to reinforce his bad behavior, by almost apologetically praising the man repeatedly hurting her, via cheating with many women. It has brought out massive insecurities in Beyonce that are coming through on "Lemonade" and in interviews.
I have it on very good authority Jay Z has repeatedly cheated with his Roc Nation artists Rihanna anad Rita Ora. He has also had flings with singer Blue Cantrell, before and during marriage to Beyonce (while Beyonce and Jay Z dated and then during their marriage). Jay Z also had flings with Rachel Roy, the ex-wife of his ex-business partner, Dame Dash. They are all lying about it for fear of losing sales, having sold this illusion to the public they are a loving and faithful couple.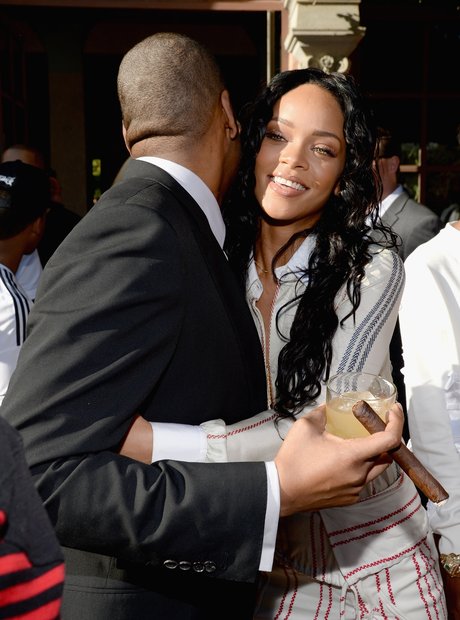 Jay Z and Rihanna hugging

Rihanna has been the biggest enemy to Beyonce and Jay Z's marriage. He signed Rihanna as a minor and she did everything he stated, including underage sex, from that time. Rihanna foolishly idolizes Jay Z, because he made her rich and famous (though he has repeatedly cheated her out of royalties). On the flip side, Jay Z he has been sexually pimping out Rihanna to industry men and women to further both their careers (he is doing the same regarding Rita Ora as well). Jay Z married Beyonce for bragging rights and money they could generate as a power couple.
It makes Jay Z feel big to be married to a woman that is a sex symbol. However, Rihanna, by being a complete skank, has become a bigger sex symbol than Beyonce. Neither woman is on Halle Berry's level, but to Jay Z, he wants to be seen with and have sex with famous women that men are lusting after, especially due to Rihanna being a complete slut. It is apart of the reason Beyonce has become more raunchy and sexually explicit. She is trying to compete with Rihanna, for Jay Z's attention and that of audiences.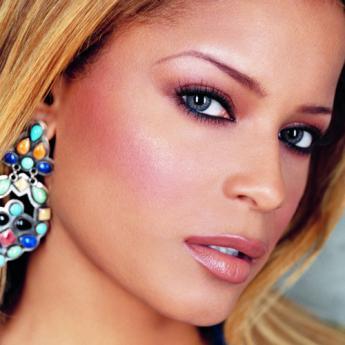 Jay Z also cheated on Beyonce with singer Blue Cantrell, whom he named their daughter after. How could she allow such a thing, given the fact Cantrell is one of her husband's mistresses and the woman many in the industry claim is the love of his life.

Nevermind, Rihanna has so polluted her body with promiscuous sex that it has caused her to contract STDs, is consuming so much alcohol and doing so much cocaine and Ecstasy that it is destroying her health, all in a bid to escape the depraved things she has done for fame and money, Jay Z doesn't care. All he cares about is money and fame.
RELATED ARTICLES