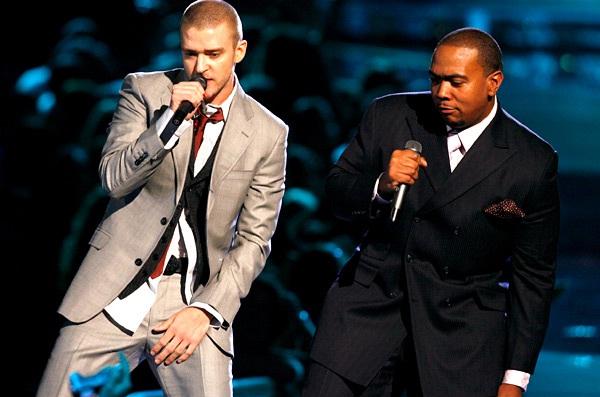 Justin Timberlake and Timbaland
Pop singer Justin Timberlake has been sued yet again for copyright infringement. This time it is by the world renowned Cirque du Soleil, who are a troupe of acrobats and dancers. Cirque du Soleil's shows have grossed millions of dollars worldwide. In 1997 Cirque du Soleil released an album of music titled "Quidam." Timberlake has been sued for stealing the 1997 Cirque du Soleil song "Steel Dreams" for his 2013 tune "Don't Hold The Wall."
Timberlake's producer, the frequently sued infringer, Timbaland, is also named as a party in the lawsuit regarding the theft of the Cirque du Soleil song. The lawsuit seeks $800,000 in damages for copyright infringement. Previously, Timberlake was sued by the 1970s James Brown produced band
Sly, Slick and Wicked, for stealing music royalties and using their work to make money from financial deals he was not entitled to in any measure.
Timberlake was also hit with copyright infringement claims, regarding his song "Damn Girl" that rips off Perry Kibble's "A New Day Is Here At last."
Timberlake and Timberland are chronic copyright infringers known by music industry law firms worldwide for this illegal behavior. Timberlake records for Sony Music and Timberland often works with their artists, who are constantly being sued for willful acts of copyright infringement, which is an illegal way of life at the label.
STORY SOURCE

Justin Timberlake sued by Cirque du Soleil over hit song
Fri Apr 1, 2016 9:12am EDT - Cirque du Soleil is not doing flips over Justin Timberlake's hit song "Don't Hold the Wall." The Canadian theatrical performance company on Thursday sued the superstar singer with allegations that the song copied part of one of Cirque du Soleil's original compositions without permission.
Timberlake's song appeared on his 2013 double album "20/20," which has sold more than two million copies. The lawsuit filed in federal court in New York claimed Timberlake borrowed from the song "Steel Dream," which was originally on Cirque du Soleil's 1997 album, "QUIDAM." The suit seeks a minimum of $800,000 in damages for copyright infringement...


Justin Timberlake Sued by Cirque du Soleil Over His Song 'Don't Hold the Wall'
March 31, 2016 | 06:01PM PT - Justin Timberlake has run into some legal trouble. Cirque du Soleil has sued the Grammy-winning singer, accusing him of sampling part of one of the performance company's original songs in his track "Don't Hold the Wall," a cut from his 2013 album "The 20/20 Experience," without permission.
The lawsuit claims that Timberlake borrowed from "Steel Dream," a song that originally appeared in "Quidam," Cirque's ninth stage production, and later on a 1997 album of the same name. The suit, filed Thursday in a New York federal court, is seeking $800,000 in copyright infringement damages. Timbaland, J-Roc and James Fauntleroy, "Don't Hold the Wall's" co-writers, along with Sony Entertainment, Universal Music and WB Music Corp. were also named as defendants in Cirque's suit.
No stranger to copyright infringement-related accusations, Timberlake was sued by the 1970s rhythm and blues band Sly, Slick and Wicked earlier this year over his song "Suit & Tie," claiming that it borrowed elements from their song "Sho' Nuff." This incident was followed by a similar claim in February, which alleged that his Will.I.Am collaboration "Damn Girl" samples from Perry Kibble's "A New Day Is Here at Last."...