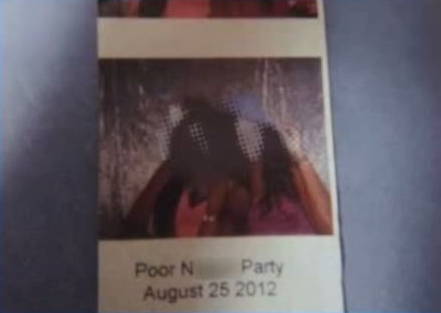 Exhibit in lawsuit reveals photography company labeled photos "Poor Nig*er Party"
Premier Photography of Texas, owned by James Evans, have been sued by a black couple who state their wedding pictures have the words 'Poor Nig*er Party" stamped on them. The couple retained Evans to take pictures of their wedding and he delivered the finished product with an insulting racial slur stamped on all of them.
The couple's attorney, Cathy Hale stated of the incident, "They trusted this company to provide them with a service on their most important day and what they got was the complete opposite they got a slap in the face. Every time they think about their anniversary, they think about this. It's never going to go away." The case has now been settled, after Evans defiantly challenged the couple to sue over his inappropriate and racist behavior, which led to him being slapped with a lawsuit.
STORY SOURCE

Married Couple Sues After "Poor N***** Party" Stamped on Wedding Pics
By Gotham City, Esq on April 3, 2015 The Accused - When guests at a wedding in Houston, Texas sat in a photo both for some wedding fun and memorabilia, little did they know their pictures would say "Poor N***** Party." The African American newly weds, who rented the photo both to commemorate their union, are suing Premier Photography owned by James Evans claiming he and his company are responsible for the racist photo caption on some of the guests' printed pictures. It was supposed to say the couple's first names and date.
"Anybody would find this caption offensive. I'm offended by it. I don't want to say it," said Attorney Cathy Hale. Hale represents the couple who have sued Evans and Premier Photography claiming not only breach of contract — for a memory stick of photos they say they never received — but also for negligence and mental anguish...
Posted: 9:15 PM, April 02, 2015 - HOUSTON - A settlement has been reached in lawsuit involving a racial slur found printed on photos taken during a 2012 wedding reception. A Houston area couple filed the lawsuit in 2014 against Premier Photography and its owner, James Evans. Documents filed in the lawsuit read the couple rented a booth from Premiere and paid for an attendant. The couple, who are African-American, claim at some point during the reception some guests received photos from the booth with the words, "Poor (n-Word) Party," printed on the bottom.
Attorney Cathy Hale said the bride's sister received one of those photos but chose not to tell the couple for fear of ruining their wedding day. Hale said the couple learned of the photos several months later. Hale said the couple filed the lawsuit after contacting Evans and receiving what she characterized as a non-apologetic response. Court records read at one point Evans did offer to refund the couple the $450 cost of the photo booth rental, but they declined. A settlement in the suit was reached Thursday and both sides released written statements.
"We regret this issue escalated into litigation as a result of poor communication between the parties at the time the caption was discovered," wrote Hale. "My clients accept Mr. Evans' and Premier Photography's statement that he and Premier Photography reject the inappropriate caption printed on the strips and what they represent."