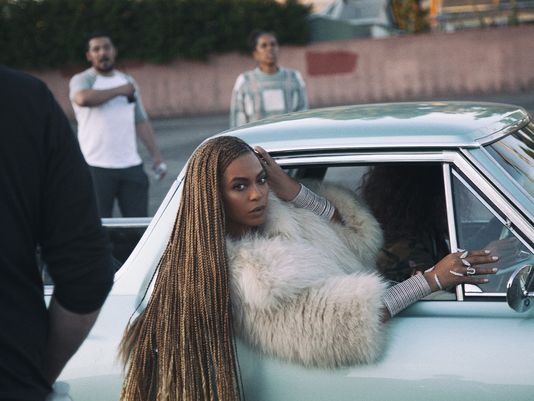 A still from Beyonce's "Formation" video




As most people who read the internet know, singer Beyonce, has a long and sordid history of willfully stealing copyrighted songs, music videos, photos and movies from copyright holders. Many copyright holders have publicly slammed Beyonce for this misconduct, as copyright infringement not only robs people of their work and money, it is a federal and international crime.

Beyonce applied for permission to use video footage and was denied, but used it anyway, which constitutes copyright infringement. The New York Times reports, "The video's release came with controversy. Not long after it was put online, the filmmakers Abteen Bagheri and Chris Black took to Twitter and claimed "Formation" used footage from "That B.E.A.T.," their 2013 documentary about New Orleans bounce, without permission.'They stole it,' said Mr. Black, who produced 'That B.E.A.T.,' which was commissioned by Nokia and Sundance. 'We were there for a week and hung out with the people and immersed ourselves in the culture. We put a lot into it ourselves. He said Beyoncé's team had initially asked to license the footage, B-roll scenes of the New Orleans music scene, days before a Feb. 1 deadline for a decision Mr. Bagheri, the documentary's director, said on Twitter that he was asked for approval as well, but had denied the request..."



Think Reese in 2014: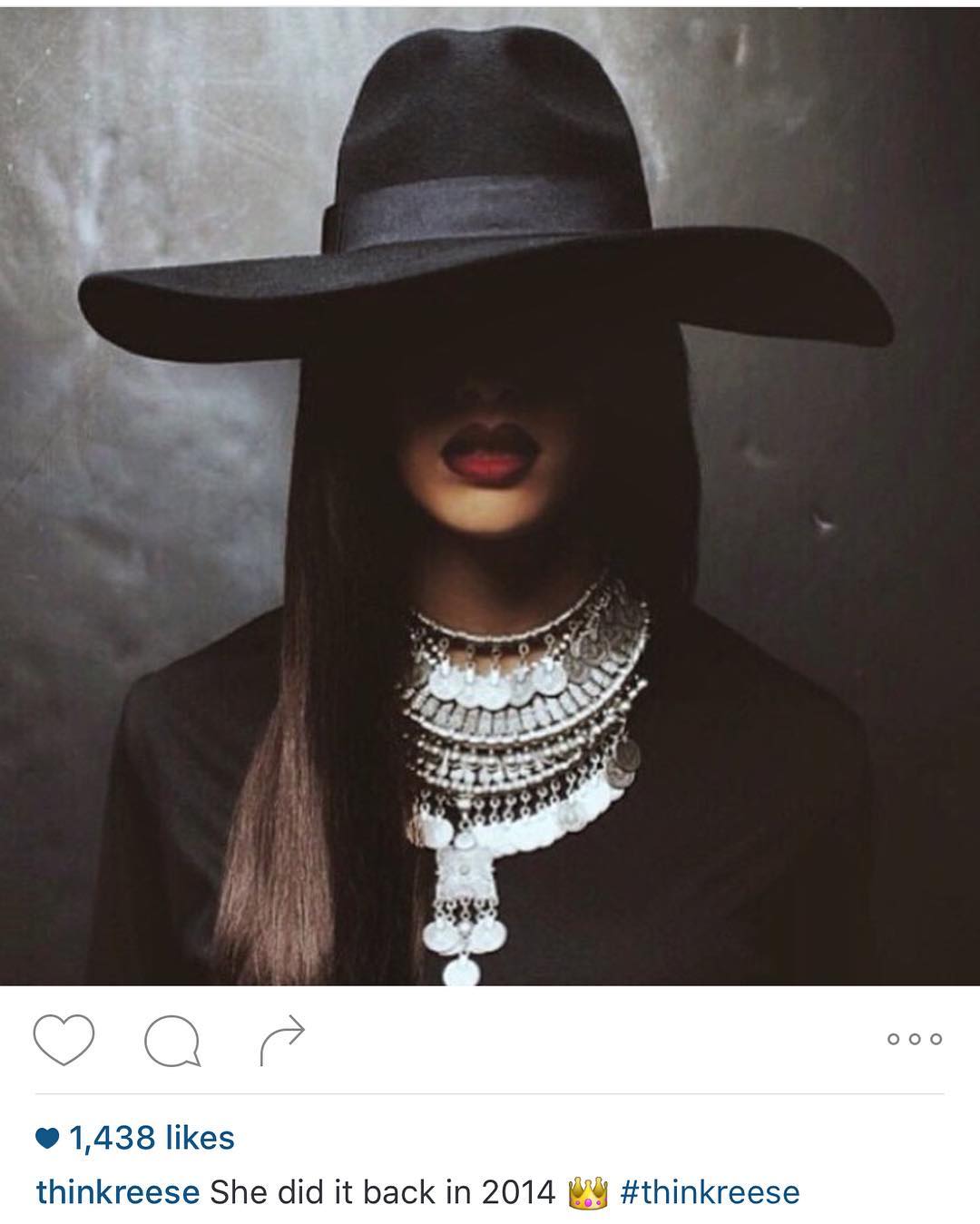 Vulgar Beyonce rips off her look from a copyrighted photo for use in the "Formation" music video in 2016: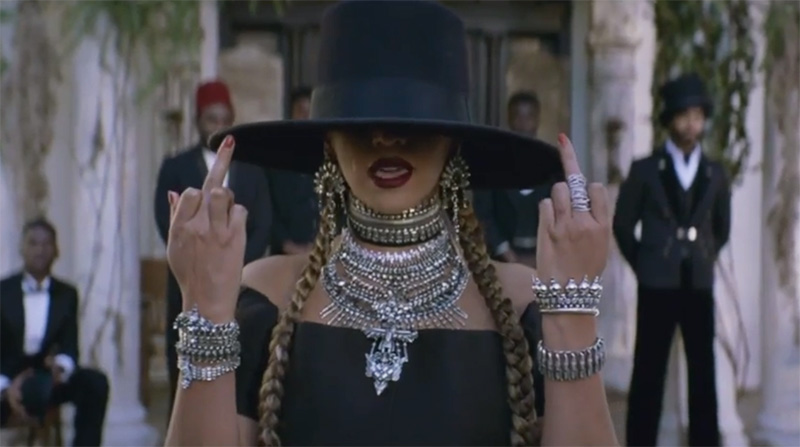 Beyonce has also been stealing the looks of pretty Canadian model Think Reese, who has a large following on Instagram and keep are recognizing the image thefts. Each person has the right of publicity. Beyonce knows exactly who Reese is, as they have mutual friends. When you go around morphing into them like a lunatic with an identity crisis, you are violating that legal right. Just because she looks better than you doesn't mean you should rip her off and try to aesthetically become her.

Beyonce is mentally ill, as Kleptomania is listed as a mental disorder. She has also been engaging in other illegal and sick behavior behind the scenes in the entertainment industry, as apart of the devil worshipping cult Kabbalah, who bills itself as the Illuminati, due to the Italian founder of the cult, Madonna (the Illuminati is an Italian cult). A Miami radio station stated her mother is concerned as Beyonce has become crazy. Beyonce's sister Solange Knowles is already mentally ill from the Kabbalah cult's sick teachings and is on medicine for bipolar disorder. Beyonce is schizophrenic.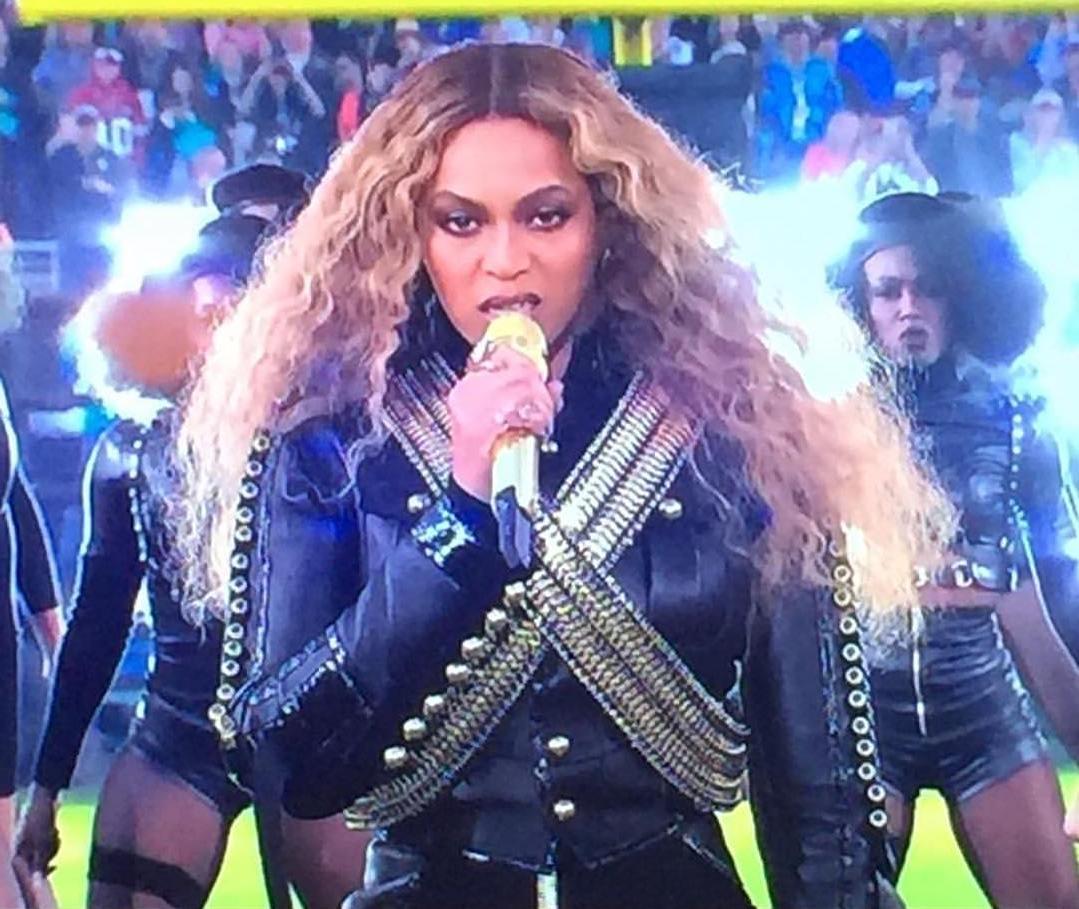 The song "Formation" is fraught with hypocrisy. Beyonce states in the song "I like my negro nose with Jackson 5 nostrils" when plastic surgeons online have confirmed that she had a nose job to cut down the size of her nose, in trying to look European (see article excerpts below). Beyonce is also constantly wearing European wigs and white face powder in trying to look white, when anyone with vision can see she's black.


Before Body Makeup, Nose Job And European wig

After Body Makeup, Nose Job And European wig



| | |
| --- | --- |
| Before Breast Implants And Nose Job | After Breast Implants And Nose Job |
| | |
| | |
| --- | --- |
| Before Nose Job | After Nose Job |
| | |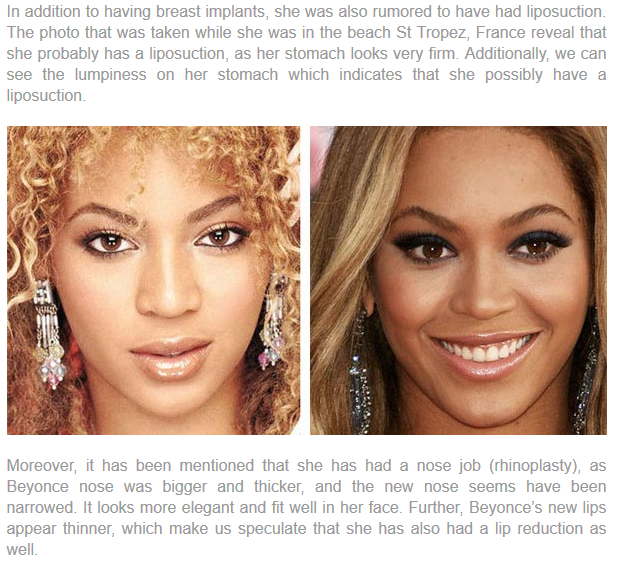 Dr. Anthony Youn told Radar Online that it appeared the singer - who has never confirmed any kind of surgery - appeared to show signs of having botox, a rhinoplasty and lip filers. He said: "It appears that she's had a rhinoplasty, causing her nose to look noticeably thinner and refined. Her upper lip also looks like it may have been moderately enhanced, possibly with a filler like Juvederm. Her smile lines, aka the nasolabial folds, also appear to have been reduced, maybe with an injectable filler like Restylane."




To make matters worse, the National Sheriffs' Association turned their back during Beyonce's Super Bowl performance yesterday, as she slammed and disrespected the entire force in the video for "Formation." Every cop is not bad. To make such a blanket statement in the video is foolish and ignorant. Not to mention, despite all your efforts, you are still a black woman in America, slamming police, who patrol America's streets. I know you're slow, but you need to think about what that means, Beyonce.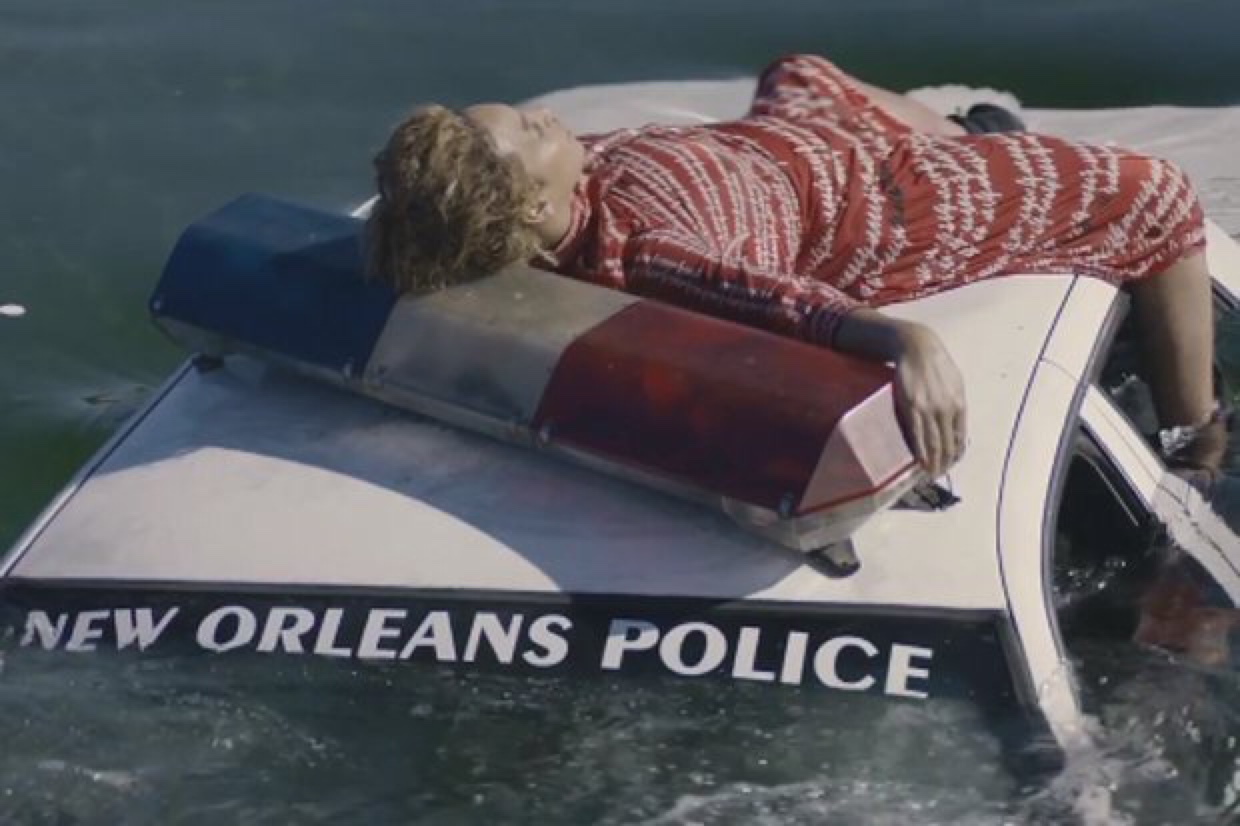 Beyonce mocking the police in the "Formation" video




There are claims on Twitter that Beyonce wastefully spent $3,000,000 flooding an entire neighborhood for the "Formation" video, which is money and water she could have donated to the people of Flint, Michigan, who are suffering a lead poisoning water crisis (Congress Needs To Intervene In Flint, Michigan With An Emergency Clean Water Bill).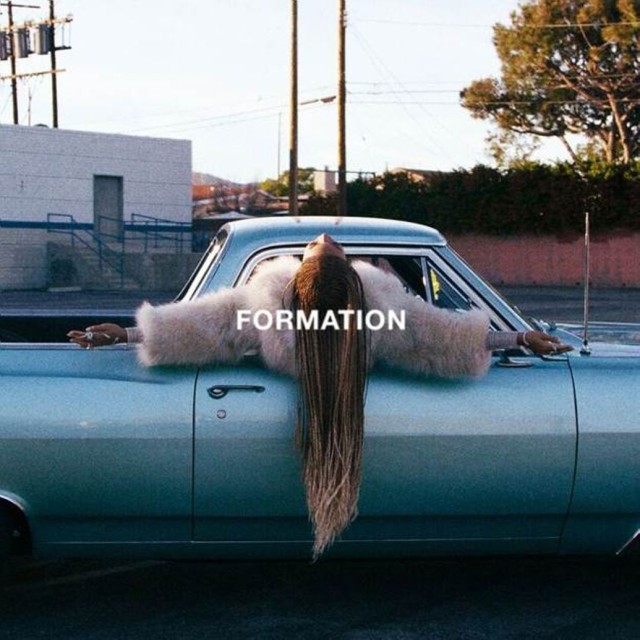 Beyonce following satanic Hollywood stars making a mock cross using her body, which is considered blasphemous

Beyonce also states in the song, "Y'all haters corny with that Illuminati mess" when she is the one crazily putting images and symbols historically associated with the Illuminati in her music videos, pictures and performances. Beyonce is also in Kabbalah, as stated above, who call themselves the Illuminati. She has devil worship symbols associated with the occult in her videos as well (Group Warned Of Beyonce's 'Illuminati' Super Bowl Half Time Show Days Prior To The Power Outage It Caused Requesting A Boycott).

In closing, substance abuser Beyonce is foolishly taking illegal drugs, getting drunk and disrespecting God via satanic imagery in music videos. It's not a good idea (Hollywood Illuminati Groupie On Instagram Dies After Sex With Rapper Lil Durk Leading To Questions About Her Mysterious Death).



STORY SOURCE




Beyoncé Releases Surprise Single 'Formation' Ahead of Super Bowl Performance




FEB. 6, 2016 - Beyoncé is not coming to the Super Bowl empty-handed. A day before her planned performance at Sunday's game, the singer released a new single, "Formation," along with a music video that invokes Hurricane Katrina and black pride ("I like my negro nose with Jackson 5 nostrils," she sings.

As has become Beyoncé's habit, "Formation" was announced simultaneously on her Instagram account and official website with little warning. The song and video are also streaming on Tidal, the music service owned by the singer's husband, Jay Z; the site is offering a free download of the track in exchange for an email address. The high-profile release follows an up-and-down week for Tidal after the service released Rihanna's "Anti" early because of an online leak.

"Formation," written with Swae Lee of the rap duo Rae Sremmurd, is Beyoncé's first major release since the surprise drop of her self-titled album in December 2013. On "Formation," the singer addresses not only race, but rumors about her celebrity ("Y'all haters corny with that Illuminati mess," she purrs, a reference to a popular conspiracy theory about a cult of rich and powerful public figures)...

The video's release came with controversy. Not long after it was put online, the filmmakers Abteen Bagheri and Chris Black took to Twitter and claimed "Formation" used footage from "That B.E.A.T.," their 2013 documentary about New Orleans bounce, without permission. "They stole it," said Mr. Black, who produced "That B.E.A.T.," which was commissioned by Nokia and Sundance. "We were there for a week and hung out with the people and immersed ourselves in the culture. We put a lot into it ourselves."

He said Beyoncé's team had initially asked to license the footage, B-roll scenes of the New Orleans music scene, days before a Feb. 1 deadline for a decision Mr. Bagheri, the documentary's director, said on Twitter that he was asked for approval as well, but had denied the request.

In a statement, a representative for Beyoncé said the footage was licensed properly. "The documentary footage was used with permission and licensed from the owner of the footage," Yvette Noel-Schure said. "They were given proper compensation. The footage was provided to us by the filmmaker's production company. The filmmaker is listed in the credits for additional photography direction. We are thankful that they granted us permission."...






America's sheriffs turn back on Beyonce Super Bowl 'Formation' performance




2/8/16 6:45 AM - Members of the National Sheriffs' Association meeting in Washington turned their backs on Beyonce during a Super Bowl halftime party, angered the NFL allowed her to sing a song they consider anti-police. The Association told Secrets that when Beyonce performed a snippet of her hit "Formation," the sheriffs holding their annual legislative meeting at the J.W. Marriott turned off the volume and video. Scene from the Beyonce video that has angered police.

The group's president, Laramie County, Wyo., Sheriff Danny Glick, was happy that his fave team, the Denver Broncos and Peyton "The Sheriff" Manning won, but the group called on the NFL to choose less controversial half time entertainment in the future.






Hollywood plastic surgeon claims Beyonce appears to have had 'botox and rhinoplasty on her nose'




18:59, 24 Nov 2015 Updated 19:00, 24 Nov 2015 - The star had all eyes on her as she stepped out in Las Vegas this weekend. A top Hollywood surgeon has sensationally claimed that it Beyonce shows signs she's had surgery on her face after the singer was photographed in Las Vegas this weekend.

The star was with husband Jay Z in Sin City for the Cotto versus Alvarez fight and sat ring side in a plunging black dress. Dr. Anthony Youn, who has never treated the multi-award winning star, told Radar Online that it appeared the singer - who has never confirmed any kind of surgery - appeared to show signs of having botox, a rhinoplasty and lip filers. He said: "It appears that she's had a rhinoplasty, causing her nose to look noticeably thinner and refined. "Her upper lip also looks like it may have been moderately enhanced, possibly with a filler like Juvederm," he continued. "Her smile lines, aka the nasolabial folds, also appear to have been reduced, maybe with an injectable filler like Restylane."



RELATED ARTICLES