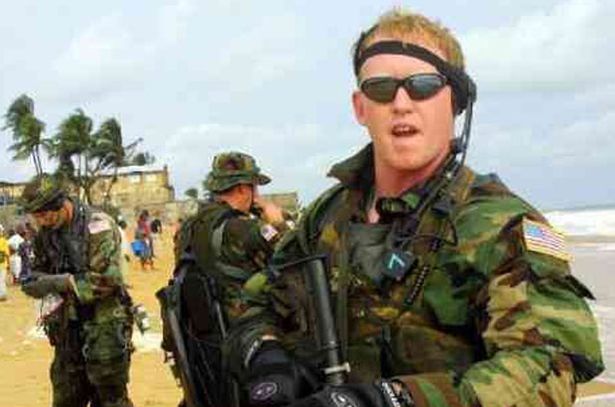 Robert O'Neill


Robert O'Neill has been outed by ISIS terrorists as the killer of Al Qaeda founder and mass murderer, Osama Bin Laden, who masterminded the September 11th terrorist bombings. ISIS have declared a fatwa against him. However, the U.S. government has the resources and capability to protect O'Neill.

Meanwhile, while ISIS is focused on pitbull O'Neill, who is somewhere in America eating burgers and fries and not giving a darn, one of the most dangerous men in world history, Vladimir Putin, a hungry, growling bear, who has the capability to wipe them clean off the map, is at their doorstep giving them prostate exams with bombs and missiles in Syria, over the upheaval they have caused in the region.

250,000 Arabs have been killed (among them children) and millions displaced, fleeing ISIS power grab in Syria. It has created a serious migrant crisis in Britain and Europe. It is not a political issue, but a humanitarian one, where Britain and European nations' economies could buckle if the massive flow of migrants continues unabated.

The migrants need food, shelter, clothing and some means of support. It will cost tens of billions of dollars that will put a massive financial strain on Britain and Europe. It is better for everyone involved if things are resolved in Syria, removing the need for people to literally flee for their lives, leaving all their worldly possessions behind for an unsure future elsewhere, away from their culture.





STORY SOURCE




ISIS extremists publish address of Navy Seal who killed Osama bin Laden and call for his death


Updated 23:23, 5 Oct 2015 - British jihadi asks 'brothers in America' to assassinate Robert O'Neill, the man who fatally shot the al Qaeda terror chief. A British ISIS supporter has published the name and address of the Navy Seal who killed Osama bin Laden and called on American extremists to execute him.

Mirror Online has been monitoring jihadi chat on social media and has spotted several people linking to a text file containing instructions on how to find Robert O'Neill, who claimed to have killed the al Qaeda chief. This information was shared by an unnamed British extremist, who dubbed O'Neill a "number one target" and called for his immediate death.

The address is now being shared on social media along with a sinister hashtag. Dozens of extremists have now republished the Navy Seal's private information, despite apparent censorship attempts by social media firms and the website which is hosting the information. @mchooyah / Twitter. "I leave this info of Robert O'Neill for my brothers in America and Al Qaeda in the U.S, as a number one target to eventually hunt down and kill," the ISIS supporter wrote.

The anonymous jihadi slammed O'Neil for "traveling around America putting on seminars boasting about killing Sheikh Osama". He also posted a link to an story in the International Business Times in which O'Neill's father said the family were "not afraid of ISIS". The Navy Seal went public with his claims in a documentary called "The Man Who Killed Osama Bin Laden".

Getty Osama Bin Laden attending a meeting with a Kalashnikov on his lap in an undisclosed place inside Afghanistan. He is understood to have separated from his wife over security concerns. "We're actually looking into changing my name," she told Esquire in 2013. "Changing the kids' names, taking my husband's name off the house, paying off our cars. "Essentially deleting him from our lives, but for safety reasons." We have contacted Robert O'Neill to warn him about the threats, but he has not yet responded.