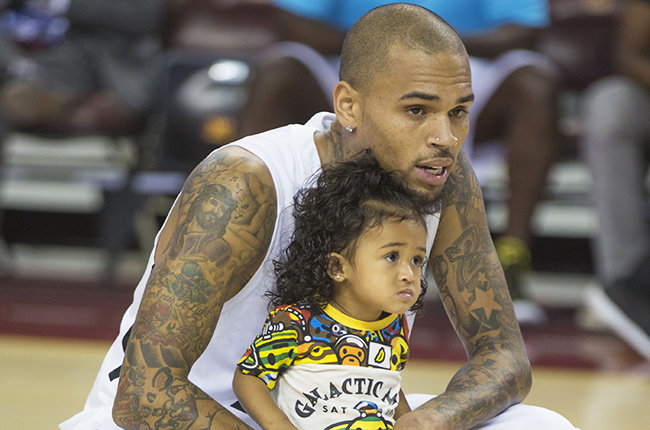 Chris Brown and Royalty
A video began circulating last week of R&B singer Chris Brown, his little daughter, Royalty and some groupies, spewing all sorts of profanity in the 1-year-old's presence. Just 2-weeks ago, before the video was released, the Judiciary Report wrote "
Chris Brown Must Make More Changes To His Life Lest Certain Things Destroy Him
."
In the Judiciary Report article weeks ago the site stated, "
That means no more groupies and random women he picks up at clubs or off the street, sleeping on his sofa (it's not safe letting them in one's house and falling asleep in their presence). That means no more drug dealers visiting him with weed (marijuana). That means no more gang bangers visiting him, as the meetings are never casual, with them proposing things that will only serve to get Brown into trouble.
"
Yet, here we have it, weeks later, groupies have gotten Brown into a bad situation again with the aforementioned video. Nia Guzman, the mother of Brown's child, could easily use that video in court as ammo in a custody case to state Brown has bad influences around their daughter.
STORY SOURCE
Chris Brown Gives Royalty Cotton Candy While Friend Spews Profanity — Watch
Wed, October 21, 2015 1:17pm EDT - Where's a giant bar of soap when you need one?! Chris Brown didn't seem to care and or notice that the people he lets his daughter be around need to take their foul language down a notch. In a new video, precious Royalty is in the presence of a girl cursing up a storm — watch!
Chris Brown, 26, is no angel, but he has been trying really, really hard to be a great dad to his daughter, Royalty, 1. Sadly, sometimes parents mess up, and that goes for Breezy. In a new video shared on a fan's Instagram account, you see his daughter around a woman who is cursing up a storm and he doesn't seem bothered by it.
In the video, you see Chris standing next to his daughter and eating cotton candy with her. There is an unidentified woman holding the camera who tells him, "Chris stop eating that s**t like a little girl." Then the camera pans to another unidentified girl with strikingly bright green hair who is about to "cheat" — whatever that means. The woman then loudly says in front of Royalty, "There she go wanna cheat again this b***h right here." Not the best word choice...