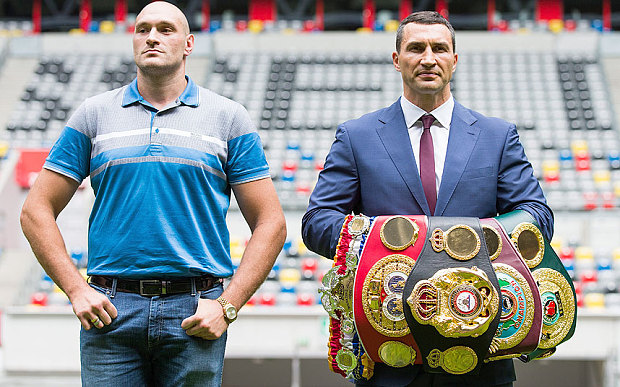 Tyson Fury (left) and Wladimir Klitschko (right). That's a really mind game when the world champ brings all his belts and, well, you're wearing yours (just teasing LOL).
Recent press reports indicate the Wladimir Klitschko vs. Tyson Fury fight scheduled for October 24, 2015 in the Espirit Arena in Düsseldorf has the potentially of grossing $50,000,000 in revenues. This would make it the second most profitable fight of the year, behind Floyd Mayweather v. Manny Pacquiao. Tickets are selling briskly, as 40,000 of the 55,000 available seats have already been sold.
World heavyweight champion, Klitschko, takes on British champ, Tyson Fury. It's amazing, just a year ago, Fury's career was in serious doubt, as almost 2-years had gone by without him successfully securing a major fight. Some thought it was over for him, then he fought, Dereck Chisora and won. This perfectly positioned Fury for the opportunity to fight the top heavyweight in the world, Klitschko. Who says dreams don't come true...
STORY SOURCE
Wladimir Klitschko vs Tyson Fury worth over £30m with heavyweight showdown set for 55,000 sell-out
12:42, 21 AUGUST 2015 - Fury will challenge heavyweight king Klitschko for his WBA Super, IBF and WBO crowns and his promoter Mick Hennessy says interest in the fight is huge. Tyson Fury's world heavyweight clash with Wladimir Klitschko will be worth over £30million. Around 40,000 tickets for the October 24 showdown have already been sold and the fight is on course to be a 55,000 sell-out at the Esprit Arena in Dusseldorf...
RELATED ARTICLES