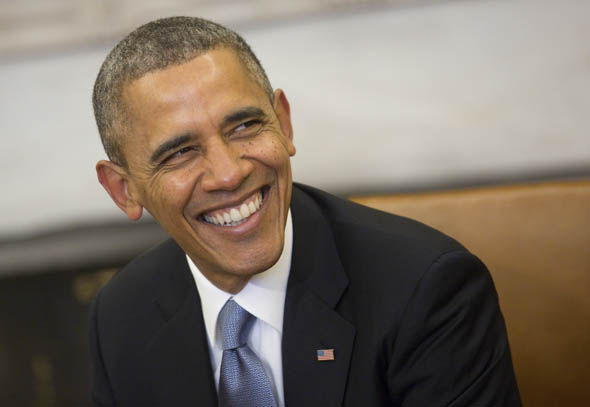 Barack Obama: they really thought they could constitutionally criticize me and get away with it!


13-year old conservative, C.J. Pearson, was blocked on Twitter by the official account of President Barack Obama. The articulate young man has a screencap illustrating he was blocked by the president's official Twitter account. The White House inappropriately mocked the young man over the incident and is now being dragged to hell by Twitter for doing so. It makes the administration look crazy and unbalanced.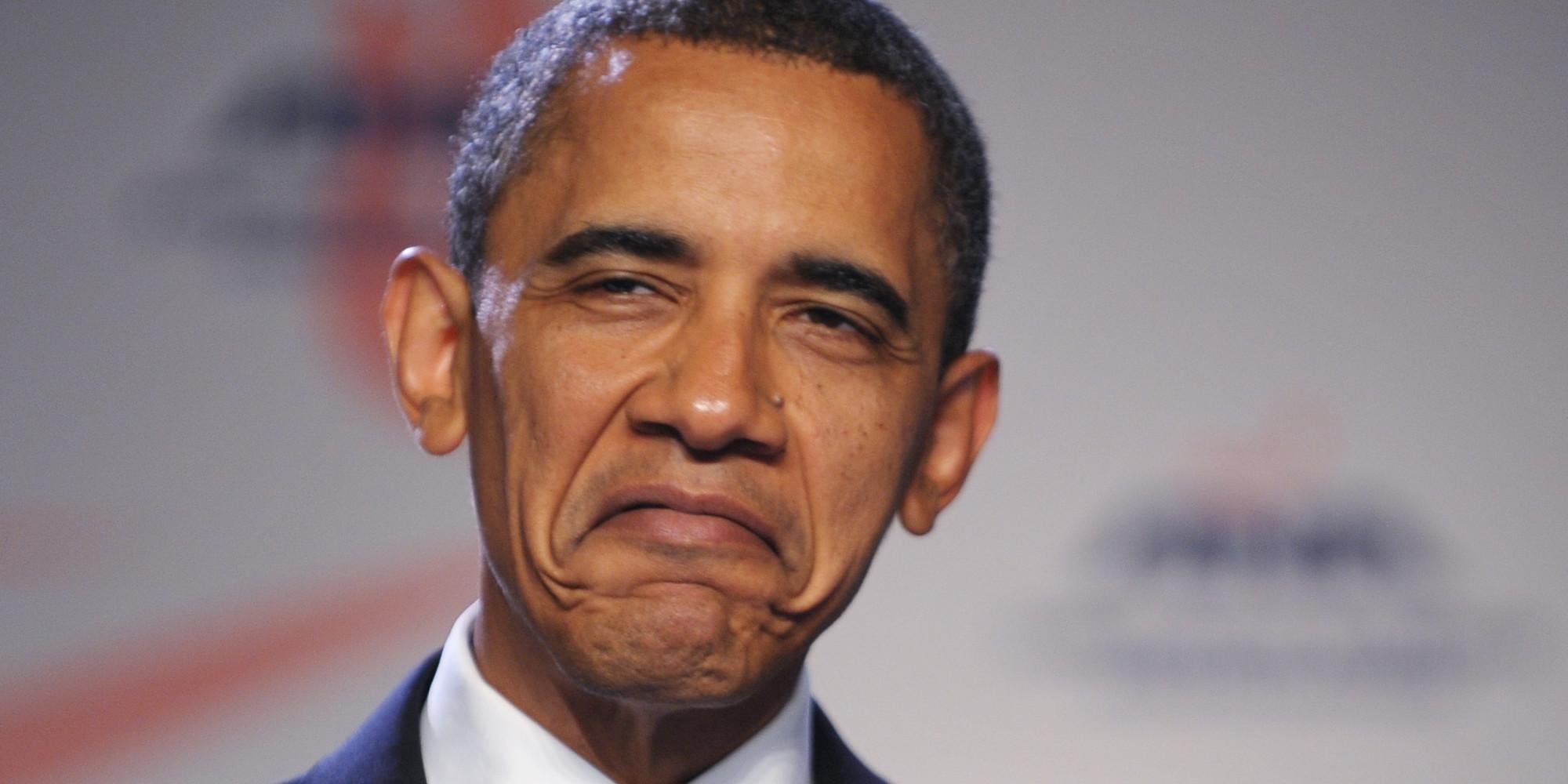 Barack Obama is acting like a gangsta


The White House is now trying to distance itself from the story, as it is embarrassing and petty of them to treat a child in this manner, for simply criticizing the president. Many people are unhappy with Obama's policies, but the president's ego has not been handling it very well. It confirms what many state regarding Obama living in a bubble and being out of touch with the public.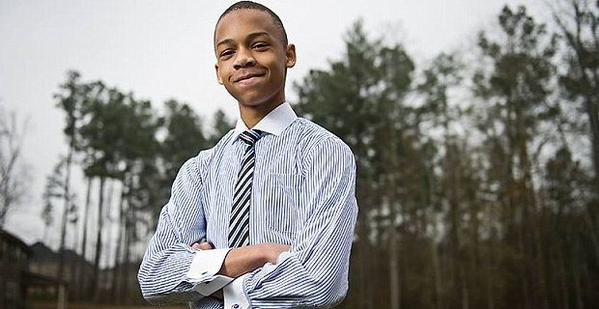 CJ Pearson


The public has no idea of exactly how overly sensitive megalomaniac Obama can be, but journalists and bloggers know firsthand. President Obama and First Lady, Michelle Obama, are constantly making unlawful attempts to restrict free speech in America, violating the U.S. Constitution. Bloggers have been contacted by the White House and blogging platforms such as Blogger and Word Press, after the President and or his wife, disliked something that was lawfully written, because it was critical of their behavior or that of their family.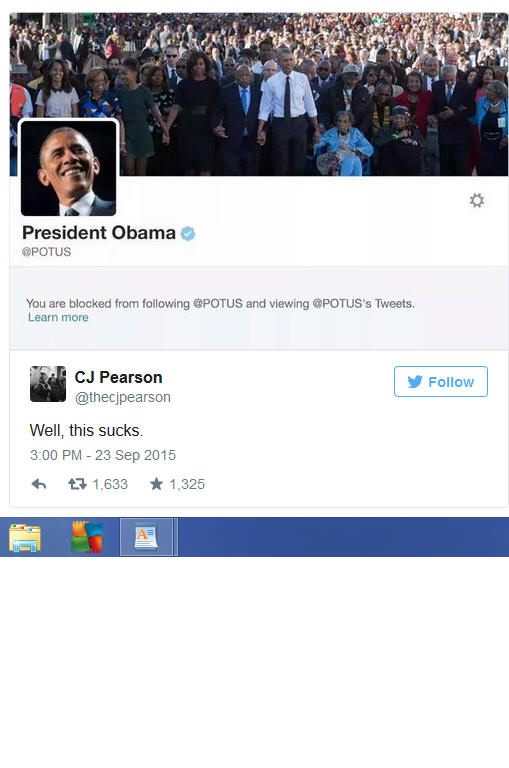 CJ Pearson's screencap of being blocked by President Obama's Twitter account


One does not have to threaten them or state any other illegal item. Just criticize their political policies or family and they will take it very personally and seek revenge via Google's Blogger or Word Press, which is petty and immature. You are grown people. You should be able to take criticism by now. The Obama Administration basically runs Alphabet/Google's blogger, acting as an illegal censorship outfit, in what is arrogant, unconstitutional conduct. As a result, Alphabet/Google has been harassing journalists and bloggers via email and financially penalizing us for writing anything unflattering about Obama, his family and administration. In practice, it is communism.



STORY SOURCE




White House denies blocking 13-year-old critic on Twitter


September 23, 2015, 07:34 pm - The White House says it is not blocking 13-year-old conservative activist C.J. Pearson from following President Obama's Twitter account. Pearson claimed the White House blocked him after he criticized President Obama's decision to invite 14-year-old Ahmed Mohamed to the White House. Mohamed made headlines after he was arrested for bringing a homemade clock to school that officials mistook for a bomb.

But the White House contends it doesn't block anyone from Twitter, as the administration's policy is that official governmental accounts not block any followers. Frank Benenati, an assistant White House press secretary, Tweeted about the policy after Pearson accused the White House of blocking him. Pearson posted a picture on Twitter of a notification saying he could no long view or follow the president's activity on the site...

On social media, the fight quickly escalated, with supporters of Obama suggesting on Twitter that Pearson had made up the post, while supporters of Pearson accused the White House of lying. Pearson responded to the White House's denial with a video posted to Facebook on Wednesday evening in which he calls the denial "completely fallacious."

"If you think the American people are gonna fall for your little tricks, you're downright crazy," Pearson said. "This administration has lied to the American people time and time again. They lied about Bengazi. They lied about the IRS. They lied about every issue of importance to the American people." Pearson said he stood by the screenshot, adding, "It almost sucks that this is what it takes to get a response from the White House."

Pearson has gained a significant following from conservatives on Twitter. He's the national chairman of Teens for Ted, a group backing Sen. Ted Cruz (R-Texas) for president. He's also a vehement critic of Obama. "The reality of it is you don't get invited to the White House for building a clock — I'm sorry, I'm sorry, I hate to be harsh, but it's the plain truth," Pearson said. "He's a Muslim kid, he fits into your agenda, so you're going to go ahead and invite him, well that's great for you."...





White House Officials Mock Black Teen Conservative Who Was Blocked by Obama


September 24, 2015 - After black conservative C.J. Pearson was blocked by President Obama's official Twitter account, White House officials saw fit to mock the 13-year-old activist. Pearson, whose recent video criticizing Obama over his response to the 'Clock Kid' controversy went viral, claimed that he had been unceremoniously blocked by the President's official Twitter account, providing a screen shot to prove it.

White House Assistant Press Secretary Frank Benenati then tweeted a terse message, asserting that nobody has ever been blocked from the official @POTUS account. Pearson fired back, unhappy at the tone of the tweet and the implication that he was a liar. Instead of acting with a touch of class, apologizing to Pearson for the 'mistake' and moving on, other White House officials dug themselves a deeper hole, with Press Secretary Josh Earnest retweeting Benenati's blunt message.

Jesse Lee, White House Director of Progressive Media and Online Response, then tweeted a snarky joke which implied that Pearson was a "birther" conspiracy theorist. Critics immediately accused Lee of being classless. Perhaps if Pearson had filled a briefcase full of wires and circuit boards and claimed it was a clock, he would be getting a White House invitation, not scorned by White House officials. But then again, he's a conservative, so that's never going to happen...