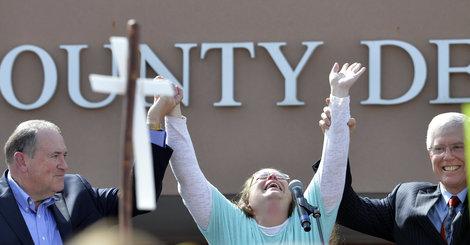 Kim Davis (center) after being released from jail
Christian court clerk, Kim Davis, who refused to issue gay marriage licenses in Kentucky and was subsequently jailed by a hostile, abusive judge, has been released after a week in jail on contempt of court charges. The public was outraged at U.S. District Judge David Bunning jailing Davis.
Under the 2013 Religious Freedom Restoration law, Davis is and was allowed to opt out of issuing gay marriage licenses. It would then be up to another court employee to do so.
However, Judge Bunning, summarily turned America into an autocratic police state by throwing Davis in jail, which was cruel, unconscionable and illegal, in conduct that has become all too common in the Obama administration, in not following established law. This is ironic, as Obama is an attorney who knows the law. He has no excuse.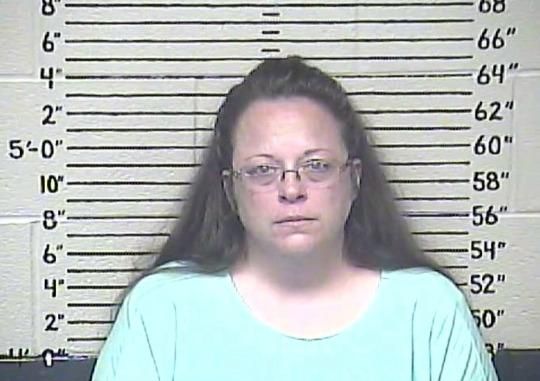 Kim Davis mug shot
This behavior is also indicative of the ongoing misconduct in the Obama administration, if you do not do what he/they want or criticize the president's agenda, they will financially, emotionally and mentally abuse you into submission or destroy your life. It is completely un-American. This shall occupy a terrible place in world history regarding Obama's name and legacy of suppressing free speech and stripping people of their religious freedoms, freedom and in some cases property and finances. As it stands, the Obama administration has the worst human rights record in American history, actively
abusing Christians
. The things being is unconscionable, insidious and sick.
Judge Bunning violated the judicial cannons via this misconduct and with President Obama's approval. It is not a good image to portray of the court system to the nation or watching world, as he made it look merciless, cruel, vicious, abusive and unjust. Where are the "checks and balances?" Why was he allowed to violate the law in this manner. It seems to be a common theme among certain judges in disrespecting the law of the land.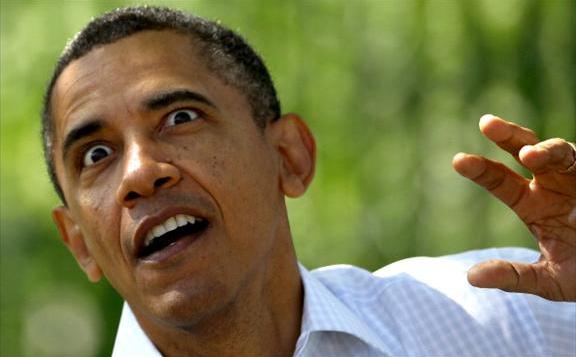 President Obama recently called his rivals "The Crazies" but clearly isn't looking in the mirror at what he has become
Judge Bunning must go. He needs to be removed from the bench. His behavior is intolerable and ironically intolerant and bigoted, which he claims he is against in his push for gay marriage. His conduct reveals a hatred and contempt for Christians and one that he cannot separate from his work, which means he is not suitable to be a judge. It's judges like Bunning that give the judiciary a bad name and shakes the public's faith in the legal system.
What if gays were jailed for being gay? Would that be okay? No it would not. However, Judge Bunning has set the nasty, vile precedent that a Christian can be jailed for being a Christian, which is illegal and he should be prosecuted under federal law for this criminal conduct. Judge Bunning criminally stripped a citizen of her religious freedoms and freedom in criminal violation of the law. Davis should sue, as her civil rights and human rights were violated.
STORY SOURCE
Kim Davis released from prison — with Mike Huckabee by her side
September 8, 2015 - Kim Davis, the Kentucky clerk who was jailed last week for refusing to grant marriage licenses to same-sex couples, has been released from prison. Davis, a clerk in Rowan County, Ky., was incarcerated Thursday for refusing to comply with several court orders to issue marriage licenses to gay couples following the Supreme Court's landmark ruling in June on the basis of her "religious conviction."
Her attorney, Roger Gannam, told Yahoo News that U.S. District Judge David Bunning, who jailed Davis, ordered her release early Tuesday afternoon. "It's six days too late," Gannam said, "but we're glad to report Judge Bunning has ordered that she be immediately released from custody." Huckabee, left, Davis, center, and her attorney, Matt Staver, address supporters at a rally outside the Carter County Detention Center. (Screengrab via ABC News)
Bunning, Gannam said, was satisfied that the marriage licenses Davis had refused to issue were subsequently granted by her deputies. But Gannam stressed his client "never changed her mind" on the issue. Davis emerged from the Carter County Detention Center flanked by former Arkansas Gov. Mike Huckabee, who met with her before her release.
"God showed up in the form of an elected official: Kim Davis," Huckabee said. "Today I was proud to stand with Kim Davis as she was released from jail. Kim Davis should have never been locked up for being a Christian and for following her conscience and the law."...
Last week, Cruz called Davis' jailing an "outrage." ..."For the first time, we're seeing a Christian thrown in jail for standing up for her faith," Cruz told Fox News' Megyn Kelly. "I'll tell you, I stand with Kim Davis unequivocally. I stand with her or anyone else the government is trying to persecute for standing up for their faith."