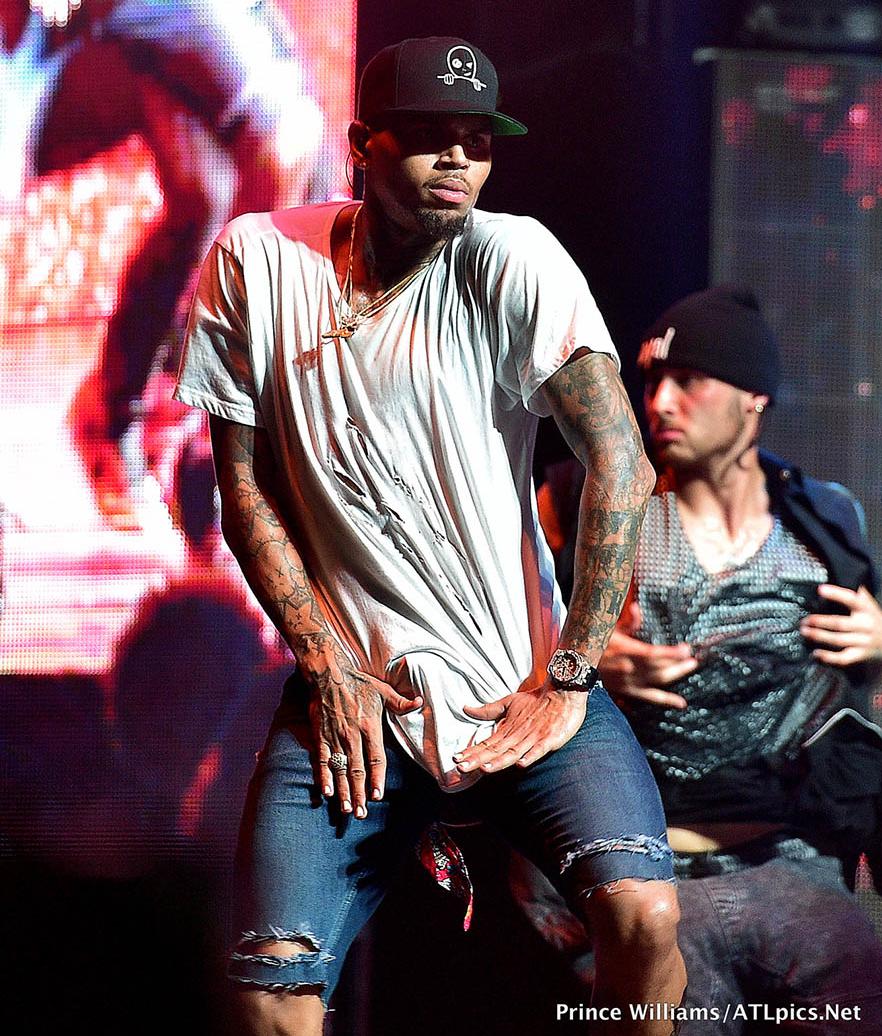 Chris Brown and back up dancer caught mid-dance and made to look delicate in a poster used at a lesbian night club that allegedly offended the star
R&B singer Chris Brown is embroiled in a financial dispute with lesbian concert promoter Traxx Girls, who arrange performances by entertainers at local gay clubs in Atlanta, Georgia. Traxx Girls company representative, Melissa Scott, went public with the claim Brown was booked to perform at a lesbian club in Atlanta, but refused to take the stage when he noticed a few gay men in the crowd.
Brown is also accused of stating the club needs to remove a poster of him that was taken during another performance, catching him mid-dance looking not as tough as he usually does during shows and interviews. Brown's back-up dancer looked like he was grabbing his nipples in the photo as well, due to the angle the photo was taken and the timing. The photo/still from the performance was chosen to appeal to gay audience.
Scott stated in an interview, "I think it's unfortunate for mainstream artists to take people's money with the complete prior knowledge what the event is and being very clear about what the event is about. I am completely baffled. You know it's gay pride. You knew you agreed when you sent the contract in and took the money."
Brown for his part is denying the whole thing. In a series of tweets on Twitter, Brown stated, "The show was never confirmed by any of my people. So I apologize if the fans wanted me there." Brown needs new management. This is the second time in less than a year that he has failed to show up at an event and it led to a dispute. Brown and his concert promoter were recently detained in the Philippines for failing to appear at a New Years Eve concert in 2014, after accepting $1,000,000 and not returning the money.
STORY SOURCE
Chris Brown Responds to Accusation He Skipped Out On Atlanta Gay Pride Concert
Monday, September 7, 2015 - The city was buzzing with excitement this weekend. Singer Chris Brown was set to perform live during an Atlanta gay pride event.

But then the news broke that Brown was a no-show for his scheduled performance at the Georgia Freight Depot nightclub. Lesbian party promoter Melissa Scott told the GA Voice she was "baffled" that the guest of honor was a no-show...
RELATED ARTICLES