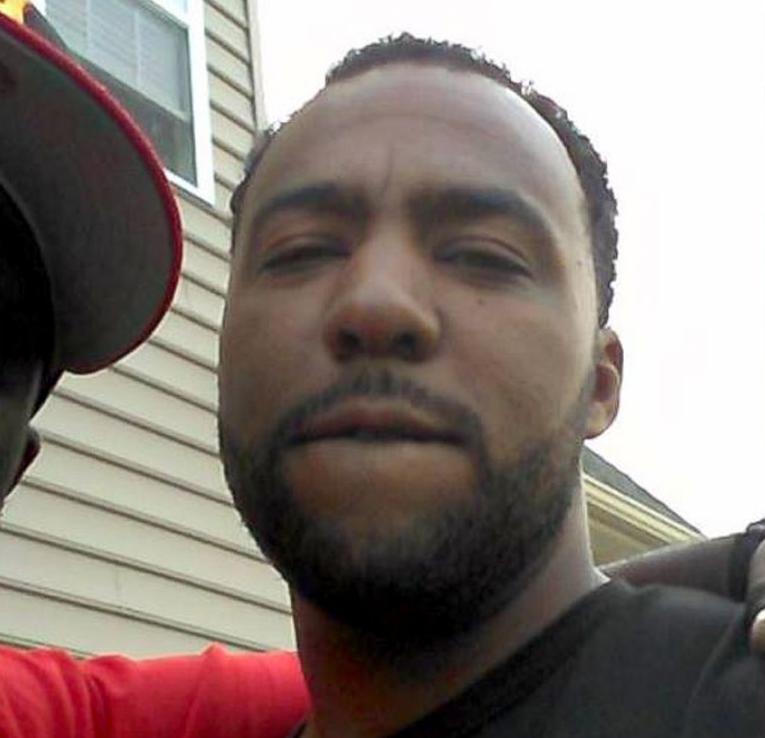 Curtis Smith
White House fence jumper, Curtis Smith, 34, was shot in the Chester County Justice Center court building in Philadelphia, Pennsylvania, after attacking a sheriff during his trial. Smith attacked a local sheriff with a knife, slashing at his flesh after yelling, "I'm going to get you." Another sheriff opened fire, shooting Smith. Paramedics rushed Smith to the hospital, where he died shortly after. The injured sheriff was also transported to the hospital by ambulance and is expected to recover.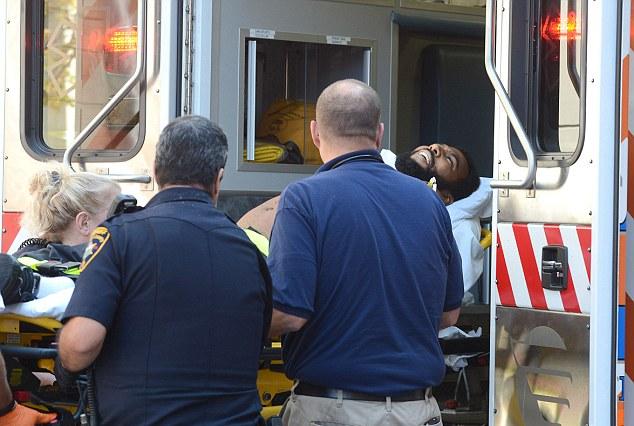 A mortally wounded Smith being taken to the hospital via ambulance
Smith, a married father of two who is a truck driver, had jumped the wall of the White House on March 1, 2015 with ill-intent towards U.S. President, Barack Obama. He was detained by the U.S. Secret Service and indicted. Smith was not prosecuted for the intrusion in exchange for a plea that required him to stay out of trouble.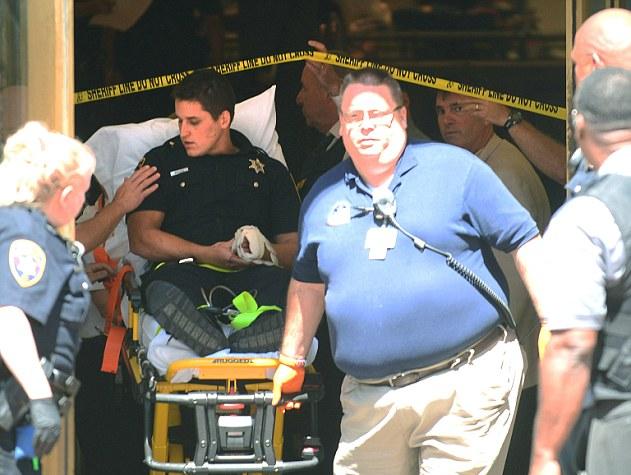 Wounded sheriff being taken to the ambulance, with knife wounds to his hand and arm
However, in May, Smith was arrested during a domestic dispute and charged with burglary, assault and harassment. Smith was facing prison time for the arrest, due to his past criminal behavior in jumping the White House fence. Smith's behavior indicates he was suffering from mental illness and anger management issues that went untreated.
STORY SOURCE
White House fence-jumper killed after Pa. court attack
Michael Winter, USA TODAY 4:45 p.m. EDT August 25, 2015 - A Pennsylvania man who jumped a White House fence in March was shot dead Tuesday inside a Philadelphia-area courthouse after he slashed a sheriff's deputy with a knife. Curtis Smith, 34, of Coatesville, was killed by another deputy after the attack about 11 a.m. in the lobby of the Chester County Justice Center in West Chester, Pa., District Attorney Thomas Hogan said at a news conference. The injured deputy, who was not identified, was cut on his left hand and arm and taken to Paoli Hospital. He was listed in stable condition...
Smith was arrested March 1 after he scaled a stone wall at the southeast corner of the White House complex. The arrest record said he wanted "to pass a message to the president," the Washington Post reported. He offered no resistance and "turned around presenting his hands behind his back for arrest."...