Breezy Burglarized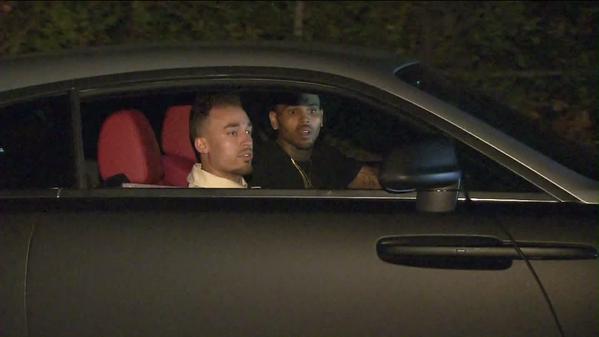 Chris Brown returning home from the club after his home was burglarized


Chris Brown's newly purchased mansion in Tarzana, California was ransacked and burglarized yesterday, in a sad scene that involved the intruders pointing a gun in his terrified aunt's face and locking her up in a closet. Brown was at a night club when the home invasion robbery occurred at his property. Brown's new home was ransacked and cash and valuables were stolen by the burglars. Among the valuables is a computer.

Brown stores many of his unreleased songs on his computer, which would make the unit far more valuable than it's actual manufacturer suggested retail price. Brown also stores private items on his computer as well (photos, videos ect...).

Police estimate it was between 3-5 black men wearing masks that stormed the mansion. Brown's estranged mother, Joyce Hawkins, has lashed out against his troublesome friends, many of whom have gang ties. Hawkins labeled the burglary an inside job, as her sister informed police the intruders knew the new property belonged to Brown, who was out partying in a Los Angeles night club, giving them the perfect time to strike.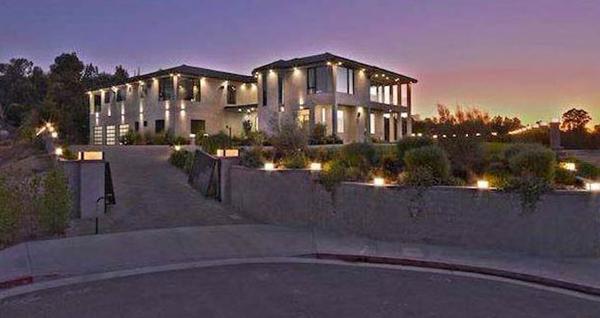 Chris brown's new home




Some of Brown's friends know his routine (where he goes and when) and knew exactly where he had items stored and went after them (in the property). I was informed Brown went through the house distraught and crying, seeing his new home maliciously ransacked and treasured items missing from the property.

In roughly a dozen articles, the Judiciary Report has repeatedly stated for over a year that Brown needs to ditch his negative, trouble prone friends and find decent friends instead (Among those articles are July 10, 2014's Getting Negative Influences Out Of Your Life and May 21, 2015's Chris Brown Announces More Tour Dates While Paying The Way Of Destructive OHB Crew).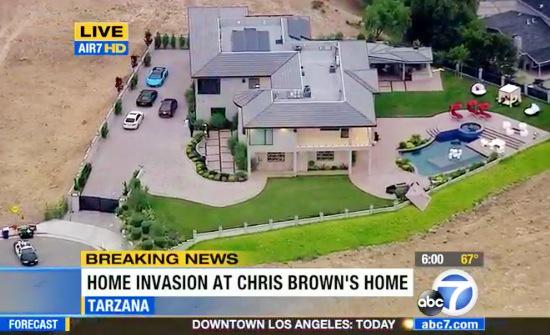 Aerial shot of Brown's home

They have repeatedly proven the site correct getting Brown into one scandal after another. They even riled him up during the Tyson Beckford incident that turned into a scandal, causing Brown to lose his temper and threaten the supermodel and his family over a photo with his the singer's ex-girlfriend, Karrueche Tran, when the two were only hanging out at a party with many other guests. The presence of Brown's troublesome friends is also attracting violence and police attention.

In a separate incident that occurred two months ago, Brown's other home located in Agora Hills, California, was broken into by a crazed stalker wrongly believing herself his wife, who spray painted his cars and kitchen cabinets, threw out his daughter's clothes and put voodoo objects around the child's crib (Chris Brown Comes Home To Find Naked Stalker In His Bed After She Vandalized His Home And Cars).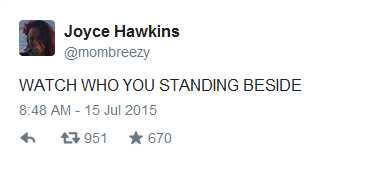 STORY SOURCE




Chris Brown's Mom Thinks His Friends Keep Putting Him In Bad Situations




12 hours ago - As the details surrounding Chris Brown's home invasion start to unfold, Breezy's own mother has some interesting thoughts on the incident. According to TMZ, Brown's mom, Joyce Hawkins, believes that the robbery was done by people close to Chris, and may have even been people that he considers friends. Brown and his mother have had problems on and off for years, and the origins of those issues apparently stem from the circle of people that Brown keeps around him on a daily basis. Brown wasn't home at the time of the robbery, but the three armed men held his aunt hostage in a closet while they ransacked the house and stole an unknown amount of money and personal items.

Brown's mom shared her thoughts on the situation earlier this morning via her Twitter, when she wrote, "Watch who you standing beside." She also apparently believes that the group of people Chris hangs around is the reason for his countless troubles with the law in the past, but that seems like a lengthy reach in reality. So far no arrests have been made in Brown's home invasion case, though the police are searching for the three suspects.

Side Bar: It's telling that Chris Brown posted a photo of himself cropped into the last known picture of rapper Tupac Shakur, who was shot to death while riding in a car with Bloods gang member, Suge Knight. Police investigators, Tupac Shakur's family and many in the music industry believe and have stated that Knight had a hand in the rapper's killing, as he demanded the $20,000,000 in royalties Suge was robbing him of and wanted to leave Death Row Records.





Chris Brown Home Invasion Robbery Hostage Held in Closet


7/15/2015 3:39 AM PDT - 7:00 AM PT -- Law enforcement sources tell TMZ, the 3 home invasion robbers targeted the house knowing it was owned by Chris Brown. We're told when they were speaking with Chris' aunt they told her they knew Chris owned the property. Chris Brown's house was hit early Wednesday morning in a home invasion robbery and the robbers held his aunt at gunpoint, locked her in a closet and turned the place upside down ... TMZ has learned.

It went down at around 2:00 AM at the San Fernando Valley house Chris just bought. Three armed men forced their way in the house and found the aunt, put a gun in her face and ordered her into the closet. Law enforcement tells us the home invaders then ransacked the house, took money and other property and fled. The aunt called 911 and cops raced to the scene, but the robbers were long gone.

Chris was not home at the time ... instead, our photogs shot Chris at the Argyle, a club in Hollywood where he was hosting a pre-ESPY party. The time codes indicate Chris got to the club around 12:30 AM and left at 2:13 AM ... just as the break-in was going down.





Chris Brown's Baby Mama Royalty's Not Safe Around His 'Gang' Friends


7/15/2015 3:19 PM PDT - Chris Brown could lose more than property after the home invasion ... it could cost him some daddy time, because his baby mama is worried Royalty's in danger when she's with Chris and his homies. Sources close to Nia Guzman tell TMZ ... she thinks many of Chris' friends are gang members or gang-affiliated, and the robbery shows they've now turned on Chris. We're told she's not cool with Royalty being around that element.

As we first reported ... Chris' mother also thinks last night's hit was an inside job. It's bad timing for Chris. He just filed docs asking a judge to hammer out a formal custody agreement -- partly because he says Nia's been denying him visits with Royalty. If the court sees things Nia's way it could affect custody.