Gay Relationship Turns Sour Between Birdman And Lil Wayne Over New Boyfriend Young Thug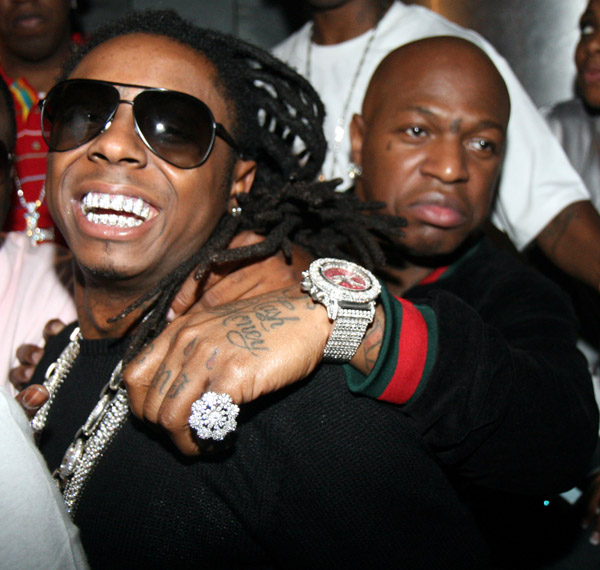 Birdman: this is my booty!




Cash Money Records rapper and CEO, Birdman, real name Bryan Williams, is being mentioned in a criminal case, regarding a drive by shooting that occurred in Atlanta, targeting the bus of his recording artist, Lil Wayne. Wayne, real name Dwayne Michael Carter Jr., is in a contract dispute with Birdman, over unpaid royalties. Wayne started a subsidiary label, Young Money, under the Cash Money umbrella, but has not been getting paid as he feels he should be.

Both Cash Money and Young Money are heavily in debt and the subject of many lawsuits by creditors and copyright holders' whose intellectual property they stole. Overspending is also at play, as Birdman and Lil Wayne have been engaging in excessive spending. Birdman is the worst culprit in this regard. Birdman has secretly been spending his artists royalty money on himself.

Birdman has made expensive purchases such as a $10,000,000 Miami Beach mansion, with $2,000,000 of imported marble, a $100,000 3 story crystal chandelier and hundreds of thousands of dollars in upgrades and furniture. Birdman also purchased a penthouse condo in Los Angeles, a mansion in Louisiana, a private jet and millions of dollars in sports cars (some lined with mink) and jewelry. Birdman has spent a fortune on clothes, outfitting his sneakers and jackets with mink.

Rapper, Young Thug, real name, Jeffrey Williams, who is a music collaborator of Birdman, is under criminal investigation in connection with the drive by shooting that left Wayne's tour bus riddled with bullets. Young Thug's tour manager, Jimmy Winfrey, has also been named in the conspiracy to kill Lil Wayne. It is being stated Birdman conspired with Young Thug and Winfrey to kill Lil Wayne. for publicly trying to leave Cash Money. Birdman would also make a killing, pardon the pun, in posthumous sales if Wayne was killed.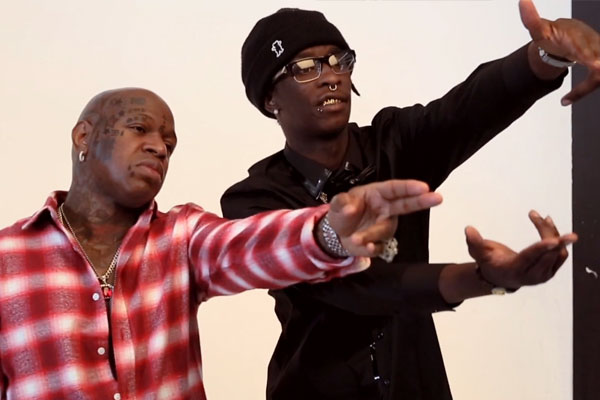 Birdman and his new man Young Thug


Wayne has been very vocal about his desire to leave the label due to non-payment of royalties. Canadian rapper Drake, who is also signed to Cash Money/Young Money, has also complained of not being paid the royalties due to him, despite releasing many hit records. Birdman has taken a page out of the playbook of Death Row Records' Suge "Marion" Knight, in targeting his artists with acts of violence, as a threat for publicly complaining of royalties not being paid and attempting to leave the label. Knight's top rapper, Tupac Shakur, was shot and killed in a drive by shooting, when he began complaining that he is owed $20,000,000 in royalties and wanted to leave Death Row Records.

Young Thug has a criminal record, having been arrested in a separate incident for drug possession, driving without a seat belt, reckless conduct and reckless driving. During an second incident, Young Thug was arrested for threatening to kill a mall security guard. During the surprise raid on his rented Atlanta mansion to bring him into custody, police found guns and drugs, which resulted in additional charges.

Another component of this story is the homosexual relationship between Birdman and Lil Wayne, which began when the latter was underage. A photo surfaced of Birdman and Wayne kissing each other on the mouth. Birdman is also in a gay relationship with Young Thug, who called him "My lover." Birdman also swings both ways, messing around with female groupies and desperate side chick, singer Keyshia Cole, who was arrested for beating up his female assistant in brutal fashion, believing he was cheating with her in his Los Angeles condo (Keyshia Cole Arrested For Beating And Scratching Up A Woman Her Boyfriend Birdman Cheated With).

All of the aforementioned entertainers are in Hollywood's "Illuminati" also known as Madonna's Kabbalah cult. Wayne has been spotted wearing the Kabbalah red string bracelet. Wayne, Birdman, Young Thug and Keyshia Cole have also engaged in shady financial transactions with them.



RELATED ARTICLES