Jihadi Bride Mocks The Dead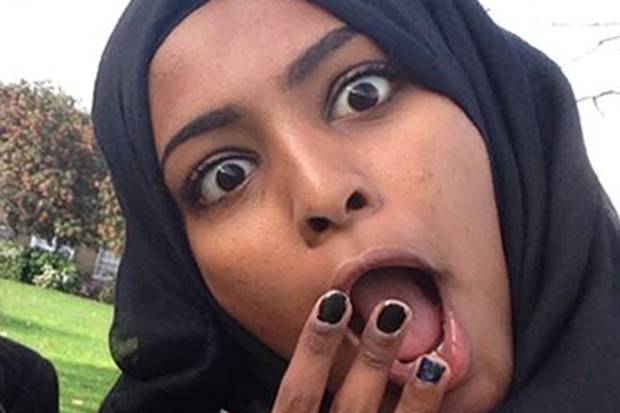 Amira Abase




16-year-old Muslim girl and London, England resident, Amira Abase, tried to join the terrorist group ISIS in Syria. Abase traveled to Syria. Abase had begun publicly voicing her support for Syria, which has become a hotbed of terrorism at odds with the British and U.S. governments. Abase was among three Muslim girls in Britain, who chose potential husbands from a list of ISIS terrorists online and went to Syria to wed them and join the murderous terrorist group. ISIS has barbarically murdered innocent westerners via methods such as beheadings.

An undercover reporter recently texted Abase in London about the recent terrorist attack in Tunisia that left 30 British tourists dead and she inexcusably laughed at their murders responding "LOL" which is internet slang for "laughing out loud." Her mind has been damaged by the brainwashing she subjected herself to in consorting with people involved in terrorist activities. Individuals like her are very misguided and in over their heads.

Abase's father, Abase Hussen, admitted he took her to a protest march when she was 13-years of age and it sent his child on a dangerous path with she too becoming a Muslim extremist supporting jihadi terrorism. These protest marches have become a slippery slope into terrorism for Muslims in Britain, as they are exposed to strong rhetoric and brainwashing via hate preachers and other individuals recruiting for terrorist organizations.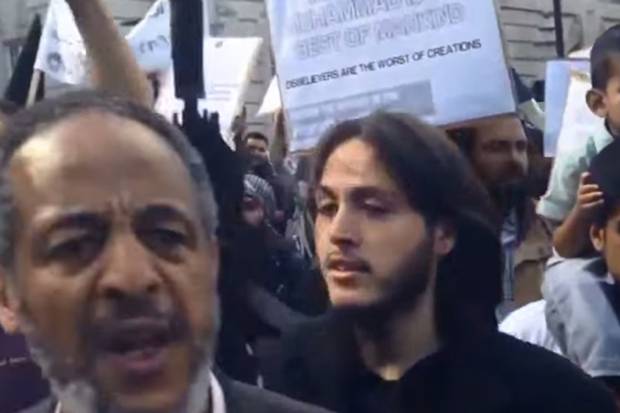 Amira Abase's dad took her to a Muslim extremist protest march when she was 13-years-old and it sowed the seeds of hate for Britain, America and all things Western


Members of western governments also attend these protests undercover, as they know some are terrorists and terrorists in the making. Undercover agents make secret recordings, discreetly take video and photographs and notate names of attendees for investigation and surveillance (and understandably so, as the government needs to preserve the lives of its citizens protecting them from potential terrorist attacks). Anyone who goes to or promotes these types of protests, just know, the government is watching you and you are bringing trouble on yourselves.

It is alarming to watch what is transpiring regarding the terrorist recruitment drive of westerners. People are being brainwashed by terrorist groups via online recruitment materials, mosques and word of mouth from their Muslim friends, to support and or join the terrorism that is transpiring in Syria and other parts of the Middle East.

Little do these individuals know their names have been recorded and they are being watched, wiretapped and hacked by western governments as potential terrorists in the making. It creates a black mark over their lives. Their names have been added to terrorist watch lists at numerous airports and some nations will deny them entry.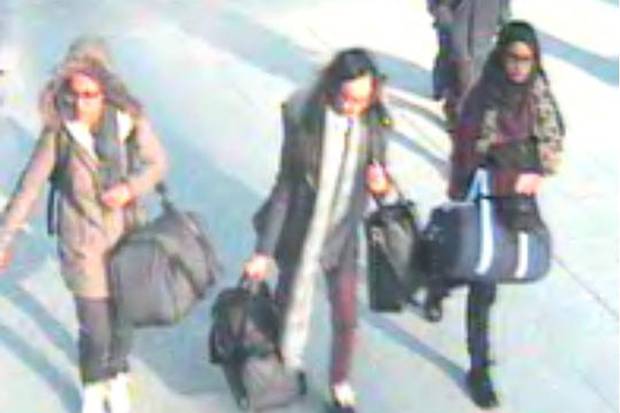 Amira Abase and two of her fellow misguided friends, who are also underage, traveling from Britain to Syria to join ISIS and become "jihadi brides"


It will create problems for them in progressing in society and gaining proper employment. They will not be allowed to attain certain jobs in society. As mentioned above, it also leads to the loss of their privacy and understandably so, as they are warring against the very nation(s) that birthed/housed them, as they are engaging in behavior that could kill fellow citizens in acts of terrorism.

In short, stay away from terrorism and support such activities. You are throwing your future away dabbling in such things and are kidding yourself if you think the government(s) will tolerate it and you will prevail in fighting against them. They don't joke around when it comes to terrorism.

It is very unwise to get involved with such groups and so-called causes, as no western government will put up with it and rightly so, as it is a danger to the safety, peace and prosperity of each respective nation. Do yourself a favor and leave terrorism alone. It is a dead end. You will end up dead or in prison. Focus on having a healthy, hate-free, violence-free, productive life.





STORY SOURCE




London schoolgirl who fled to Syria to join IS mocks victims of Tunisia massacre


Published: 05 July 2015 Updated: 10:30, 05 July 2015 - A London schoolgirl who fled to Syria to join terror group Islamic State has mocked the victims of the Tunisia massacre. Amira Abase, 16, unwittingly told an undercover reporter at the Mail on Sunday that she was "laughing out loud" when asked about her reaction to the shootings, which saw 30 Britons killed.

In an online conversation with the reporter, the former Bethnal Green Academy pupil appeared to know little about the recent attack by gunman Seifeddine Rezgui in Sousse. But when she was told that Muslim leaders were condemning the attacks, she simply replied "LOL" - text speak for "laughing out loud". Reporter Abul Taher had contacted Ms Abase under the pretence that he was a fellow British Muslim teenager planning to run away and join Islamic State.

Ms Abase fled London in February along with friends Shamima Begum, 15, Kadiza Sultana, 16, to become so-called "jihadi brides". Yesterday video emerged of three girls carrying automatic rifles around Raqqa, Syria - an Isis stronghold, but there were conflicting reports as to whether the trio were the former Bethnal Green Academy pupils. Two of the girls have since married IS militants after choosing from a catalogue of suitors, according to reports.

Members of the girls' families, who appeared before a committee of MPs in March, claimed they were normal teenagers who watched shows including Keeping Up With The Kardashians...