Ironically Chris Brown's Biggest Hit Is The Song "Loyal"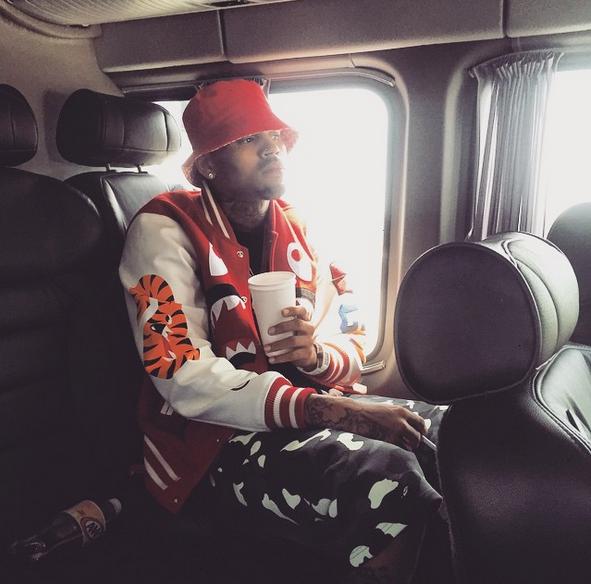 Yesterday was not pretty for singer Chris Brown. His ex-girlfriend, Karrueche Tran, who stood by him through court cases and intense public scrutiny, ripped him to shreds on social networking. It all began when Tran was asked a question about Brown during an interview. She responded and Brown became upset. The singer went straight to Instagram and stated, "Da f*** u keep doing interviews for. Yes, I have a daughter. And I'm going to man the f*** up and take care of her. If there is no relationship the u shouldn't be doing f***ing interviews with people."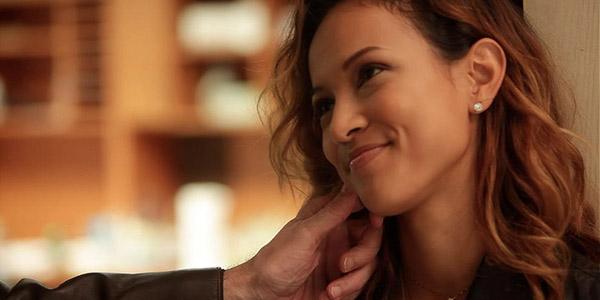 Karrueche Tran




Tran read Brown's Instagram post and became angry. She posted a very sobering statement on Twitter and Instagram, "First off @chrisbrownofficial you just did an interview w Ryan Seacrest in which you spoke about me. My interview w Access Hollywood was not entirely about you.. they asked a question and as a mature adult I answered. I'm not gonna shy away from something that I lived through. I'm talking about my life and experiences. I'm not speaking on you or bashing you (like I easily could). Don't be mad at me because our relationship is over due to your lack of loyalty. You know what's weak?? You forcing yourself into my car.. my broken window.. blowing up my phone.. trying to shower me w gifts.. Man the f*** up and change the bs in your life like I've told you several times. Since you want to hear about my career - check out @vanityseries every Thursday on StyleHaul.com.. Emmy winning @thebaytheseries this Sept and 3 Headed Shark Attack on SyFy next month. Best of luck to you and beautiful Royalty."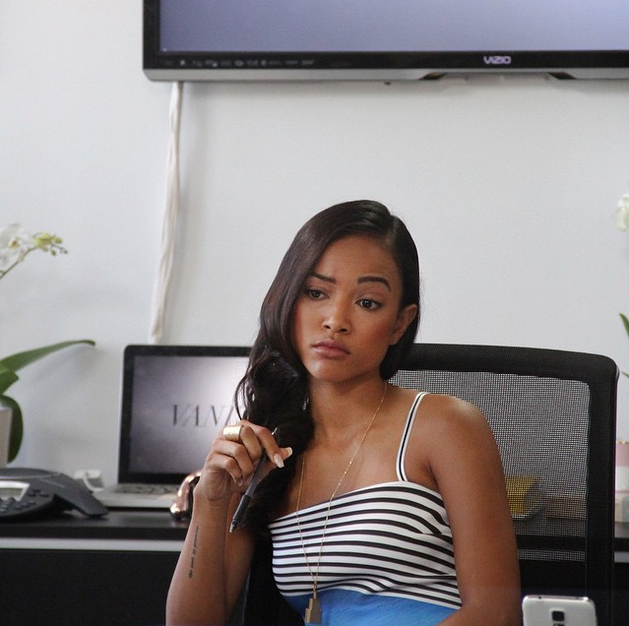 Karrueche Tran




Tran stuck in a couple plugs for her acting projects at the end of the angry post, thus turning lemons into lemonade (LOL). Seriously, last week didn't the Judiciary Report tell Brown to give Tran her space and let her heal (Chris Brown Doesn't Understand Why Karrueche Tran Won't Take Him Back). He didn't and she exploded at him online as a result. Tran is irritated by all that has happened.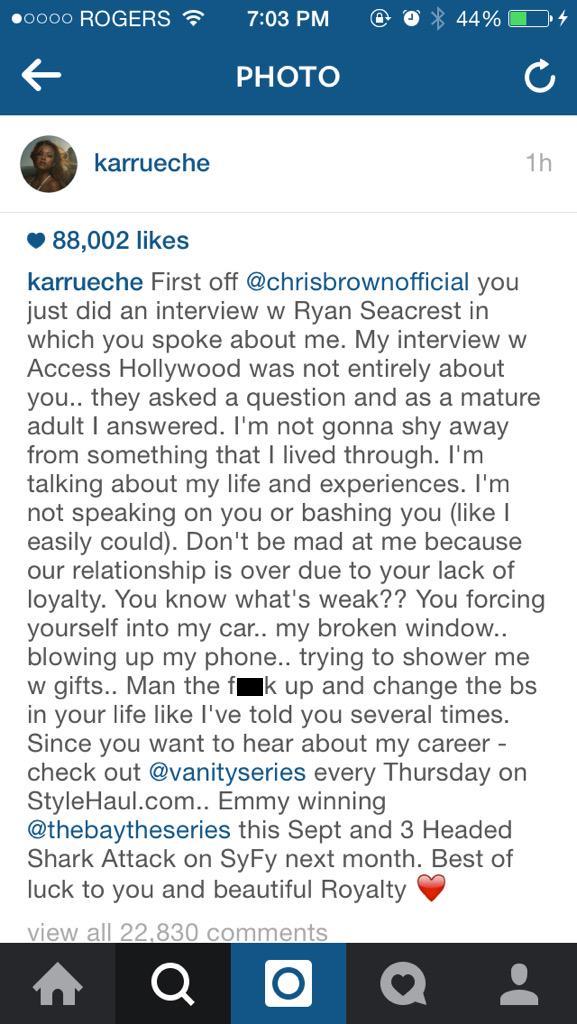 Karrueche Tran's post about Chris Brown




Brown began talking about Tran in interviews again and she saw it. Brown did an interview on the radio with Ryan Seacrest and stated of Tran, "I'm going to be honest and be a man about it and just take it one day at a time. I can't promise anything and I can't jump over the moon, but it takes time for all wounds. I take full responsibility for my actions and things that I've done in the past. I feel like it's just a time thing...I'm not a hateful person. Of course I still love her, but mentally right now, I think everything takes time. I just need to focus on being the best father I can be."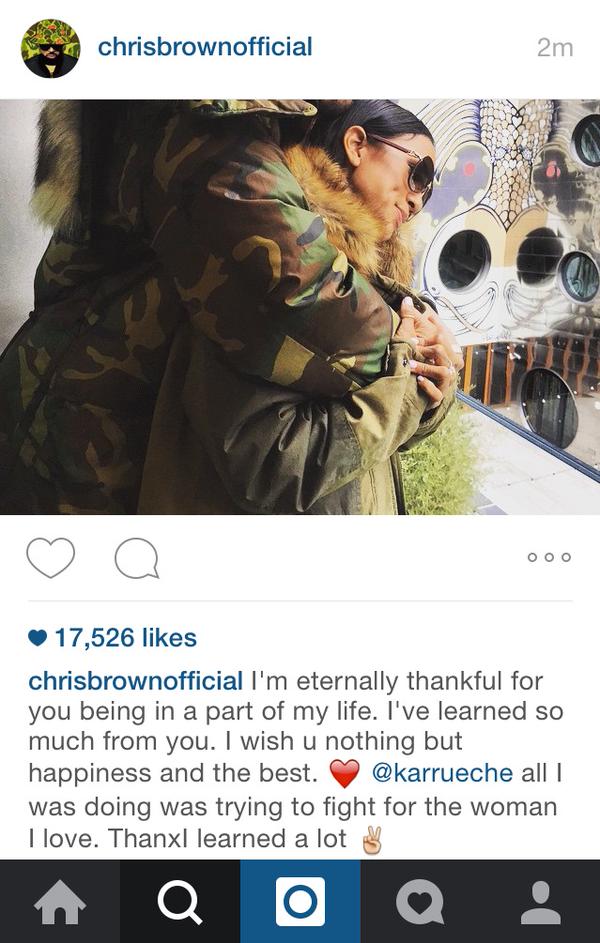 Chris Brown's post about Karrueche Tran




While Brown did apologize in a follow up Instagram post, once again, the Judiciary Report is advising he gives Tran her space. She feels embarrassed by his cheating and accidentally fathering a child with another woman, a person that was in their circle of friends. She also feels embarrassed that she defended Brown so many times to the public and he let her down so badly with the aforementioned promiscuity.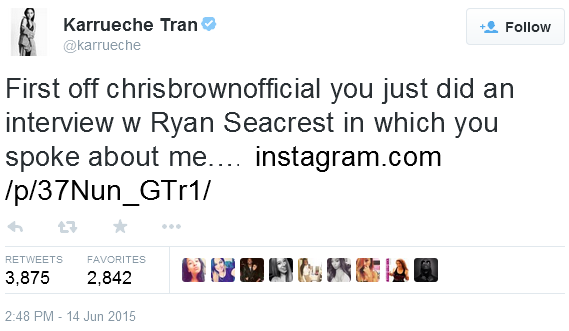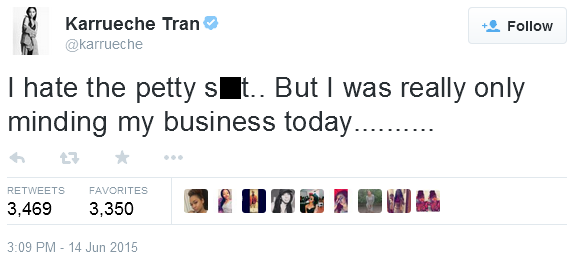 RELATED ARTICLES