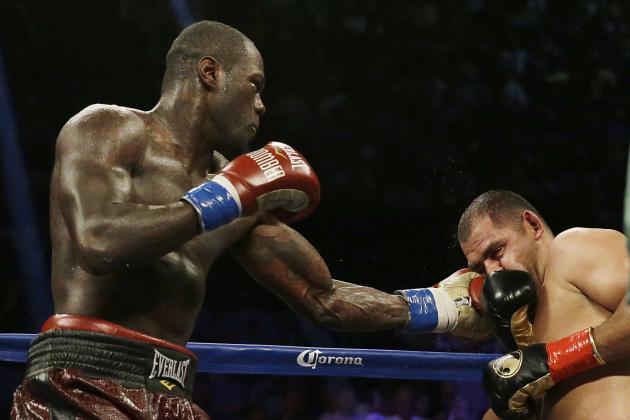 Deontay Wilder vs. Eric Molina


WBC heavyweight champion, Deontay Wilder, retained his title in a successful bout against tough boxer, Eric Molina. The fight was held in Wilder's native Alabama in front of a sold out crowd. This is unusual for boxing, as most sold out events are held in major cities such as Las Vegas (Nevada) New York City (New York) or Los Angeles (California). However, paying tribute to his home state, the 6 foot 7 inch 229 pound Wilder held the fight in Birmingham, Alabama at the Bartow Arena in front of 9,000 fans.

Wilder was fresh off a broken finger/hand injury that occurred when he became the champion during his fight against Haitian-Canadian titlist, Bermane Stiverne. During the fight, Wilder seemed more restrained than usual, occasionally staring at the hand that was injured in the Stiverne bout and holding it close to his waist in a guarded manner. Wilder later told Sports Illustrated that he was experiencing "some soreness" in the hand. At times it was worrying to watch as Wilder was wide open, relying on his quickness to dance away from Molina to dodge any serious shots.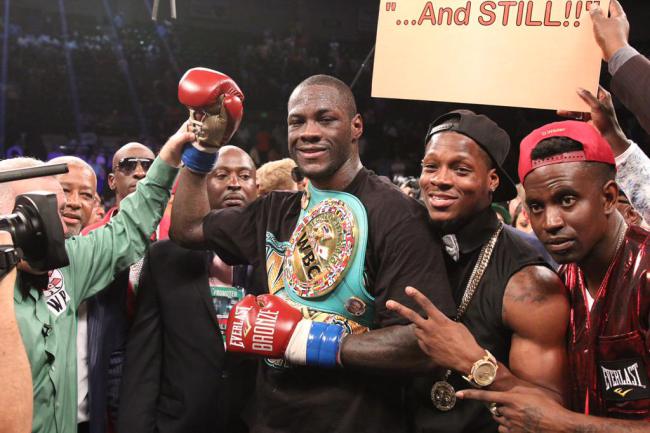 Wilder and his corner celebrating the win


During the Molina fight, Wilder unleashed combinations that resulted in four knockdowns. Molina, determined to continue, took the punishment and unleashed shots of his own. However, after a 9th round right hook, windmill and a left hook, Molina was laying on his back disoriented on the canvas. Even though he did not win the bout, Molina proved his critics wrong who stated he would be quickly dispatched. Molina stayed in there with Wilder for 9 of 12 rounds, even at times the referee wanted to end the fight prior to the decision being made for the stoppage. Wilder's record now stands at 34-0 with 33 knockouts.

Side Bar: I watched this fight with my mom and her behavior was downright awful (LOL). The first time Wilder knocked down Molina my mom, realizing where this was going said, "Stay down! You're gonna get the same money if you get back up" (LOL). Her thought was it would spare him the physical punishment and the check would be the same for Molina against Wilder, who was on track for another win. However, boxers like to fight until they can't fight anymore like warriors. They also hold out hope of continuing to search for that shot to get a surprise knockout.



RELATED ARTICLES