Chris Brown And His Bloods Gang Associates Issue Death Threat To Tyson Beckford Over Karrueche Tran Selfie
Singer, Chris Brown, became enraged when he saw a selfie of his ex-girlfriend, model, Karrueche Tran, with handsome model, Tyson Beckford. Both Beckford and Tran have been in Las Vegas for Memorial Day weekend in America (However, Tran left early when Brown posted he and his gang member friends are on the way to Las Vegas).
Tran took a selfie with Beckford, who innocently stood next to her smiling. Tran was making a kissing face at the camera in the selfie and it ticked Chris Brown off, who began to assume she wants Tyson, who posted the photo. Tran is now following Beckford on Instagram. Brown is having Tran followed around.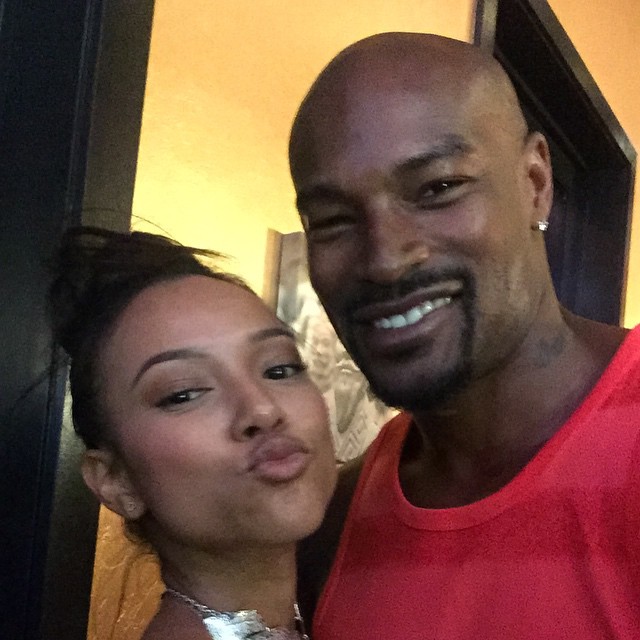 Karrueche Tran and Tyson Beckford
Beckford took a number of photos with various women in Las Vegas, who saw him and asked for a picture. He is a nice guy and obliges when people ask him for a photo. Just because someone meets him doesn't mean something sexual happened or is going to transpire. He's met many people in situations that were simply friendly. There's nothing wrong with that. Celebrities are supposed to be amiable to the public who supports them. It's the right and kind thing to do.
Furthermore, Beckford has met many famous women and taken photos with them. He recently posed for photos with singers Mariah Carey and Britney Spears, who both playfully made flirtatious comments about him. However, once again, nothing happened. Beckford, among others, is a good looking man and women like to flirt and joke around with him and other famous handsome men who are fun to be around. Once again, it doesn't mean anything happened. Chris needs to calm down, because having him off for the photo with Tran, is not fair, when Beckford did nothing wrong...and neither did she.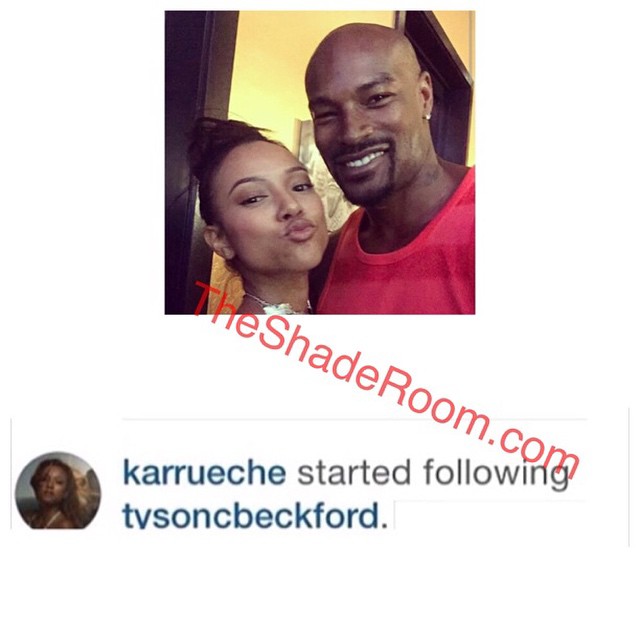 Karrueche Tran is now following Tyson Beckford on Instagram
Brown broke Tran's heart by impregnating Nia Amey, a nude model and video girl, in their circle of friends. Tran understandably broke up with Brown over his cheating. Various news outlets have reported on Brown leaving clubs with groupies since their break up, which is not the way to get back the woman you love. As a general rule, women hate that.
Tran is single and allowed to date whomever she wants to, as is Brown. He should not get angry at her for moving on with her life. He repeatedly cheated on her throughout their relationship, having developed promiscuous habits some famous men do. However, Brown still sees Tran as his girlfriend and that's apart of the problem. Hence the death threats directed at Beckford.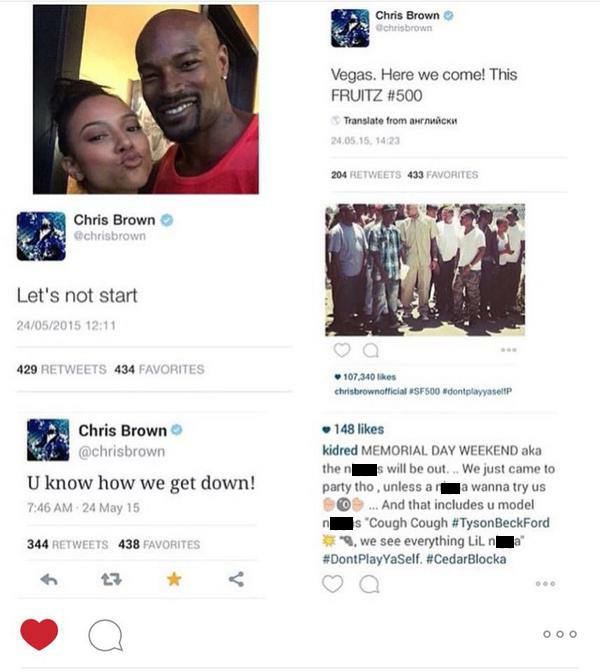 Chris Brown and his Bloods gang associates issue death threat to model Tyson Beckford on Instagram
Brown just completed probation and the government is watching what happens regarding the Beckford threat. The FBI dislikes gangs and Brown publicly calling on his "Fruit Piru ("Fruitz")" gang associates from California has caught their eye. Everyone needs to calm down and behave. Brown hated jail. He is going to end up back there if he is not careful.
Brown already got into trouble in Las Vegas this month, after punching a man during a basketball game, which nearly resulted in criminal charges after police were called. However, Brown quietly settled the matter shortly after and no charges were pressed by the victim. Previously, Brown was in line for criminal charges after he ordered his crew to beat up a man during a basketball game. Brown recently settled that case as well.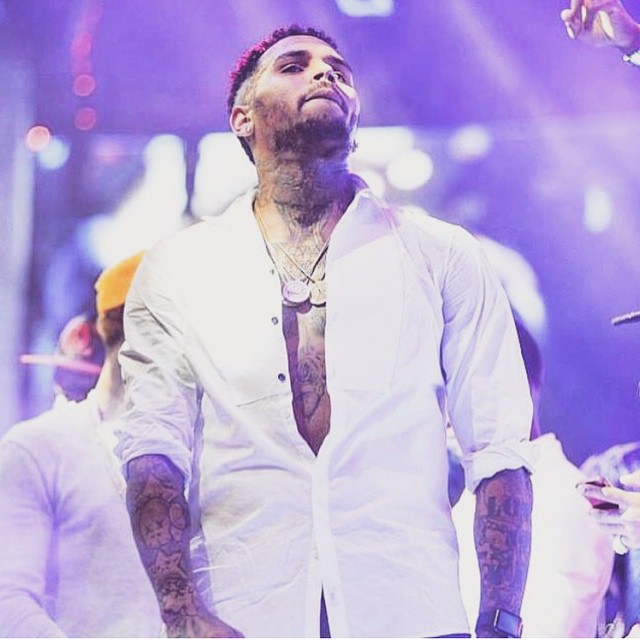 Chris Brown: she's just gonna leave like that! (Brown posted the photo above to Instagram with the words "we here" to state he and Bloods gang members he associates with are in Las Vegas...and Karrueche ran out of there fast like Usain Bolt on a track LOL. She is now in Chicago).
People are not responding well on social networking to the threats Brown has issued regarding Beckford. Brown's social networking pages are flooded with angry comments over the Beckford threat. People on Twitter and Instagram are also posting to Tran that she needs to stay away from Brown, as he is "mentally unstable" "abusive" "crazy" and "dangerous."
Months prior I had warned on Twitter that the minute Tran tries to date someone else (in this case it just looked like she likes someone - Beckford) Brown would pop up out of nowhere and get angry. This is exactly what has happened and it is regrettable.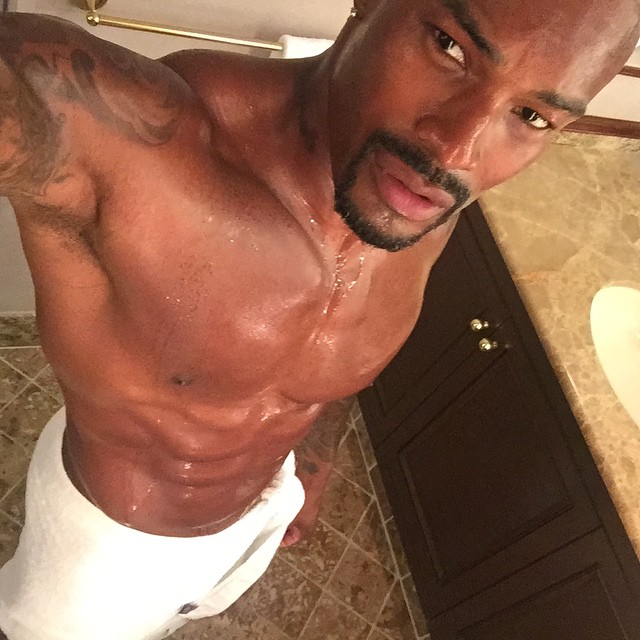 Chris does not want Karrueche with that. This photo was posted by Beckford to Instagram from Las Vegas.
Ironically, before all of this happened, the Judiciary Report warned Brown was not taking his meds everyday as instructed by his doctors (
Chris Brown's Bipolar Medicine Is A Dangerous Mix With His Other HabitS - April 30, 2015
) and just two days before his threat against Beckford, the site stated Brown's friends keep getting him into trouble (
Chris Brown Announces More Tour Dates While Paying The Way Of Destructive OHB Crew - May 21, 2015
). Once again the site has been proven right.
The people in Brown's camp are not telling him the truth. Brown has to change his negative behavior for himself and for the sake of his 10-month-old daughter Royalty or he will be incarcerated again and broke from a stream of lawsuits. How is he going to be a father to her if he's in jail. How is he going to support her if he is locked up and can't work with his money taken by people who sued over altercations.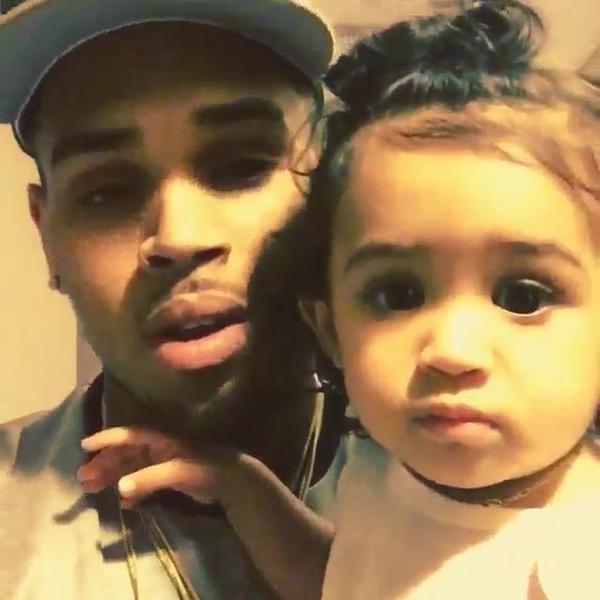 Chris Brown and his daughter Royalty
I'm writing the truth for Brown's own good and that of the public, as he has hit and separately threatened people this month. Once again, he needs to ditch those so-called friends, take his medicine and stay out of trouble. It is not worth the bad that could happen (jail and bankruptcy).
Brown's family as well as attorney Mark Geragos need to talk to him again, as he is drifting into trouble again. After all he has just been through with the legal system, does he really want to go back to that routine again, where this time he could end up in far more trouble.
Women Beckford has posed for photos with in Las Vegas: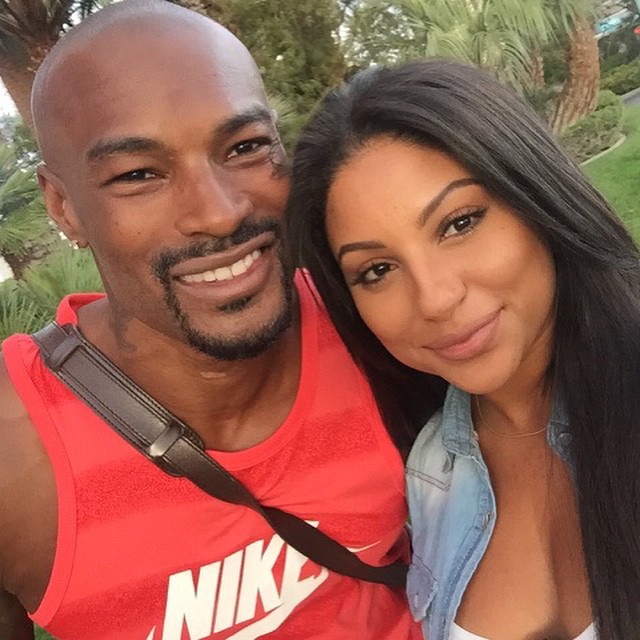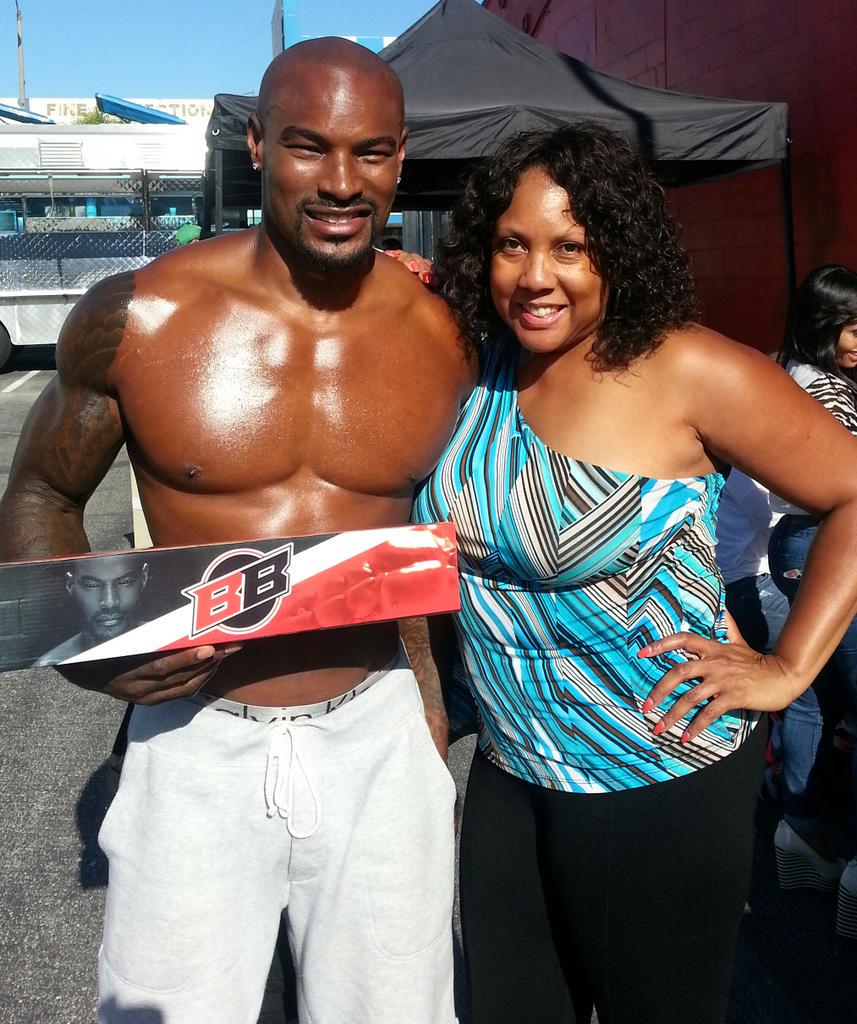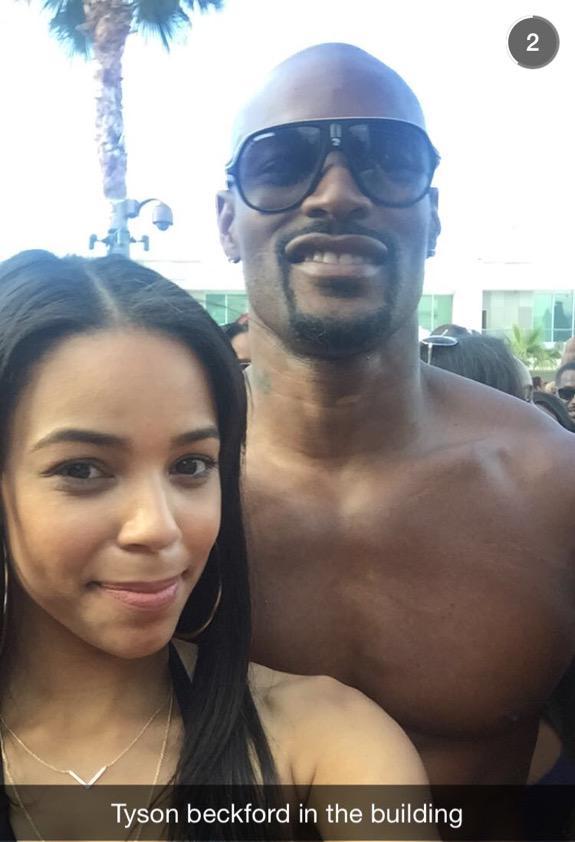 Items on social networking website Twitter about Brown issuing a threat against Beckford: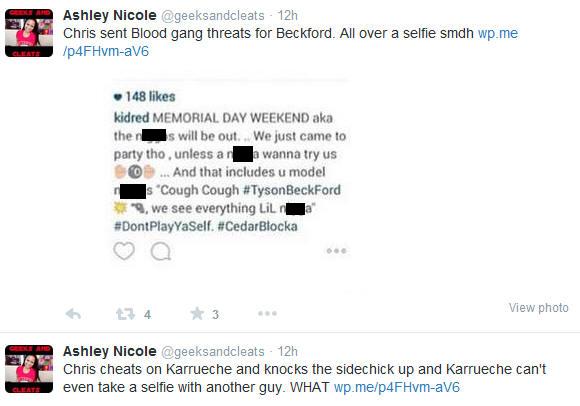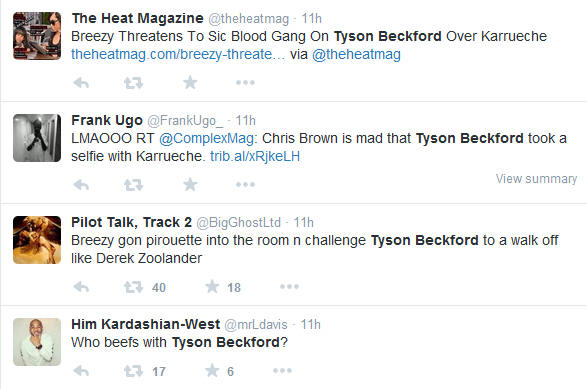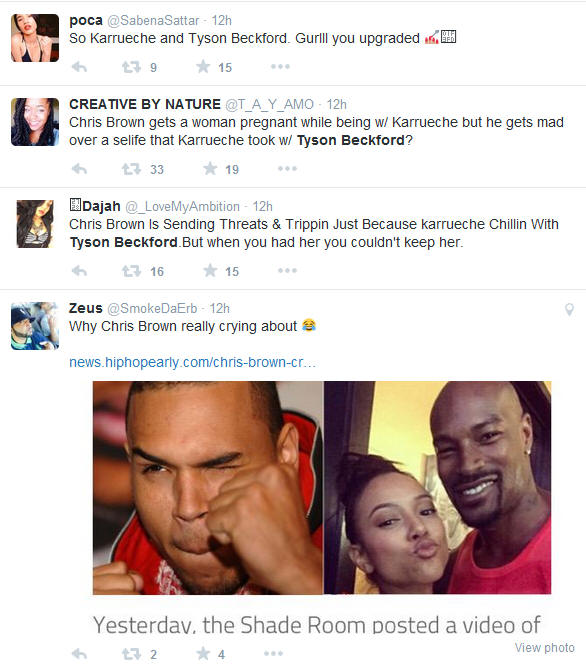 Items on social networking website Instagram about Brown issuing a threat against Beckford:
queenielarouge: Have fun...That N***a Chris over there tryna scare a model.......He's corny as f**k Lmaooo. And when did he become a gangster???? Lol. girl be blessed and stay far away from that weird as* boy.
Og.linddie: girl get chris, he act like he gon fight, his scary as*.
born_verified: What tyson needs to do keep a record of all of this and if ANYBODY in his crew even slip and fall send Chris and his whole team of gummy bears to jail
cs_unlimited: Brothers sounding coked up.. frontin tryna bang to mask their weak emotions. Kept doing your thing Tyson. @karrueche is a fine young woman that deserves the best. She's smiling in the pic.. that's all that matters. I'd definitely push up.. Ring on the finger and all that.
sue_hooks: They're probably not even dating. It's just a damn picture.
aljihad23: @Bas_philly1 yeah the clown a** ni**a got bloods running wit him ! N***a a st8 clown needs to listen to his own song these hoes ain't loyal
sookie113: Just go back to prison with your ignorant self. You sure forgot about Royalty real quick. Guess she already have a daddy so you don't think she needs her real one. You have one of the best lives in the world and you wanna f**k it up by being a pretend gang banger. Get yo head out yo a**. Your current behavior is a major turn off. You come off as a punk b***h right now. Get it together @chrisbrownofficial
biggcain24_ : This n***a is NOT A BLOOD OR A PIRU! You're a million dollar R&B singer from
Virginia! Not even from Cali
simply_fanning: @chrisbrownofficial why all ur goons lightskin and yall beefing with a darkskin model lol. AND THE NAME OF YALL SET IS FRUITZ LMAO.. YALL JUST STOP THIS IS TO FUNNY
true_ladi: You are so ignorant....loose everything you have over a photo @chrisbrownofficial
love_qas: I would just like to know why this grown a** man is really trying to start s**t with another grown a** man over a woman that doesn't want neither of them and was just having fun?
kvndyce: You wack as h**l . You from virginia you aint even from Cali and you tryna rep ! You PETTY and wack. Anybody could have called the cops on your crazy a** because I WOULD. You need help like real HELP.
aljihad23: @my melody that's why Chris shoulda listen to his own song these hoes ain't loyal! Clown n***a got bloods running wit him like that s**t means sumthing. They gone get his fruity a** locked up
sookie113: Two of the most untouchable people in the industry lost their lives to this same ignorance!! RIP Biggie and Pac. Have some self respect @chrisbrownofficial not pride, that'll get ya murked.
saucyk33: @youcme000 real talk? @chrisbrownofficial is bipolar. That's the conclusion I have come to. He forgot to take his medication.
crownjewelry_: @chrisbrownofficial why did you not come by yourself? U brought security plus others with you. Your a p***y
daisies910: He is a psycho yiu need to stay away from that man for ur life's sake....he's not worth it....this is abuse already what he's doing to u....mental abuse.
rainydays134: @karrueche you know cb needs your support to calm him at least talk to him.
ugbabe: She needs to be careful CB got all the ingredients of an abusive guy...I thought the rihanna thing was a one time event but now I see hes capable of w.e
geminigenie23: He needs rehab and anger management. She kept him out of trouble while he was on probation. He might end up locked up again. I wonder who will visit him this time.
summerwinterautumn_spring: I know it ain't going be easy Kae but let CB hear you talk to him save him from himself
oggiemusic: K if there was ever a sign from God to never go back... Honestly stay beautiful and keep moving forward
j_conamor: Why take the pic and video down? You're just letting @chrisbrownofficial control you. He's the one that crossed you sweetie not the other way around. That's mental abuse
indigochilld: what video and pic did she have up @j_conamor
j_conamor: @indigochilld she had the same selfie Tyson has on his page and a video of her & friends walking out some place & Tyson was in the background. All of it was innocent.
RELATED ARTICLES