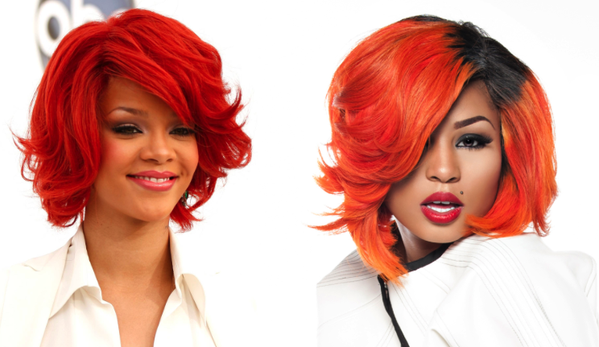 Rihanna (left) and Just Brittany (right). Hmm, she looks like her too in another Rihanna reinvention.
The story of singer Rihanna stealing her latest song "B***h Better Have My Money" from Houston singer/rapper, Just Brittany, is spreading around the world press like wildfire. The story has now been carried on The Daily Maily (UK), ET (Canada), Cosmopolitan, MTV, VH1, Billboard, The Fader, Complex and just about every major blog online. Other articles appeared in the Spanish and French press, outing Rihanna for theft.
Many are doubting Rihanna regarding this theft, which is one of many for her, in a career based in criminal copyright infringement, copyright infringement, trademark infringement, financial fraud and grand theft larceny. Nothing about her career is real. From day one it has been based on intellectual property theft.
The Judiciary Report has written for years that Rihanna is doing the same thing other so-called artists in Hollywood's Kabbalah Center have been doing, taking to the internet and ripping off lesser known artists. Her whole career has been one big theft, which says she should not have been famous at all.
Some of Rihanna's fans are trying to defend this madness and they need their heads checked. Copyright infringement is a federal and international crime. It is just as bad as stealing someone's money, house or car. A few of Rihanna's unbalanced fans on social networking are using the standard no one knows who she is insult, regarding Just Brittany, as a weak means of trying to mitigate the damage to Rihanna's name and career over the theft. However, the cat is already out of the bag. People know.
It's quite ironic and humorous that a few crazed fans, who are unknown and without big social networking following, should ask who is Just Brittany, regarding a woman who has 60,000 followers on Twitter and 300,000 on Instagram. Just Brittany has recorded a number of songs, charted on Billboard three times and worked with mainstream artists like foul, rape promoting rapper Rick Ross. Sorry to break it to you, many people, including Rihanna, know who Just Brittany is as an artist.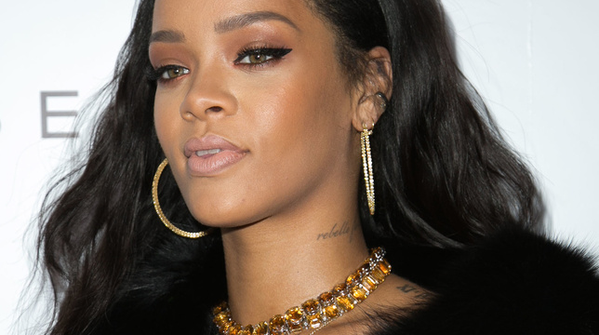 Rihanna
It's similar to when they questioned who is Karrueche Tran, regarding singer Chris Brown's ex-girlfriend he clung to more than Rihanna, whom he dated, when Tran has 2,500,000 followers on Instagram and 600,000 on Twitter and has made many paid public appearances and appeared in the news media.
My question to these few crazy, unbalanced Rihanna fans is what newspapers, magazines and blogs have you been featured in? What songs have you recorded? What music videos have you been in? Yea, that's what I thought. Humble yourselves and stop trying to defend the indefensible - theft of another person's property and labor. You wouldn't like it if a thief showed up on your job and snatched then cashed your paycheck. Therefore, why are you asking another to accept such illegal behavior.
Know when to be silent...much like your thieving favorite Rihanna has been doing, despite the world media demanding she answer these claims of outright theft any reasonable person can hear. For Rihanna's part, this silence on global allegations she stole from underground artist Just Brittany says a lot. To those who know, write and or understand music, the thefts are apparent. If you run the songs through music recording software, the distinct similarities become crystal clear in irrefutable digital format, which compares the songs note for note.
All Rihanna's team did was slow down Just Brittany's beat. The song title is negligible as it comes from a 1980s film. However, copyright law does not permit anyone to steal a beat and slow it down, poach melodies, lyrics and song subject matter. If you don't know music theory, you are in no position to state no theft has occurred, when the similarities are there.
Just Brittany has a case should she choose to pursue one in court and the mere fact she spoke out on social networking says she is angry over the blatant theft of her intellectual property. However, rumors I am hearing indicate Rihanna wants to pay her off over the embarrassing, deliberate thefts in exchange for her silence, as this scandal has done a significant amount of damage to Rihanna's name as a recording artist.
Warning: Both songs contain explicit, graphic lyrics
Brittany 2014:
Rihanna 2015: