Singer Mariah Carey was slammed by mainstream news sites and blogs for lip syncing her way through a live concert in Kingston, Jamaica at the Jazz and Blues Festival this past Friday. Carey performed her past hits and dishonestly mimed the entire show at what is a live event, again confirming to the world her voice is badly damaged.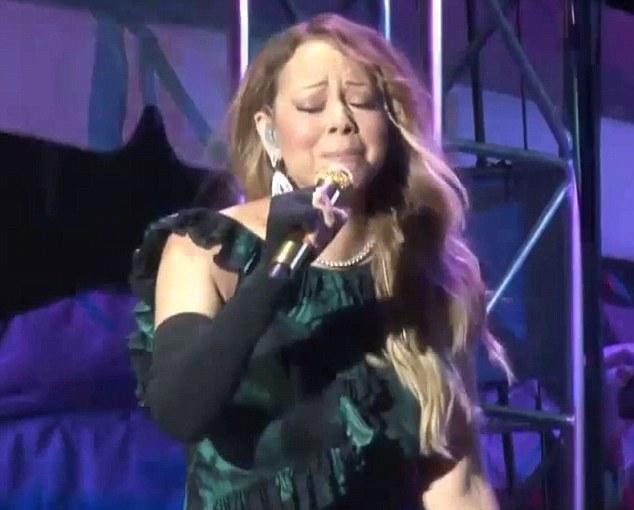 Mariah Carey struggling to even lip sync
Weeks before her disastrous performance at the Jazz and Blues Festival, the Judiciary Report stated Carey should forgo an announced Las Vegas residency, where she has signed a contract to perform night after night (
Mariah Carey Planning Las Vegas Residency But Will Her Voice Hold Up
). The Judiciary Report has been proven right again, as this week it has been revealed ticket sales for Carey's upcoming Vegas shows are very low.
Mouth wide open...no music coming out
Years ago the Judiciary Report was the first to state Carey's voice is badly damaged. Then some of her fans raised a stink on my Twitter page, only to be confronted by the truth years later when mainstream sites and television shows began stating the same, airing footage to illustrate said claims. These same fans have not said a word to me since, as the truth has now come out about Carey's voice. Ironically, those same fans have not supported Carey's CD released last year or her new Las Vegas show, both of which have bombed in the sales department.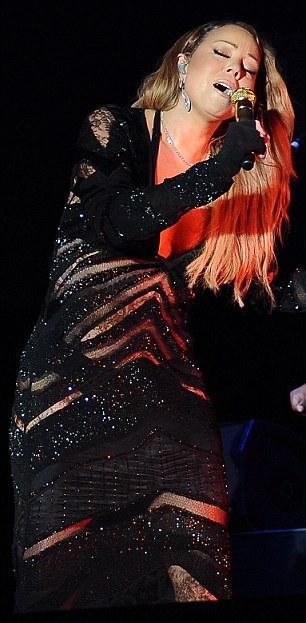 Mariah Carey

singing

lip syncing her little heart out
Carey has made her vocal problems worse year after year with poor practices that have created additional damage. It should be a scary warning to singers about the perils of forcefully belting in an upper octave range while singing. Take care of your voices (those of you who can sing, that is).
STORY SOURCE
Mariah Carey PAINFUL Lip Syncing Fail (Video)

2/1/2015 7:30 AM - Mariah Carey would have been better off pretending to faint during her concert Saturday night, because pretending to sing was just an epic fail. Mariah was performing at the 2015 Jazz and Blues Festival Friday, when everything just went to hell.

It starts off bad and then ... well as Reese says, it's just beyond. She mixes lines, forgets the words and almost just gives up. It's almost like a blood sport. Are people going to her concerts to hear her sing, or watch what you see in the video?
Fantasy singer! Mariah Carey caught out in lyp-syncing blunder during Jamaican concert after missing her cue

Published: 12:37 EST, 31 January 2015 - She's known for her signature screaming soprano sounds. But on Friday, Mariah Carey was caught lip-syncing her hit single Fantasy during her first-ever performance at the 2015 Jazz And Blues Festival in Jamaica, disappointing fans who paid upwards of $200 to watch her belt out her chart-topping hits.

The mother-of-two was noticeably out of breath and failed to hit the high notes as she appeared to have given up halfway through and let the backing track take over the vocals.

Mariah tried to keep her composure while roaring in and out of the microphone, specifically while attempting to sing Fantasy. In dramatic fashion, she closed her eyes and placed her hand near her ear as she faked the alto notes and missed her cue multiple times. The beauty tried to make up for her lack of singing by flashing a smile at the audience, but it seems it wasn't enough.

This recent lip-sync blunder comes over a month after she was harshly criticized for mouthing the words to her mega-successful holiday hit All I Want For Christmas Is You at the annual NBC special Christmas In Rockefeller Center in December.