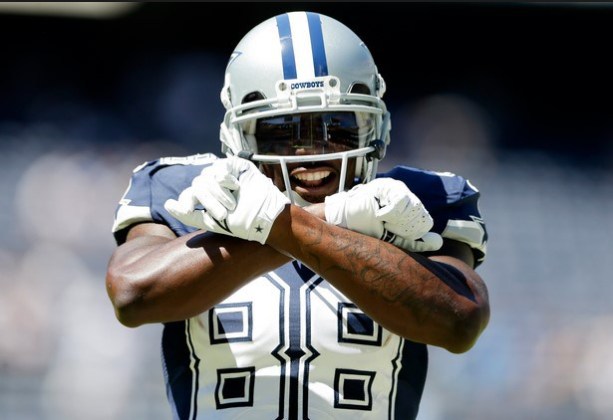 Dez Bryant
Two weeks ago the Judiciary report stated Jay Z has been brainwashing Kanye West, who keeps engaging in embarrassing and ludicrous outbursts on behalf of the rapper's wife Beyonce (
Kanye West Slams Beck For Winning Grammy Stating Beyonce Should Have Won It
). This week, Jay Z is being accused of brainwashing troubled football player, Dez Bryant, who plays for the Dallas Cowboys.
The blog Terez Owens, known for exposing the identity of Erica Kinsman, the woman who cried rape and tried to extort $7,000,000 from FSU football player, Jameis Winston, states there is trouble on the horizon regarding Bryant.
Jay Z and Beyonce
Bryant, who was accused of beating his mother, is said to be on a videotape hitting another woman. Reports indicate the tape is being shopped to sites like TMZ. Owens states the video is "five times worse" than the Ray Rice domestic violence video, where the football player was shown beating his then girlfriend, who is now his wife, Janay Rice. Bryant and his former agent were allegedly paying hush money to keep it quiet.
Jay Z, whose Roc Nation Sports signed Bryant and is in other financial trouble, is being accused of brainwashing the athlete. I don't doubt Jay Z has brainwashed Bryant. I've seen him do so regarding entertainers and a few other athletes. Jay Z has been using Kabbalah Centre practices associated with cults and mind control. He also always demands they promote him in interviews and on social networking, to prop up his faltering career that has hit such a sales decline, he has to give the music away for free in special deals.
STORY SOURCE
Dez Bryant Scandalous Video to Be Released
February 24, 2015 at 9:12 am - The incriminating video of Dallas Cowboys superstar receiver Dez Bryant doing something supposedly Ray Rice worthy is being released today or tomorrow. According to our source, the Cowboys haven't done a huge deal with Dez because of concern over the video. Unfortunately Bryant's team won't be able to stop the tape from getting out to the public.
Of course Cowboys COO Stephen Jones denies knowledge of such a video. This is going to be a game changer for the Cowboys future. UPDATE: We're being told the Cowboys have warned Dez the tape is going to be released, and from someone who has seen it, that it's five times worse than the Ray Rice Video. His football career is in jeopardy according to our source. Also a Dez insider tells us he is being brainwashed by Jay Z and Roc Nation Sports.
More INFO on the Dez Bryant Video Release
February 25, 2015 at 8:45 am - Like we reported yesterday, there is a rumor of a video out there of Dez Bryant, and it was supposed to be released today. Now we're learning there's a deadline set for TMZ to buy the footage according to this tweeter below. I think at this point we're all very anxious to see the footage. Check them out below.
Update:- We're now learning the Dez Bryant Video took place in a Walmart, and allegedly there's surveillance footage of him clocking a woman. Update: ESPN's inside man Adam Schefter appeared on the Carmen and Jurko show on ESPN 1000 in Chicago this week and reported the rumored Dez Bryant video does exist. Check the 46 minute mark.-TO