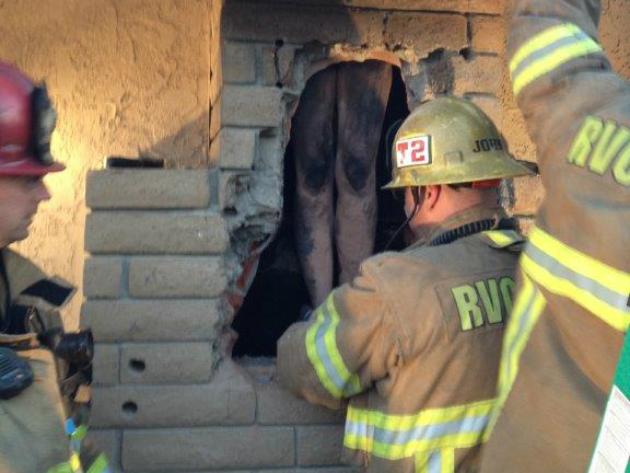 Firefighters work to free naked woman from chimney of her ex-boyfriend's home she broke into while he slept
Firefighters were called to rescue a naked woman from the chimney of her ex-boyfriend's home in Los Angeles, California. The woman entered her ex-boyfriend's house without permission via stripping off her clothes and attempting to slide down the chimney of the home he shares with his three children. However, her plan backfired when her boyfriend heard her screaming for help at 5AM in the morning. He summoned help when she told him she is stuck in the chimney.
Yahoo News reported, "It took 23 Riverside County firefighters approximately two hours to extract the woman, removing bricks from the chimney's exterior during what they termed a 'technical rescue.' The woman was transported to a local area hospital with "minor to moderate." The woman's behavior was very irrational bearing the signs of stalking.
STORY SOURCE
Firefighters rescue naked woman trapped in ex-boyfriend's chimney
Firefighters in Southern California responded to an unusual call over the weekend at the home of a man who awoke to find his ex-girlfriend naked and stuck inside the fireplace. According to Riverside County officials, the 35-year-old woman, who was not identified, tried to enter the Woodcrest, Calif., home where her ex-boyfriend and three children live through the front door early Saturday morning, but it was locked. So she climbed on the roof, stripped off her clothes and tried to shimmy down the chimney. Shortly before 5 a.m., her estranged boyfriend, Tony Hernandez, said he heard the woman crying for help...

RELATED ARTICLE