Attention seeking music model, Rihanna, who has
sex with men
and women in the entertainment industry
for career favors
, is being slammed all over social networking for her low class, promiscuous, attention seeking behavior. Insults flew online from the public, as photos surfaced on the TMZ website, showing Rihanna grinding on a photographer she met, holding a marijuana joint in one hand and sticking "her tongue in his ear" right on the dance floor in front of everyone. Rihanna was mimicking the conduct of her bisexual sex partner and fellow cocaine addled industry mattress, Cara Delvigne, who had done the same previously.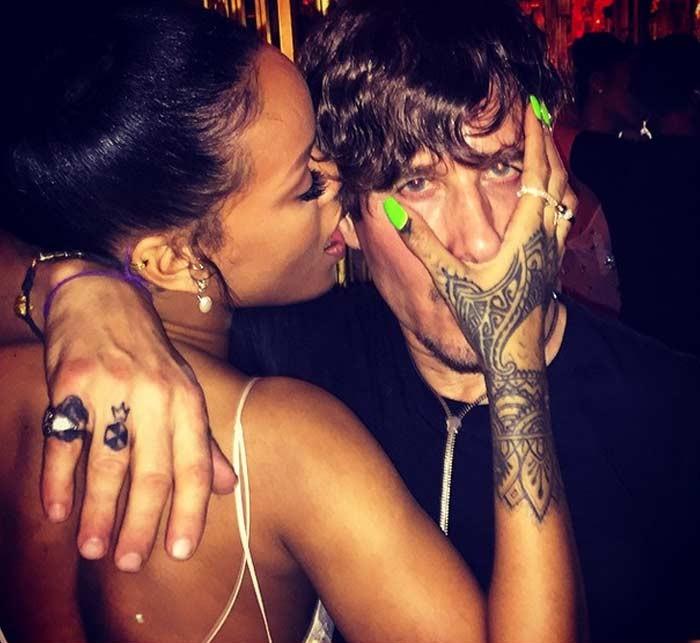 Rihanna and photographer Steve Klein
People online slammed Rihanna calling her just about every name in the book a woman can be called for behaving with no class. Ironically, the next day, paparazzi asked her if she had a cold, as she was seen coughing, sniffling and rubbing her surgically reduced nose (well, you stick your tongue in a stranger's ear, don't be surprised when you start coughing LOL).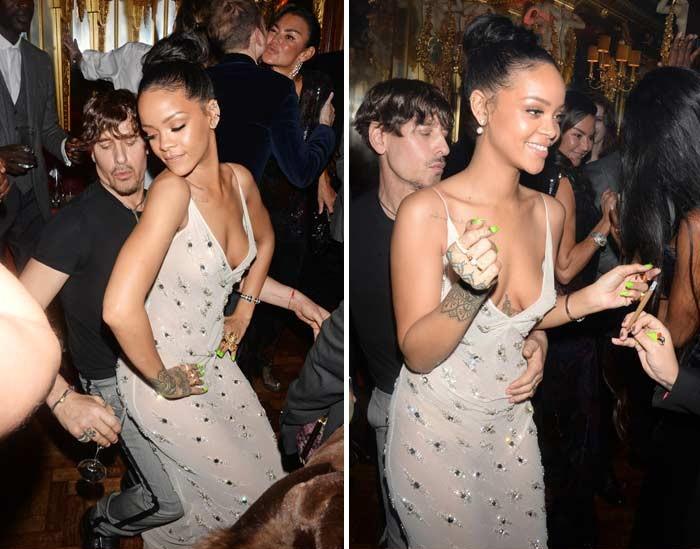 Rihanna and photographer Steve Klein
Next, a video surfaced of Rihanna pushing her way through paparazzi in London, England. Rude, ill-mannered Rihanna began barking at them, "Motherf****er move out the way." Ironically, Rihanna, who was born and raised in Barbados, was so agitated by the paparazzi, she forgot to put on her inauthentic American accent that gravitates between New Yorker one minute to California valley girl the next.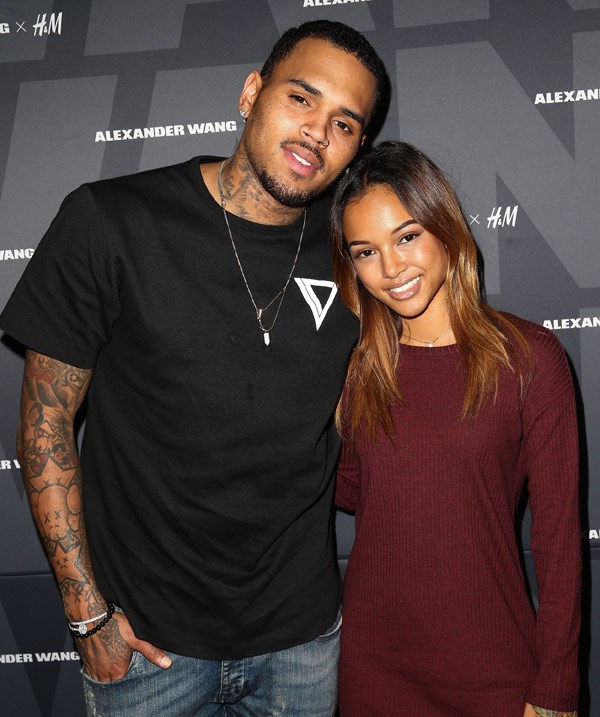 Chris Brown and long-term girlfriend Karrueche Tran. Rihanna's promiscuity, especially with industry men, was the cause of many arguments between her and Brown. Rihanna has had sex with Jay Z, Meek Mill, Drake, The Dream, Kanye West, Eminem, T.I., L.A. Reid, Matt Kemp, Chris Martin, Ashton Kutcher, Future, J. Cole and Shia LeBouf, among others, for career favors.
Bloggers have written about Rihanna's fakeness and the inauthentic accent is one of the things many have stated. Members of the public have made the same observations as well. Rihanna was not born or raised in America and has only lived in the States for a few short years, yet has this poor imitation of an American accent in interviews and commercials, trying to be something she is not. It was like fellow
Kabbalah Center member, Madonna
, living in Britain for 5 minutes, then doing interviews trying to speak like the Queen of England and being mocked all over the internet for it and labeled a fake.
STORY SOURCE

Rihanna New Guy Gets Taste Test
12/2/2014 9:52 AM PST - Rihanna went all Cara Delevingne on fashion photographer Steven Klein at Monday night's British Fashion Awards. Klein posted one photo -- with RiRi's hand on his face and her tongue in his ear -- with the caption, "Me+Rhianna being Naughty at the British Fashion Awards." He doesn't say what the equals. Rihanna's attention was momentarily diverted by a blunt ... the girl has priorities.