On Friday night during the Power 106's Cali Christmas concert, R&B singer Chris Brown stated during his set and asked where the "single ladies" in the audience are and when they screamed in approval he stated, "I'm single too. F**k that b****!" He was making reference to long-term girlfriend, Karrueche Tran, who ironically made an appearance in a forthcoming episode of "Single Ladies."
Karrueche took to Twitter and posted in response to Brown's diss at the concert, ""N****s be in they feelings when you break up with them lol." Oh, but it didn't end there. On Saturday, Brown ticked off by Karrueche's tweet also took to Twitter and Instagram blasting her stating, she had dates with rapper Drake. This confirms the Judiciary Report previous claims, as the site stated a year ago on November 23, 2013 that "
Does Rihanna Know Drake Also Had A Crush On Chris Brown's Girlfriend Karrueche Tran
."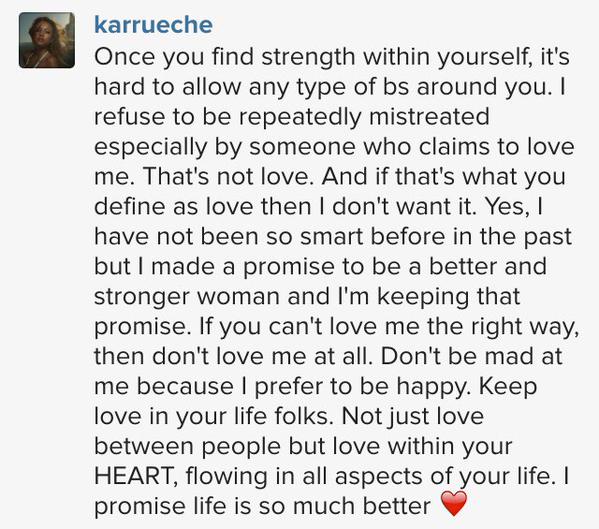 Karrueche Tran's post to Instagram after Chris Brown's concert diss
Brown also stated Karrueche had threesomes with him. This confirms what this website stated several months ago on July 9, 2014 in the article
Chris Brown Pictured With New Woman As Reasons For Karrueche Tran Spat Circulate (Photos)
. In the aforementioned article this past summer the Judiciary Report stated, "Some attributed the split to a photo he posted of Tran to Instagram wearing a thong, but she had posed for similar photos before that went on the social networking site. Others claim it is because she refused to do a threesome. However, Tran had already done those with Brown. It's risky and dangerous sexual behavior and it will not keep a man. Not to mention, it is spiritually negative and ungodly."
The site has it on good authority that Rihanna is angry and upset over Brown's comments on social networking about Drake and Karrueche. Rihanna thought Drake loved her and for it to be said he was secretly dating Karrueche, a woman Rihanna intensely hates and is obsessed with, over the love of her life, Chris, being in a long-term relationship with her, is a tough blow. The cheating allegations against Karrueche are bittersweet for Rihanna for this reason.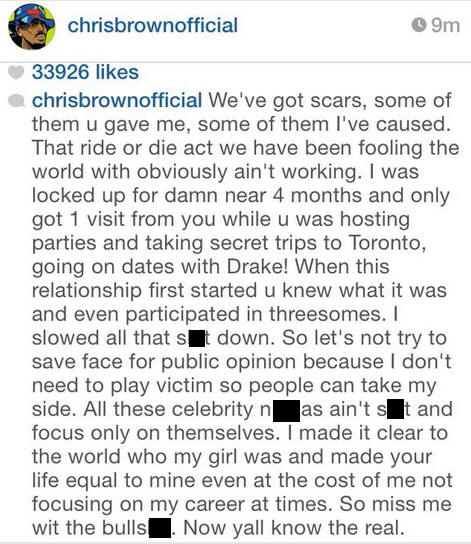 Chris Brown's post to Instagram after Karrueche Tran dissed him on Twitter with a joke in response to his concert comments
The issue at hand is Chris Brown and Drake made peace. They were no longer enemies (for a time). Some view Karrueche's conduct as her having sexed Chris' enemy. And if someone is your friend or significant other and they start consorting with or getting into romantic situations with one of your enemies, that's foul, disrespectful, insincere and completely disloyal. However, as stated, Chris Brown and Drake had made peace.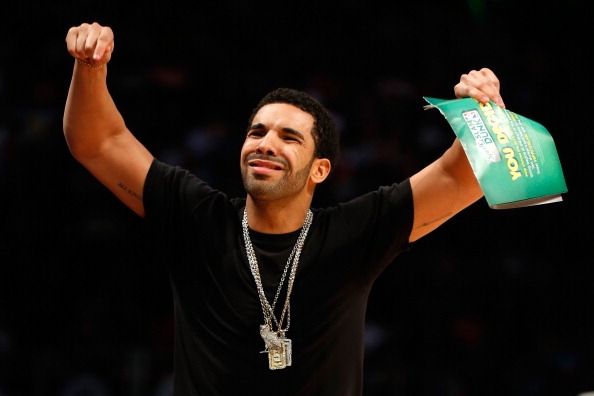 What Drake is looking like right now (LOL)
Immediately stories spread online that Chris had cheated on Karrueche with the groupies. Karrueche was hurt and felt embarrassed. Days later, Karrueche and Chris broke up. After Chris slammed Karrueche during his concert this past Friday, she posted to Twitter 'Ni*gas be all in their feelings when you break up with them lol."
Chris was not happy with Karureche's statements and she was not happy with his words either. It turned into an online war with fans and observers watching. Not long after, they were trending on Twitter, as people on social networking posted their opinions as well as jokes about the spat between the high profile couple.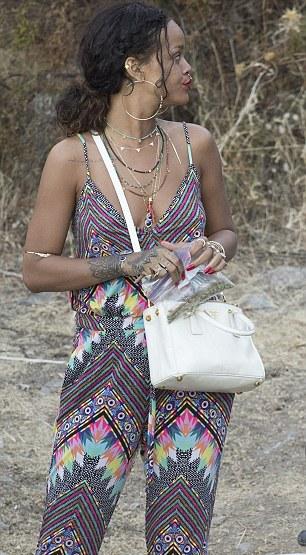 What Rihanna is looking like right now (LOL)
Having an open relationship is also not a good idea. They simply do not work and opens couples up to sexually transmitted diseases, some deadly. People always end up hurt and with issues in open relationships. It creates dysfunction and emotional damage. There is no blessing in an open relationship or one with threesomes present. Relationships need honesty, commitment, love and truth. That's the only way they work and are a blessing to you. For more Judiciary Report exclusives
click here
.
Side Bar: I've read recent comments on social networking about Chris Brown and Karrueche Tran's relationship troubles and I laughed till I cried. I wasn't laughing at Chris Brown and Karrueche Tran, but the jokes were hysterical: