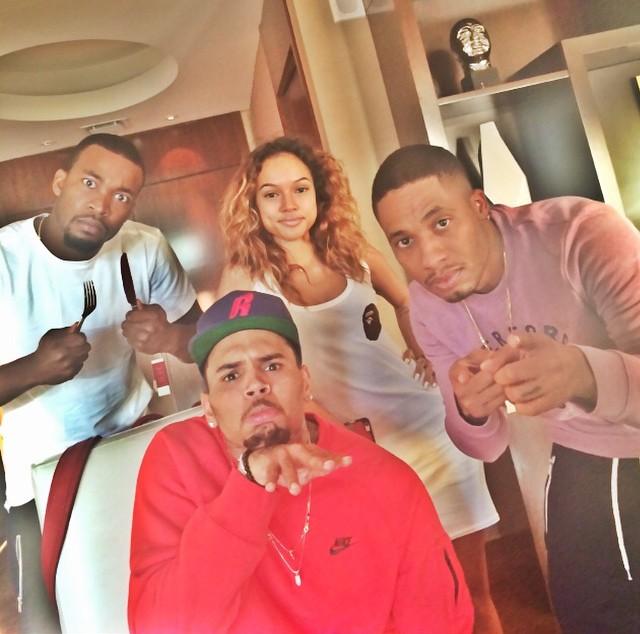 Chris Brown (front) and Karrueche Tran (back) are not okay with Adrienne Bailon labeling her "trout mouth" in this Instagram pic after she insulted them
Last week, singer turned talk show host, Adrienne Bailon, insulted singer Chris Brown and his girlfriend, Karrueche Tran. Bailon insulted Brown and Tran on "The Real" daytime talk show. Bailon labeled Brown a bad guy and Tran a gold digger using the singer for his fame, money and to get into exclusive places with her friends, she basically described as leeches. Singer, Tamar Braxton, co-signed some of the mess, but with a bit more tact.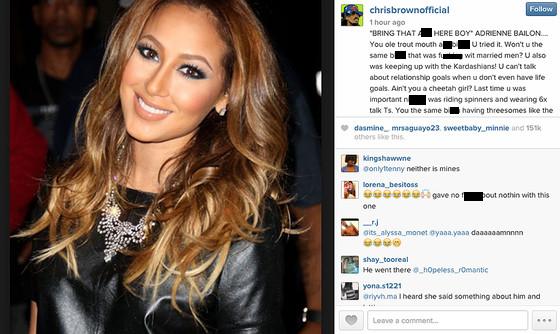 Chris Brown slams Adrienne Bailon on Instagram in response to her comments on "The Real"
After Brown slammed Bailon and Braxton, the two responded. Bailon curiously stated, "Who said anything bad about her? I actually know her...We're cool. The conversation was generally speaking of anyone who may 'possibly' be in a bad relationship. Please don't start drama that doesn't EXIST. If she's happy...so am I." Sorry, you don't say things like that about people you "know" and are "cool with." It was insulting.
STORY SOURCE
Adrienne Bailon Addresses Chris Brown's Rant: "Who Said Anything Bad" About Karrueche Tran
Celebrity News Nov. 4, 2014 AT 12:30PM By Esther Lee - Adrienne Bailon and Chris Brown Tamar Braxton responded to Chris Brown's hateful rant via Instagram, after he called her the "ugly sister": Be a "real man," she says. Adrienne's answer! After being the main target of Chris Brown's expletive-filled rant on Monday, Nov. 3, Adrienne Bailon took to Instagram to respond to a commenter after Brown claimed The Real co-host attacked his girlfriend Karrueche Tran.
In an Instagram update addressing his previously deleted tirade, Brown revealed to fans what really set him off. "Yesterday's roast was amusing to some and disrespectful to others," the 25-year-old "X" singer wrote. "All in all the whole s--- was childish. I could've have been politically correct and went about the situation more civilized but I'm not fake nor do I need to ever comment on anyone's life. I felt the need to say what I felt. It seems everyone can always have an opinion on 'CHRIS BROWN' and chime in whenever they want.
The show was depicting relationships. They gave their views on my relationship by bashing my significant other for being with me publicly on national television. There are too many Pots calling the kettle black."...
The former 3LW singer also discussed her career, which was initially mocked by Brown: "U can't talk about relationship goals when u don't even have life goals," he wrote Monday night. "Ain't you a cheetah girl? Last time u was important n----s was riding spinners and wearing 6x talk Ts."
Bailon, though, said there was no shame in her girl group roots. "I certainly STARTED my career in a multi platinum singing group," she continued. "Get your facts straight. You don't need to freeload when you have your own Barbie. God bless."...