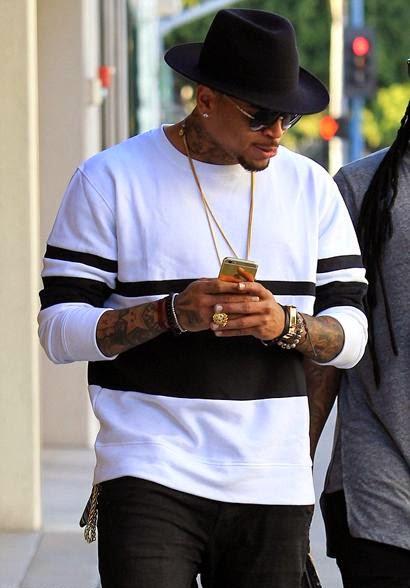 Chris Brown looking happier than he has been in a while, as he got his life back
R&B singer Chris Brown has settled two assault cases against him. The first case brought by Frank Ocean's cousin, whom witnesses stated started the fight with Brown, was settled for the small sum of $20,000, when he originally demanded $3,000,000. That's less than the $25,000 gold iPhone Brown recently purchased.
The second case, filed by Parker Adams in connection with the case where he got too touchy feely with the star and was blocked from entering his tour bus in Washington, DC, was settled for $100,000. Adams originally demanded $3,000,000 from Brown and his bodyguard Chris Hollosy.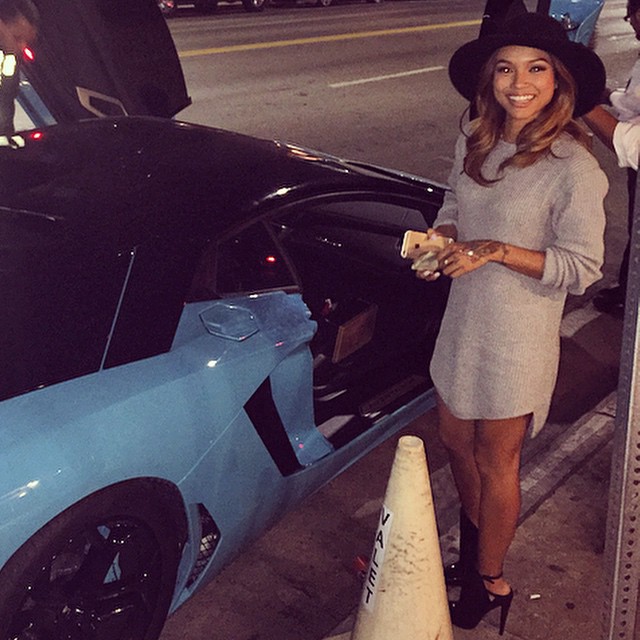 Chris Brown and his girlfriend, Karrueche Tran, pictured by his Lamborghini, have resolved their recent internet spat as well
Several months ago on March 21, 2014, the Judiciary Report was the first to report Brown's attorney, Mark Geragos, was looking into settling the main assault case against his client brought by Parker Adams (
Chris Brown's Lawyer Looking Into Settling Washington Assault Case
). After months of negotiations, the demand amount has been significantly reduced, making way for the settlement.
Now Brown just has to be careful of where he goes and with whom (
Getting Negative Influences Out Of Your Life
). Some people are looking to set him up for an undeserved payday, while others are industry rivals out for revenge. There's nothing wrong with being a homebody and laying low. Brown's life has turned around over the past few months and he needs to continue on that path.
STORY SOURCE

Chris Brown I Settled 2 Assault Cases For Chump Change
10/30/2014 12:50 AM PDT - Chris Brown is a little lighter today ... he just lost more than a $100K but in return got rid of 2 pesky lawsuits. Sources connected to Chris tell TMZ ... the guy who Chris punched in Washington D.C. a year ago just settled his civil lawsuit against Chris. We're told the singer anted up around $100,000.
You'll recall ... Chris dodged a major bullet with the help of his lawyer Mark Geragos by striking a plea deal in the criminal case. He avoided probation, jail and fines by pleading guilty to simple assault. As for the second case ... TMZ broke the story Chris got into an insane fight at a West Hollywood recording studio in January with Frank Ocean's posse. Frank's cousin sued Chris for $3 million. We've learned the case just settled for UNDER $20K. It's handled.