People Accuse Shantel Jackson Of Fake Crying
The full press conference featuring boxer Floyd Mayweather's ex-fiancée, Shantel Jackson and her attorney, Gloria Allred, has hit the internet. The public has mixed feelings on it. The majority of the feedback comments I've read on several websites basically state domestic violence is wrong, but Jackson is a gold digger looking for money from Mayweather not due to her. Many are accusing Jackson of fake crying and crocodile tears.
The majority of the feedback statements also state the same thing the Judiciary Report did, why didn't Jackson go to the police when these events happened in 2012 and 2013, rather than waiting until now and filing a lawsuit for cash, rather than a police report seeking justice.
Allred did a convincing job under the circumstances, but her client is suspect on several counts. Allred needs to be careful, as a former client with similar claims, was reprimanded by the court for lying (
Case Against Shaquille O'Neal By Mistress Goes Up in Smoke As She Is Unmasked As A Liar
). Some of what Jackson has stated is true, but some items are lies. Allred needs to be careful putting her name behind all Jackson has told her.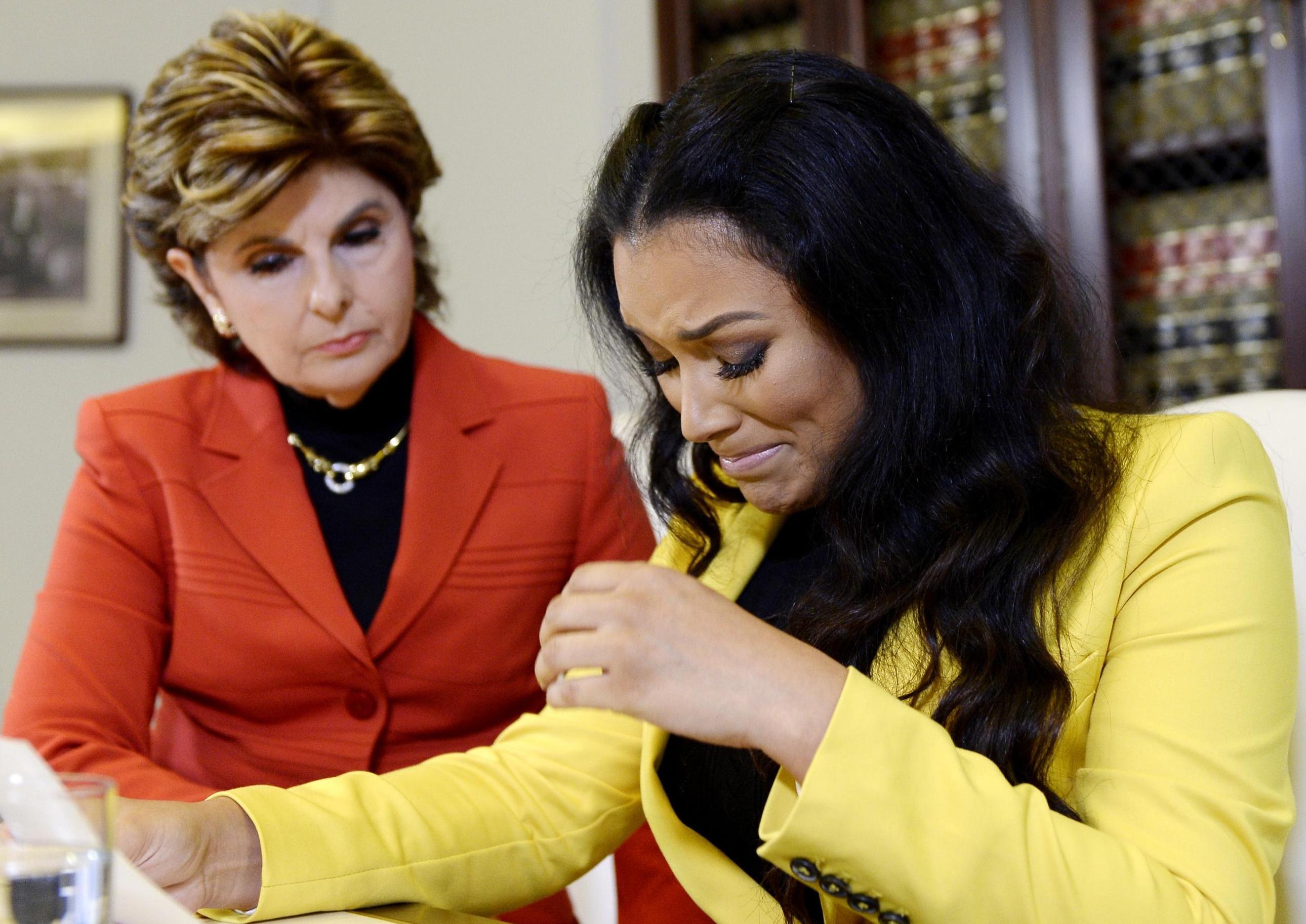 Gloria Allred and Shantel Jackson
Some interesting points from the full press conference include the inescapable fact that while Jackson is claiming physical and emotional abuse from Mayweather where she states she feared for her life and safety, she kept going back to him when he gave her expensive gifts or sent his private jet for her.
It paints the picture of a gold digger. If a man was pulling a gun on and hitting me, as Jackson states Mayweather did to her on different occasions, you could offer me a billion dollars and I still would not go near him again. Yet she repeatedly did for cash and gifts.
Shantel alleges a photo of her and rapper Nelly she posted to her Instagram account made Mayweather very angry. Nelly took Shantel on a date to an NBA basketball game (which Floyd used to do as well) and paparazzi took photos of it. Shantel uploaded one of the photos to Instagram, which led to Floyd angrily contacting her, demanding she take it down.
Allred states when Shantel
"refused to take down the photo of her and Nelly" Floyd began to threaten her. Allred further stated Floyd, "Threatened Ms. Jackson if she did not take the image down of her with Nelly that he would post naked photos of her on social media. Mr. Mayweather had apparently taken some photos of Ms. Jackson asleep when she was undress. Ms. Jackson never consented to the taking of such photos of her."