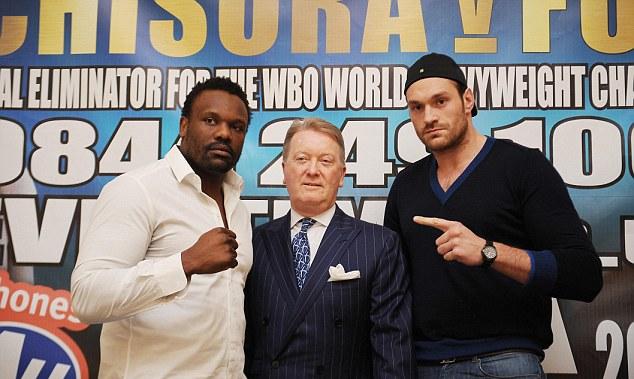 Dereck Chisora (left) and Tyson Fury (right)
Undefeated Irish boxer Tyson Fury is on a roller coaster of emotions. His last three planned fights were cancelled after opponents pull out due to injury. Fury lost money on training camps and potential purses. The latest cancellation due to a wrist fracture is boxer Dereck Chisora, who stated their fight scheduled for tomorrow, can proceed in one month. However, Fury has changed his mind, refusing to fight him next month after the late cancellation this week.
Fury stated, "As far as I'm concerned Dereck Chisora is history - finished. After I've done with this lummox in front of me (Ustinov) I want Bermane Stiverne for the WBC title. I'm not interested in Dereck Chisora, he ain't got enough credibility to lace my boots up, never mind step in the same ring. He's a s***house who dropped his b******s in training…I want to fight real fighters who want to fight. I started in a career in boxing to be involved in good fights, for people to say 'yes (he) fought good fighters and didn't pick and choose.'"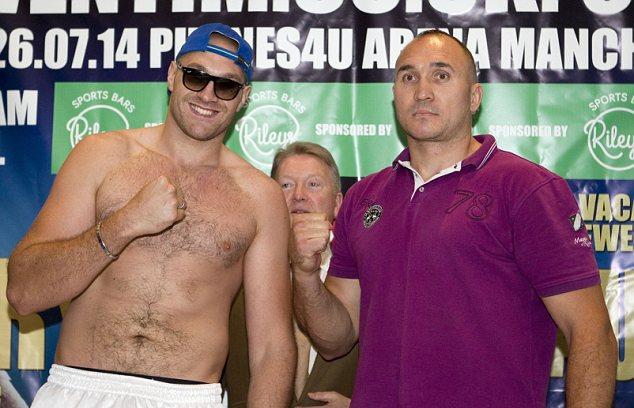 Alexander Ustinov (right) is Fury's next opponent scheduled for a fight in Manchester, England tomorrow. Fury is going into the fight with no sparring, where Ustinov has been sparring with world champion Wladimir Klitschko and Fury's former challenger Dereck Chisora. If Fury is not careful Ustinov will beat him. He has to bring his A game or face his first loss.
In other Fury news, he is refusing to appear before the British Boxing Board of Control, regarding a profanity filled press conference he conducted last week, which was also full of explicit sexual jokes, in the presence of men, women and children. The British Boxing Board of Control warned Fury they would revoke his license if he failed to appear. However, Fury says he will not attend the August 13, 2014 hearing. Fury shall use an Irish boxing license henceforth.
Fury shouldn't burn bridges in this manner. The Irish board will not promote that type of press conference either. All boards seek to make boxing family friendly. Fury is upset over career setbacks and it's coming out the wrong way. However, he has a talent for boxing and should work within the system.