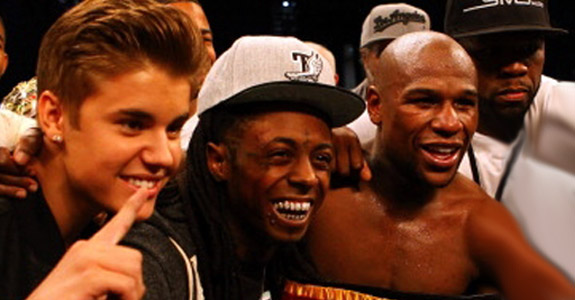 Money Team members Justin Bieber, Lil Wayne and Floyd Mayweather
There's trouble brewing in Floyd Mayweather's Money Team. First conflicts with former Money Team member Ray J, who stole one of the boxer's girlfriends, Queen Princess Love. Then former friend, rapper Nelly, started hooking up with Floyd's ex-fiancée, Shantel Jackson, after she aborted the boxer's babies and lied to him stating he caused her so much stress she had a miscarriage. Then Floyd was physically attacked by rapper T.I., the husband of his long time friend, Tiny, leading to members of the Money Team pummeling him.

Now there's word Money Team members Lil Wayne and Justin Bieber are fighting over the latter's manager, Scooter Braun. Lil Wayne launched into a tirade, ripping Braun over blaming rapper Lil Twist, for much of Bieber's drug problems. Twist (and Lil Za) have been supplying Bieber with weed, codeine and ecstasy tablets and were even living in his home. Lil Wayne has taken Lil Twist's side (while Lil Za was arrested at Bieber's home after drugs were found ion his room during a police raid). Justin has taken Braun's side in the dispute.

Lil Wayne threatened Braun by stating, "Anything you got to say, when you see me, say it to my motherf-in' face. I heard that they got a b**** a** n**** named Scooter that be runnin' with my little brother Justin Bieber. That's my little brother, Justin Bieber. I heard this b**** a** n**** Scooter talkin' s***t about my little brother (Lil Twist). N**** this my motherf******* brother, anything you got to say, when you see me say it to my motherf****** face. And if you do happen to say it to my motherf****** face, I ain't gonna make you eat them words n****. I'mma put them b****** on your tombstone."