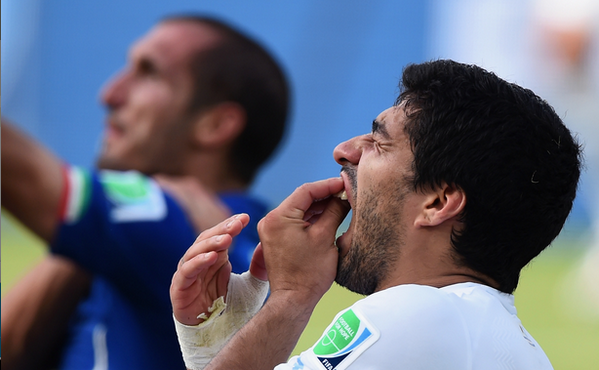 Giorgio Chiellini (left) bitten by Luis Suarez (right)
The ongoing 2014 FIFA World Cup in Brazil has been wonderful. It's so nice to see some of the best football players in the world all gathered in one place. It is a joy to watch them play and has been a real treat for global audiences. Ratings are through the roof and the competition has been enjoyably fierce. Well done to Brazil and all who have been participating in the World Cup.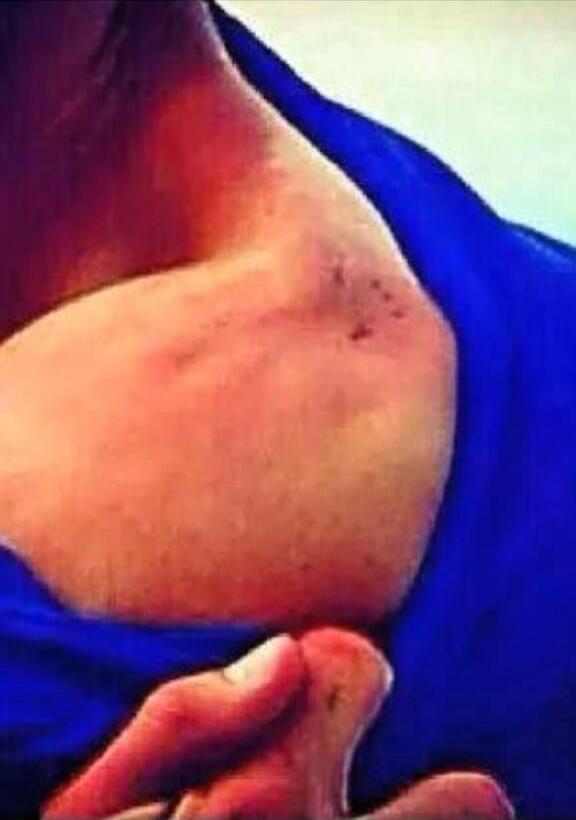 Painful bite marks on Giorgio Chiellini's shoulder
However, the World Cup has not been without controversy. Uruguayan footballer, Luis Suarez, bit Italy's Giorgio Chiellini, then did a dive in an attempt at obtaining a (penalty) free kick (diving is why Suarez has so many goals to his name). The game was 0-0 and Suarez became so desperate he bit Chiellini with his famous buck teeth. Chiellini understandably recoiled in pain, dropping to the ground. This marks the third time Suarez has bitten someone on the pitch in what is undoubtedly unsportsmanlike conduct.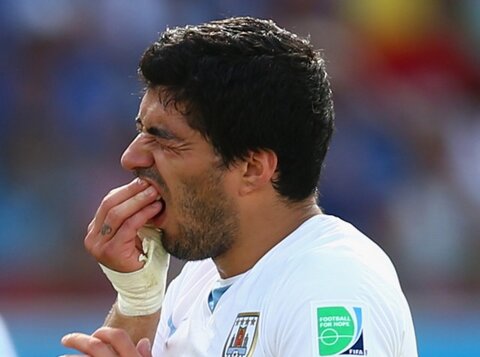 Luis Suarez
Suarez denied the claim, but his actions were so brazen and video footage of the incident so clear, there was no doubt for audiences that he engaged in biting (again). FIFA has assessed a 9 match ban against Suarez, effectively kicking him out of the World Cup. Suarez is also banned from playing for the first 4-months of the new season and was issued a $112,000 fine. Suarez plays for Liverpool in the top rated Premier League. He has flown to Barca (FC Barcelona) in Spain's La Liga, hoping to sign with them in the region of $100,000,000. However, Barca beware. Suarez is a loose cannon that poses a liability to the team. Some have blamed the Uruguay national team and Liverpool, but this is a Suarez issue and he alone should bear the blame for this misbehavior.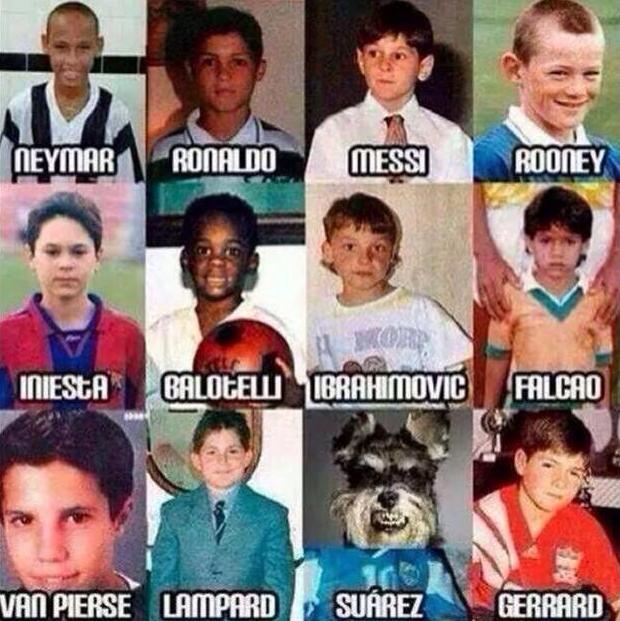 Best Twitter meme on Suarez biting, shows popular footballers in the World Cup as children. Take a look at Suarez's photo at the bottom right (haha)
Side Bar: My dad, a former football player for the Jamaican national team is stunned at Suarez's conduct. He stated to me over the phone that he's seen football players kick and push other footballers, "But what is this dog football where there's biting?" Haha!