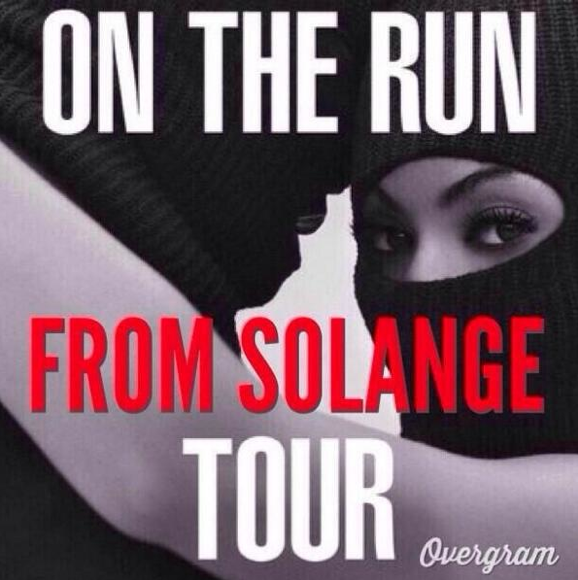 A website mocks Jay Z's fight with Solange, spoofing the couple's tour title "On The Run"
According to the blog Rhymes With Snitch the "On The Run" tour featuring troubled couple, Beyonce and Jay Z, is suffering from poor ticket sales. The 19 tour dates have tens of thousands of unsold tickets. This means fans are on the run from Jay Z and Beyonce. The beleaguered couple, who is facing problems in their marriage due to Jay Z's rampant cheating, saw things go viral, as Beyonce's sister Solange, beat the rapper in an elevator over his infidelities and trying to ditch his wife at the Met Gala to go have sex with one of his mistresses, Rihanna.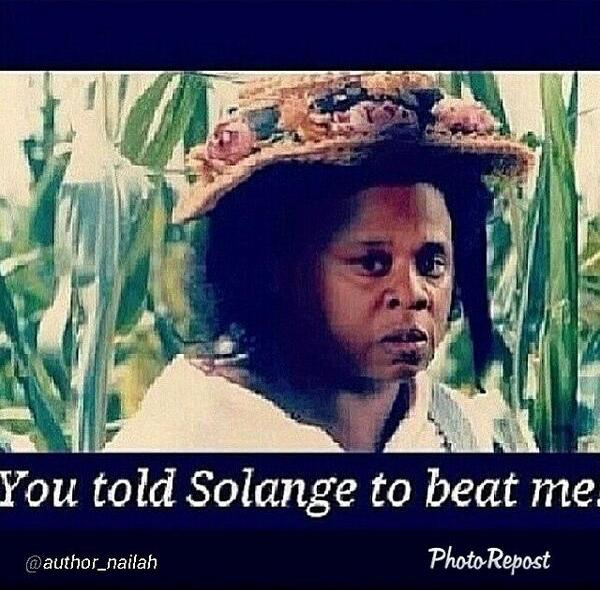 One of many memes mocking Jay Z online, placing his face over Oprah Winfrey's in the movie "Color Purple" stating the famous line "You told Harpo to beat me" but replacing it with "You told Solange to beat me"
The couple became the butt of jokes all over the internet over the internet fight, in a matter industry people state Jay Z is still angry about. Solange killed his image and with certain stars image is everything. In the public's eyes the mystique surrounding the couple has been shattered and their brand permanently impacted in a negative way. Hence the poor ticket sales.
STORY SOURCE
On the Run Tickets Slow to Move
Monday, June 16, 2014 - Jay Z and Beyonce's On the Run stadium tour starts in just ten days and shockingly there are thousands of tickets still available in every city… From Showbiz 411…tickets are selling slow as molasses for the Jay Z-Beyonce "On the Run" tour of stadiums that's set to start in 10 days.
Right now, there are over 11,000 tickets in motion on StubHub for the couple's July 11th show at MetLife Stadium in the Meadowlands. Several more thousand are available for the second show, on July 12th. Even on Ticketmaster.com's own system, a quick check shows a very bald stadium, with lots of tickets for sale and official resale. Right now, getting to see the first couple of modern R&B is pretty simple. And relatively inexpensive.