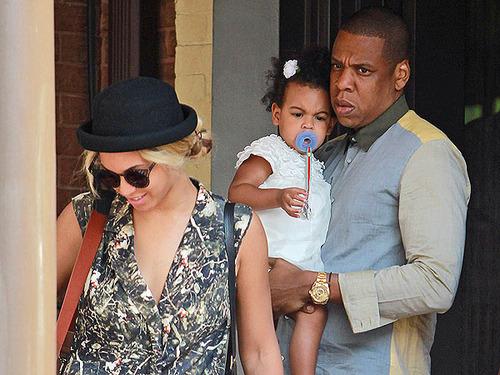 Beyonce, Jay-Z's look alike daughter Blue Ivy
Legendary hip hop personality and radio host, Star, has slammed Jay-Z as a liar. Jay-Z has been lying about his age for years, while looking significantly older than he claims to be. Jay-Z says he is 44-years of age. However, Star says Jay-Z has admitted to him that he is 50-years-old (they are the same age).
Warning: interview contains profanity
Beyonce does the exact same thing (
Beyonce Busted Lying About Her Age Again
). The Media Take Out website, a mainstream television news host and actress Gabrielle Union, all gave away Beyonce's true age in three separate incidents.
Media Take Out
also printed Texas birth records, which lists Beyonce's year of birth as 1974. Therefore, Beyonce is not 32-years-old. Beyonce is 40-years-old this year. What's the big deal that these stars have to lie about their age. Everyone ages as long as they live.
STORY SOURCE
SHOCK REPORT: Hip Hop Legend Puts Jay Z ON BLAST . . . Tells Jay Z's REAL AGE . . . You Won't BELIVE HOW OLD Jigga Is!!! (Oh SNAP).
March 22, 2014: Radio personality and hip hop legend STAR - who became FAMOUS for being outrageous on NYC radio just put Jay Z on BLAST. According to him, Jay Z is really 50 years old. And he claims that he SPOKE WITH JIGGA about it . . . and Jigga ADMITTED that was his real age.