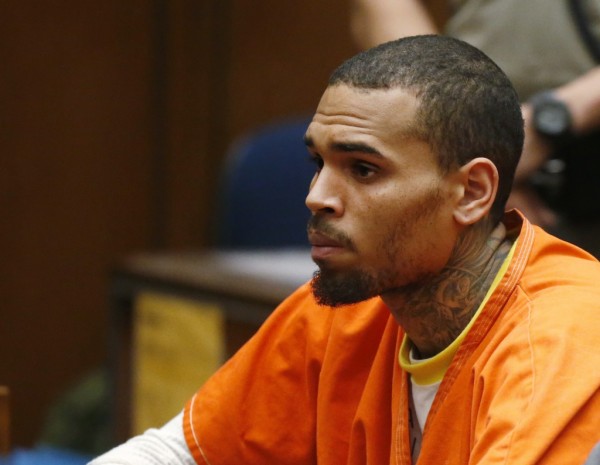 Chris Brown in court on Monday
R&B singer Chris Brown has been placed in solitary confinement for a one month stint in prison, which could be extended if new charges are added to his probation violation case, stemming from the Rihanna domestic violence case. Rihanna is Brown's on and off again girlfriend, who is still very much in love with him.

Brown is segregated from other inmates due to his high profile status, but he is also in solitary confinement 23-hours per day, which is considered mentally draining and difficult. Brown, who is suffering from mental illness, will go stir crazy, especially if he isn't given the correct levels of medication to treat his Bipolar Disorder and Post Traumatic Stress Syndrome.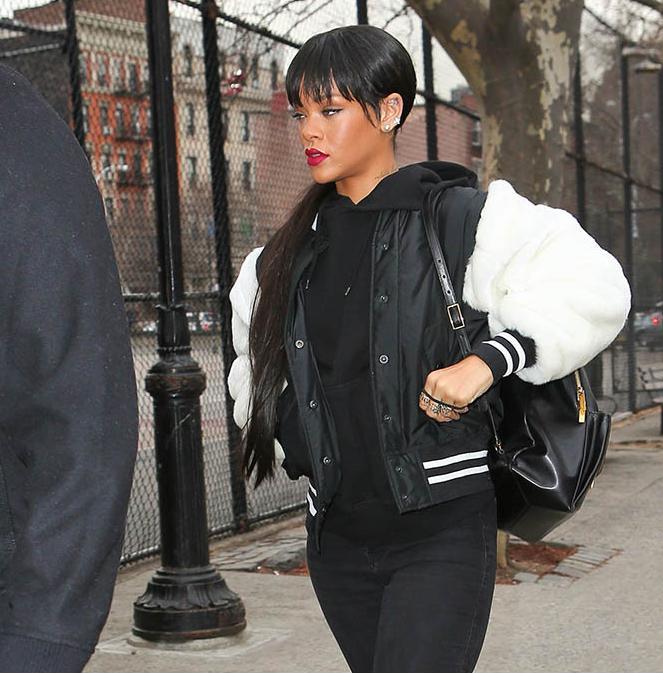 Rihanna was seen looking sad and worse for wear after Brown's arrest
Brown's mother, Joyce Hawkins, was seen crying in court as Judge James Brandlin remanded her son into custody, after he was kicked out of the second rehab facility this year. Some are stating the Malibu rehab facility acted with a double standard. Actress Lindsay Lohan hopped the fence of a rehab treatment center in Malibu, went to a local bar and got drunk and high, then refused to take the drug test. She even assaulted a female rehab worker and didn't spend a day in jail over it.
Refusing to take a drug test in rehab is risky and grounds for expulsion. Rules must be followed closely. This is the best way to successfully complete rehab. However, it became clear the rehab facility was exasperated with Brown and wanted him out, citing three in-house rule violations. The facility blamed Brown's refusal to take the drug test, touching a staffer's elbow when he was ordered to stay 2-feet away from all female staff in the facility and the singer stating, "I am good at using guns and knives" as grounds for his expulsion from the facility and subsequent arrest.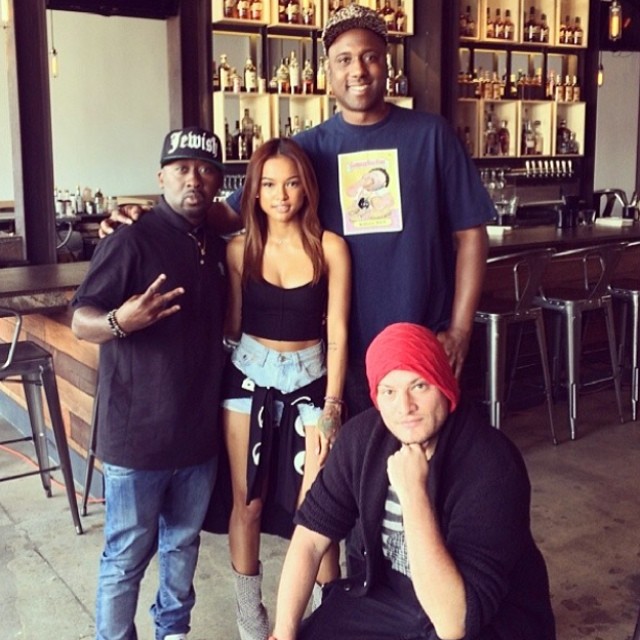 Chris Brown's long suffering girlfriend Karrueche Tran (center)
Brown's pending assault case in Washington, D.C., where he was stalked, photobombed and harassed by a man named Parker Adams, leading to his bodyguard punching the local for trespassing on the singer's tour bus, could result in a probation violation that sends the star to jail for up to 4-years. Brown's lawyer, Mark Geragos, uncovered the fact a police report was changed to state Brown hit Adams. However, a Secret Service agent, who witnessed Parker's statements to police, revealed Adams did not tell police that Brown was the one who hit him.
Brown's attorney may choose to settle the case, in a bid to keep him from spending 4-years in jail. Recently, rapper Kanye West settled a case where he hit a man for telling his Armenian fiancé, Kim Kardashian that she is a "ni**er lover." That was hate speech. West should have played it smart, called the police and had the man arrested for harassment and hate speech, then sued him. Instead West hit him, then reportedly had to issue a six figure settlement to stay out of jail.
STORY SOURCE
Chris Brown -- Jail Stinks, and So Do I
3/18/2014 10:16 AM - Chris Brown will stink... because he's only allowed one shower every two days. According to our sources, Brown -- who will sit in jail until April 23 -- is in solitary confinement 23 hours a day ... which means he won't have a cellmate to disgust with his vile odor. We're told Brown is allowed to work out in his cell and can read library books...