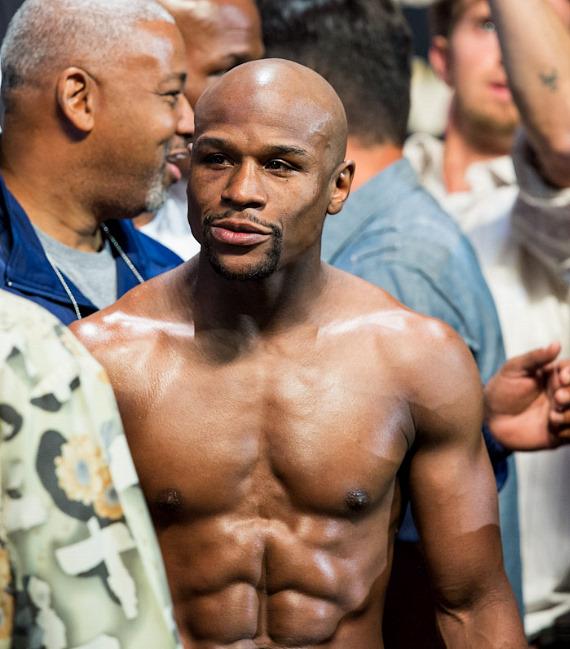 Floyd Mayweather
TMZ is reporting boxing champ Floyd Mayweather, the highest paid athlete in the world, "Allegedly orchestrated a savage attack on two of his employees he suspected of stealing his jewelry." Two men hired to work on Mayweather's Las Vegas mansion in Southern Highlands, were instructed to meet him at "an off-site location."
Mayweather and his crew allegedly beat the men with bats and clubs, inflicting serious bodily injury. The men are stating they were hospitalized with broken legs and arms, among other serious injuries. According to TMZ, the men are denying stealing Mayweather's jewelry and have retained a lawyer. Will this breed trouble for Mayweather's scheduled May 3, 2014 fight against challenger Marcos Maidana.
Previously, Mayweather was jailed for two months in 2012 for beating the mother of his children, Josie Harris, in 2010, after reading her text messages and coming to the conclusion she was cheating on him with a NBA basketball player, who denied it was true. He completed one year of probation after being released from jail. The Judiciary Report previously stated the site is not in favor of what transpired in Harris' beating.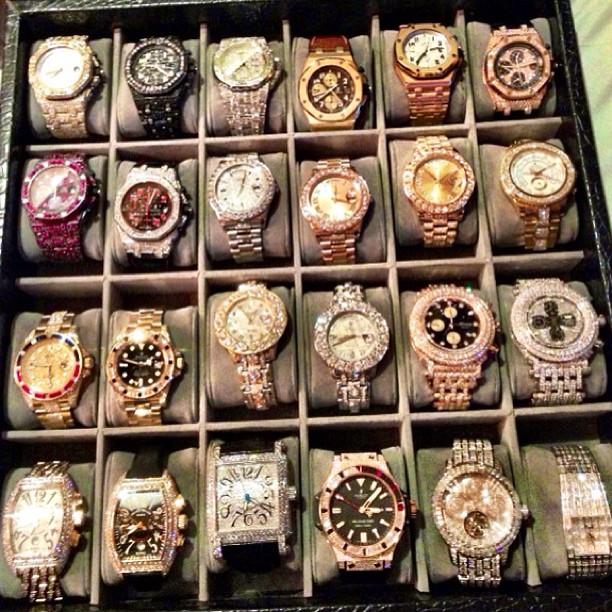 Mayweather's $6,500,000 in watches
In 2012 Melissa Brim, the mother of Mayweather's other child, called police over a "verbal altercation" where the boxer left the home he bought her with one of her possessions. According to the Las Vegas Review Journal, one of Mayweather's associates returned the item and Brim declined to press charges.
In 2001, Mayweather was sued by Brim, who also contacted the police, after he slammed her car door, hitting her in the jaw with it, then repeatedly punched her in the face and body. In a 2003 incident, Mayweather was accused of hitting Brim on the back of the neck at a mall, which prompted her to call mall security.
These incidents are sad, indicating Mayweather has an anger problem that he should seek therapy for, before something worse happens. Here's hoping Mayweather did not do what he is being accused of in this latest incident regarding his two employees, as any alleged thefts should be handled by the authorities. Mayweather has worked very hard to become a successful athlete. It would be regrettable if he lost his freedom for a long time and career.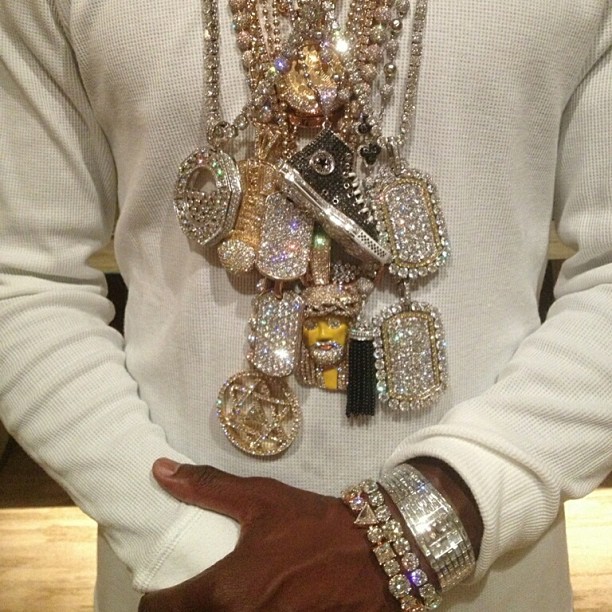 Mayweather wearing some of his jewelry
The Judiciary Report has been emphasizing for months that Mayweather needs to be more conservative with his wealth and possessions (
Mayweather's Money - A Break Down Of His Massive Spending That Could Make Him Broke
). He displays too much on Instagram and Twitter, showcasing multi-million dollar collections of jewelry, cars and leather goods. It will inspire admiration from some, but jealousy and ill-will from others, some of whom could take adverse action against him.
Gold digging women and con artists have recently targeted Mayweather over his wealth and he needs to put a proper risk management plan in place and guard his life and assets more vigilantly. To spend most of your adult life in the ring subjecting one's self to physical injury and training hours per day, only to have a gold digger or con artist take what you've worked for, is regrettable.
Protect yourself. Use the proper legal channels when issues occur. Don't take matters into your own hands. Leave that street mentality behind, because it won't cut it when you're a public figure with significant assets. Surround yourself with better people. Learn from successful CEOs of multi-billion dollar corporations that there is a proper way to handle things to minimize risk and liability to yourself, lest you lose it all.
STORY SOURCE

Floyd Mayweather -- Allegedly Involved in Kidnapping & Brutal Beating ... Over Missing Jewelry
3/12/2014 1:00 AM PDT - Floyd Mayweather allegedly orchestrated a savage attack on two of his employees he suspected of stealing his jewelry ... TMZ has learned. Sources familiar with the situation tell TMZ Sports ... the two men had been hired to work on Floyd's Vegas homes ... but when jewelry went missing, Floyd pointed the finger at them.
We're told the men claim they were contacted several weeks ago and instructed to meet Floyd at an off-site location. When the men arrived, they claim Floyd was waiting for them -- along with a number of his "people" -- who proceeded to beat the living crap out of them with various weapons, including clubs.
Our sources say the attack was so brutal the men could have easily died. Both men had broken arms and legs and were hospitalized for several days... But here's the problem for the champ -- sources familiar with the situation say the attack amounts to attempted murder, mayhem and kidnapping. We're told the men have retained a lawyer.
http://www.tmz.com
Police called to another dispute between Floyd Mayweather Jr. and a woman
September 18, 2012 - 6:47pm - Champion boxer Floyd Mayweather Jr. could be in trouble, again. Las Vegas police last week responded to a 911 call made by a woman who said she was in a "verbal altercation" with the champion boxer. After the argument , Mayweather fled with at least one of the unidentified victim's personal possessions. Police records show the incident happened about 2 a.m. Sept. 9 at 10059 Baystone St., near Southern Highlands, where the boxer lives. Melissa Brim, the mother of Mayweather's daughter, lives at that address, according to public records.
Brim, 32, has had past violent run-ins with the boxer, including two incidents that resulted in Mayweather pleading guilty to two counts of domestic battery in 2002. Officers went to the home, which is owned by a Mayweather company, PMG Sinclair LLC, and found no signs of physical violence, police spokeswoman Laura Meltzer said. A Mayweather associate later returned the victim's possessions, and the victim declined to press charges, Meltzer said. It's unclear whether the incident will affect Mayweather's probation. If he is found to have violated terms of his probation, which includes staying out of trouble, he could go back to jail.
The boxer is serving a year's probation after he pleaded guilty for beating his ex-girlfriend in front of their children in September 2010. Mayweather's attorney, Richard Wright, declined comment. Prosecutors could not be reached for comment. The boxer pleaded guilty in December to domestic battery and no contest to two counts of harassment, all misdemeanors, for assaulting Josie Harris, the mother of three of his children, and threatening his two sons. Mayweather was released from the county jail with time off for good behavior on Aug. 3 after serving two months of a three-month jail sentence in the case...
Mayweather has had two past violent episodes with Brim. The first came in February 2001 when during an argument he swung open a car door, hitting her jaw, pushed her into the car and punched her several times in the face and body, according to a lawsuit she later filed. After the "brutal and unprovoked attack," Brim drove to a convenience store and called police, the lawsuit said.
Five months later, Brim was at the Boulevard Mall with her daughter when Mayweather asked whether his friend could hold the child. After the friend took the girl, Mayweather hit Brim in the neck, her lawsuit said. Mall security called the police, but Mayweather left before they arrived, the lawsuit said. Brim dropped the lawsuit in 2003. Mayweather was charged with two counts of domestic battery. He pleaded guilty in March 2002 to those counts and one count of misdemeanor battery in an unrelated case. Under the plea agreement with prosecutors, the boxer got a suspended six-month jail sentence, a $3,000 fine, 48 hours of community service and two days of house arrest...