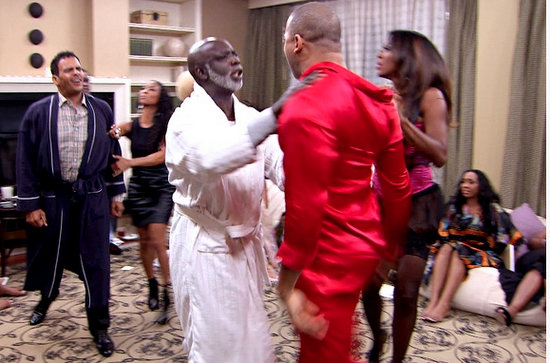 Real Housewives Of Atlanta
Yesterday's episode of the "Real Housewives Of Atlanta" was more like the Real Desperate Housewives Of Atlanta. Fists and elbows were flying during a hotel pajama party that descended into violence. What was supposed to be a friendly get together turned ugly really fast.
Former Miss USA Kenya Moore was confronted by R&B singer Christopher Williams, over telling his woman Natalie that he referred to her as his "common law wife" and "girlfriend" rather than wife. However, based on reports the two really are not married, but it was mean of Moore to confront Natalie in such a manner.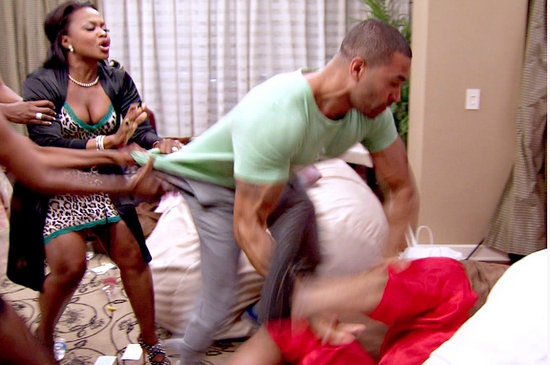 As Williams spoke about Moore's hurtful words, she got up out of her seat and charged towards Natalie. Williams put his hand on her arm in a non-forceful manner. This caused Moore's gay male assistant to jump up and try to attack Williams, who pushed him. Peter and Apollo tried to forcefully restrain Brandon. He fought back directing most of his anger at Apollo, the married object of his friend Kenya's affection. This caused former felon Apollo to snap and beat Brandon, who now reportedly has a broken rib.
Things spiraled out of control in a fight that was avoidable. Ironically, the fight is set to continue in the next episode of the show, as Apollo took his shirt off and reportedly attacked Brandon. Considering Apollo has been indicted on aggravated identity theft charges, he needs no new cases.