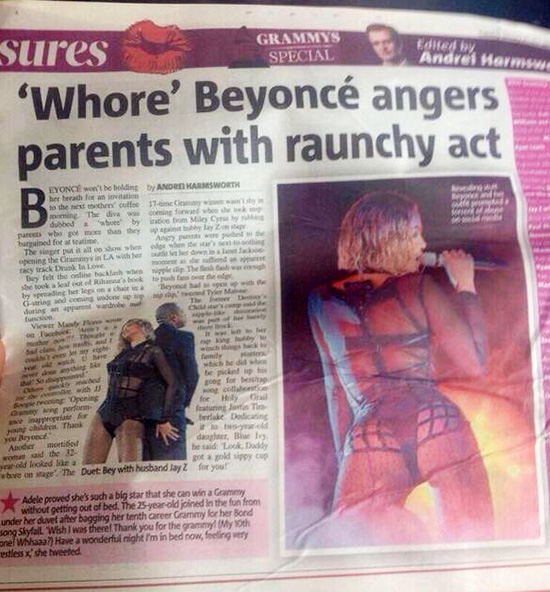 Beyonce slammed in major newspaper
Uh oh! It seems singer Beyonce left very little to the imagination at the Grammy Awards this past Sunday and repulsed viewers in the process, who flooded social networking with comments calling her "nasty" "dirty" "slut" "slore" "desperate" "disgusting" "tacky" "a hot mess" and a "trick" among other insults.
The Metro newspaper in London, read by millions, branded Beyonce a "whore" in its headline, for her performance of the disgraceful song "Drunk In Love" with her husband, rapper, Jay-Z. Beyonce, who stole the look of labelmate Ciara for the performance, tried to dance like a stripper, but was bashed online as "stiff."
Someone tweeted this funny photo comparison
Beyonce also had wardrobe malfunctions of all her private parts, in the ill-fitting see through outfit she wore that was also panned by audiences. Many parents slammed Knowles online for her overtly sexual performance, which occurred early enough in the night for kids to watch it.
People did not want their children to be exposed to the couple's lewd performance, rejected by many as a publicity stunt (while Jay-Z cheats on her left, right and center). Beyonce is desperate for sales and publicity, two of which have slowed down significantly. However, this was not the way to get it. Furthermore, the music should do the talking, not your butt (and other private parts).
STORY SOURCE