The celebratory memorial service for the late South African President, Nelson Mandela, was beautiful and rousing. However, it also had its moments of comedy, such as President Obama seemingly getting into trouble with First Lady Michelle Obama for getting to playful with Danish Prime Minister Helle Thorning-Schmidt during a "selfie." Mandela had a great sense of humor during speeches and in interviews and would have appreciated the jovial tone of the event. To survive difficult times, one benefits from a sense of humor to lift one's spirits.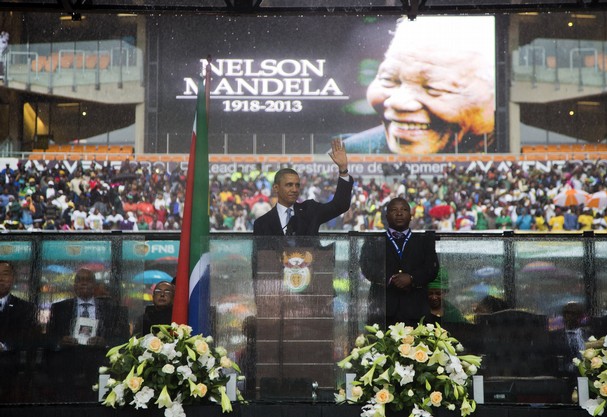 U.S. President Barack Obama at Nelson Mandela memorial
However, a new controversy has arisen, as it has been revealed the sign language interpreter who stood on stage with President Obama, among others, was signing pure foolishness no one knew. After the funeral deaf people began to complain that he is making up words (Yes, this man is the Chief Keef of the sign language world - I'm kidding). You know, deaf folks watching him must have thought they were going blind too when the alleged sign language he was using didn't make any sense (just kidding).