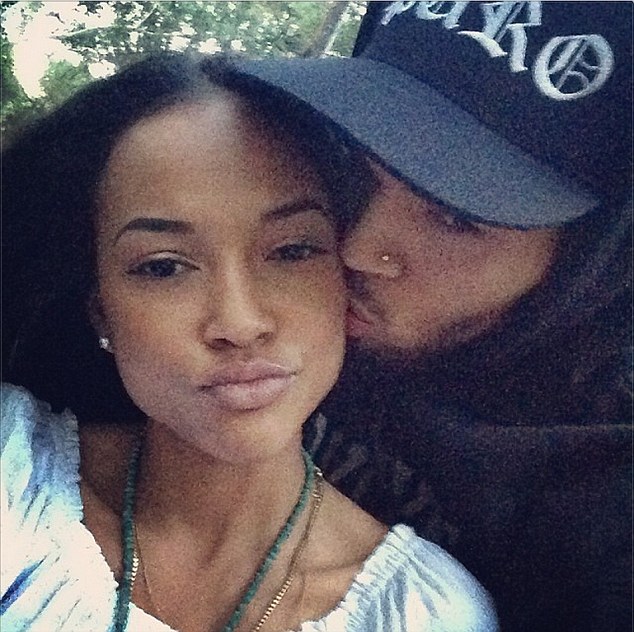 Karrueche Tran and Chris Brown
R&B singer Chris Brown and his sweetheart, model, Karrueche Tran, posted a loving photo of themselves embracing as he kisses her on the cheek, wishing their fans a Merry Christmas. Shortly after, Brown's on-and-off girlfriend, Rihanna posted a photo of herself looking devastated, teary eyed and rough.
It's no secret Rihanna has never gotten over the Brown, even bawling to talk show host Oprah Winfrey during an interview, proclaiming how much she loves him, labeling the star the love of her life. She keeps up with everything he does and incessantly inquires after him in the industry.
Last Christmas, Rihanna flew from her native Barbados to be with Brown, when he decided he was not going to spend the holiday with the singer and her family, opting to stay in Los Angeles to be near Karrueche. Rihanna was pictured crying outside the bathroom at LAX, as she rushed to Brown's side. She even invited him to a Los Angeles Lakers basketball game, for a high profile photo-op, designed to crush Karrueche's heart. Tran then posted a photo of herself in Brown's shirt.
Rihanna
This Christmas, pardon the pun, it came back to Rihanna when Brown and Tran released the above posted photo of them in a loving embrace, as a public affirmation they are very much in love and together. Rihanna's fans are always sending hateful, vicious, insult laden messages to Tran on Twitter and Instagram. They often taunt Tran that she's been dumped. The latest photo has silenced those rumors.
Tran and Brown look happy. People should leave them be (that includes you Rihanna). Stop trying to pry this man from Tran. It doesn't look good. Nobody is forcing him to be with her. That's his choice. All the time you've spent obsessing over Tran and Brown has made you an angry, bitter person bent on revenge.
Rihanna getting Tran barred from the club last week in New York, is further proof of what the Judiciary Report has stated all along - she's very mean behind the scenes. Rihanna needs to stop embarrassing her fans, who don't know the real Rihanna, via inciting them to attack Tran online, while Rihanna does shady stuff behind the scenes to innocent people. When the full truth comes out about all Rihanna's cruel conduct known to some in the industry, her fans will come to the inevitable, undeniable conclusion that she has played them for fools.