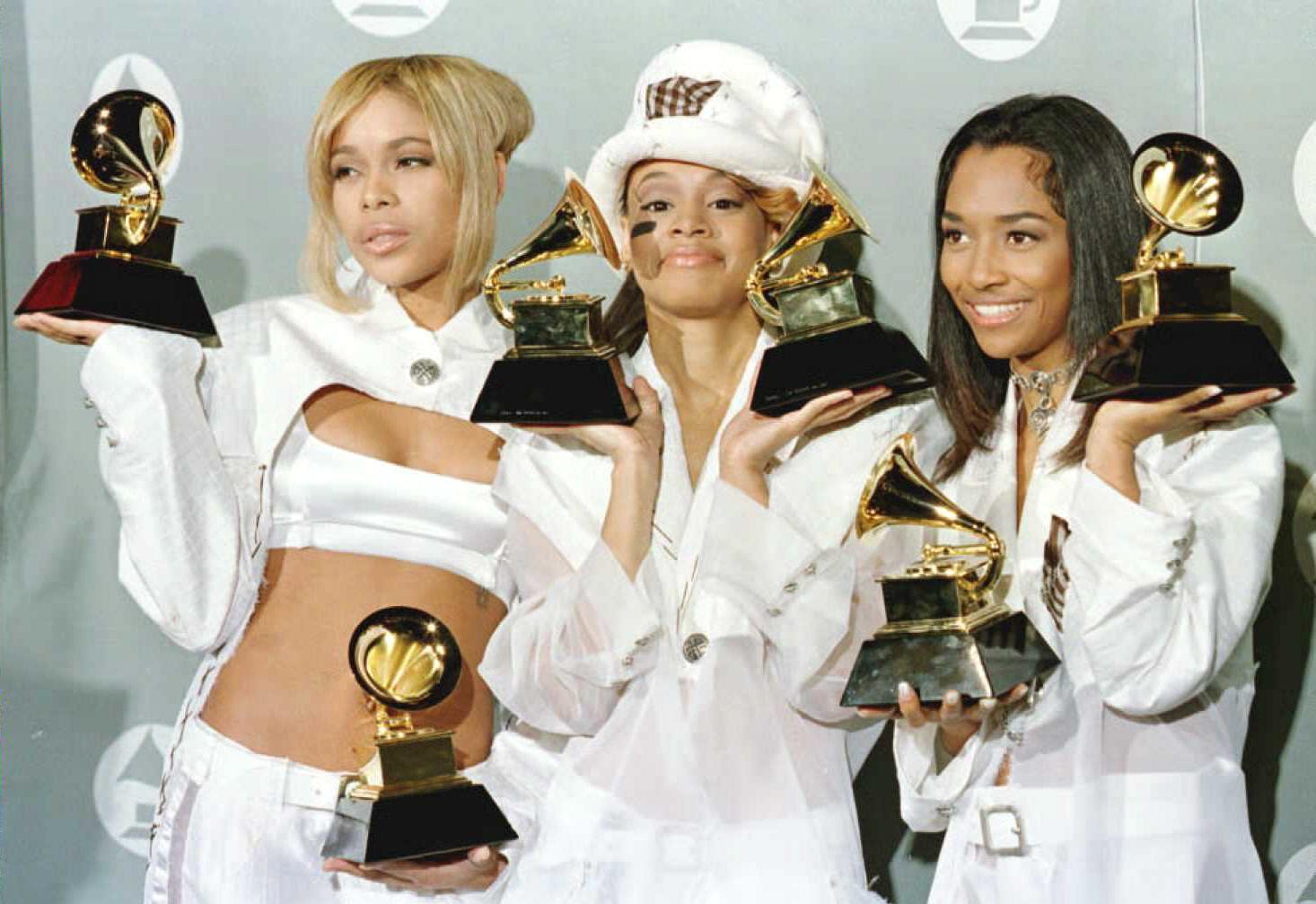 TLC
TLC's "CrazySexyCool" biopic drew an estimated 4.5 million viewers last night, in a solid ratings showing for network VH-1. TLC stated the biopic is true and their side of the story, but today many key players in their tale are stating it was full of lies, embellishments and omissions.
For example, Crystal Jones, the original member of TLC, negatively portrayed in the film as someone who couldn't sing or dance and was kicked out after an audition for Laface Records' CEO, L.A. Reid and his wife, singer, Pebbles, who signed and managed the group, states that is not what transpired.
Jones did an interview with the V103 radio station in Atlanta, Georgia yesterday morning stating she was in the group for a period of time, which occurred after Pebbles audition her and Tionne "T-Boz" Watkins, as well as Lisa "Left Eye" Lopes at a studio in Atlanta, not the Laface offices, as the movie portrayed (see link below for radio station interview).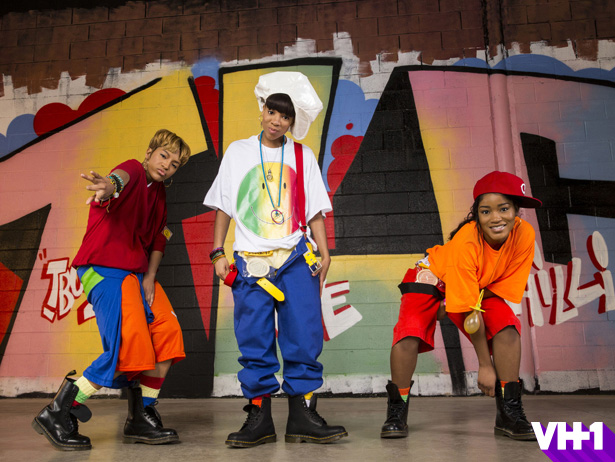 TLC biopic
Jones stated they would have dinner at Pebbles and L.A. Reid's mansion and go through magazines with the platinum selling singer turned music manager, trying to put together a look for the new group. Jones states she, Watkins and Lopes were already signed to management contract with a local man named Ian Burke, who also made an appearance on the radio show, but Pebbles and Reid got them out of the legal agreement.
Jones stated when they went to a meeting to sign with Pebbles' company Pebbitone, she asked that it be postponed to furnish her with time to take the contract home to her mother to look it over, as she did not understand what they were signing. Jones stated Pebbles said, "Absolutely not" and with that she was out of the group.
Jones must have felt bad to watch them go on to fame, but she opted not to sign the contracts which were "standard" as the Judiciary Report stated prior to the release of the movie, which was also confirmed in the film as the term "standard" was used in the biopic to describe the legal agreement.
Most new artists receive a standard management and then recording contract. The royalty rate is average and the terms totally stacked in favor of the record label, production or management company. Once the first CD is a hit, artists have leverage to renegotiate better terms, such as a higher royalty rate and bigger financial advances to make projects.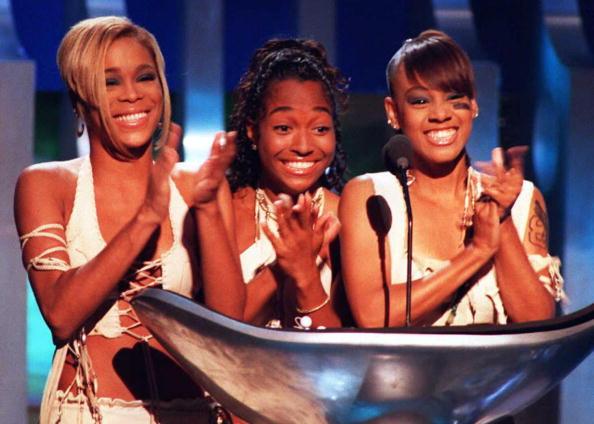 TLC during their CrazySexyCool days
Many artists only spend a certain amount of their advance to make the record, while keeping the rest for themselves. One of my friends, who is a rapper, used some of his advance to buy a house. He's one of the smarter ones. Some rappers use the left over money from their advance to buy jewelry, diamond studded grills (to go over their teeth) or expensive cars that quickly depreciate. But back to the movie...
The fact of the matter is when Pebbles need a replacement for Jones, her cheating, deceitful husband, L.A. Reid, unbeknownst to her at the time, brought his mistress to her, Rozanda Thomas who became "Chilli." Thomas was a back-up dancer for Laface's first group Damian Dame, who had the hits "Exclusivity" and "Right Down To It." The main reason L.A., the most vocally opposed to Jones wanted her out, was to get his mistress "Chilli" in, who he had made promises to regarding what he could do for her in exchange for sex. With her in TLC, she'd be even closer by for their sexual fling.
All of this was conveniently left out of the movie, because Chilli and L.A. Reid had a hand in making the film. They were onset as consultants. That was a nasty thing for Reid to do to the mother of his child. For Chilli to pretend she is this angel cheated on by Austin, when she was sleeping with him and other industry men, some of them married, in trying to become famous, was wrong and hypocritical.
For Chilli to do promo rounds last week trying to stir up controversy for the film in order to get viewers, dissing people with mean digs and that fake laugh, while pretending she was a victim of Pebbles picking on her, when she was sleeping with the woman's husband, is foul and fake.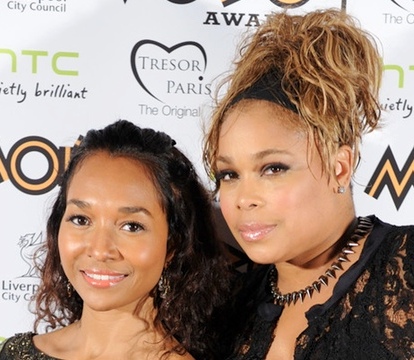 TLC today
What woman in her right mind would be happy about another woman secretly sleeping with her husband, while she's investing time and money in said person becoming a star. That was a betrayal. Unless Chilli is going to tell the truth, she needs to be quiet. Ironically, when it came back to Chilli with Dallas Austin, then Usher cheating on her, she couldn't take it. She became angry and slammed them.
Other players left out of the film are Jermaine Dupri and Rico Wade, two producers who became big at the time and aided with TLC's look and sound, molding them after the hit male R&B trio BBD. TLC owes a lot to BBD, as that's who they are based on. They were BBD clones.
Anybody in the industry, especially in the South, who knows the truth about TLC's story knows the film is not entirely truthful. Some of it is true, but some of it is not. Pebbles money, connections, experience and tutelage got TLC out there. She even named the group. Without her there would have been no TLC. LaFace and Arista's market share granted the group extensive promotion, marketing and access to radio and television. Without them there would have been no TLC. People like Chilli trying to diminish these facts stating destiny created the group is illogical.
However, the Judiciary Report concedes, TLC should not have been broke, but due to the standard contracts they initially had, then leaving Pebbles and racking up massive debts with LaFace and Arista via ridiculously high production budgets for songs and videos, with a new, slightly above average royalty rate, they were bound to be bankrupt.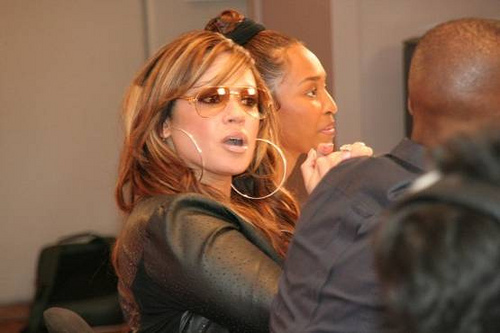 Pebbles and Chilli recently, shortly before the release of the TLC biopic, working together on an Essence talent search program.
They can't blame all of this on Pebbles. LaFace and Arista are the biggest culprits, who took most of the money. Even after the girls learned the industry for their second album, had their own legal representation and new management, they were still spending too much money on projects and it bankrupted them.
To have one video alone cost $2,000,000 to $3,000,000 ("Waterfalls") meant you would hit financial trouble, as that is coming off the top of your profits, as money the record companies loaned you that must first be repaid before you the artist sees a dime. Add another $5,000,000 for producing an entire CD made by top producers and songwriters, 4 more expensive videos, promotion, marketing, travel costs, lawyers and managers and you're bankrupt. That's what happened.
To tell the story and omit key players and facts was not wise, as it affects credibility. To lie and embellish aspects of a biopic of all things, for television also calls one's integrity into question. One cannot use creative or poetic license in a biopic. Then it becomes a fictionalized lie.
STORY SOURCE