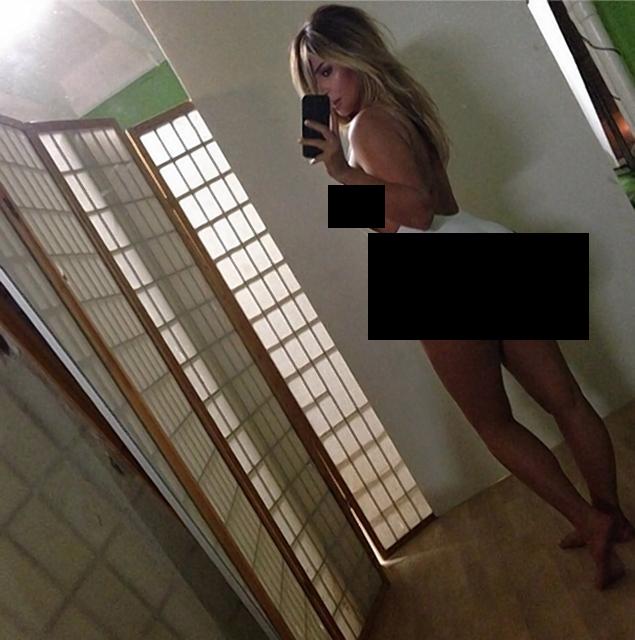 Kim Kardashian (Photo redacted by the Judiciary Report). I don't need to see her butt first thing in the morning or any other time of day. Really, none of my business.
Reality star Kim Kardashian posted what is known as a "selfie" photo to Instagram (a photo of one's self), revealing most of her behind and was roundly criticized for it by the public. Kardashian, 32, who just gave birth to baby North West, sired by trouble prone rapper, Kanye West, 36, was slammed by fans as an attention seeking insecure woman, who is engaging in conduct not befitting a mother.
Kardashian has no musical ability or talent for acting and seeks relevancy in the entertainment industry the only way she knows how, exploiting her body, which most do not deem respectable conduct. The message online has basically been put your clothes on and go take care of your baby. And a beautiful little baby she is.
The Kardashians are doing way too much for publicity in bids at saving their show "Keeping Up With The Kardashians" which has fallen in the ratings. Kris and Bruce Jenner separated for publicity, while she floats rumors he is a transvestite. Jenner was an Olympian. The man deserves more than someone trying to air his alleged secrets. Then there's the Jenners' underage daughters, Kendall and Kylie, going to a sex club in Los Angeles and leaving looking drunk. The club is now under investigation as the underage minors were not allowed to be in the club in conduct that violated the law.
Now Kardashian is baring most of her behind for attention and getting bashed for it. None of this is good publicity. It's not going to help the show's ratings return to what it once was at the height of their popularity. It's only breeding intense scrutiny and public disfavor.
This family is so in need of an image consultant. Kris Jenner is not a professional. She is a stage mom, who walked right into the minefield that is Hollywood (she even tanked Lamar Odom and Kris Humphries and they are athletes). The Kardashians would not be in this mess if Jenner hadn't done so many money hungry deals that destroyed their brand. A true pro in management knows what offers to take to bring in revenues and what to turn down for the sake of longevity and preserving a name. She took just about everything and they ended up severely overexposed.