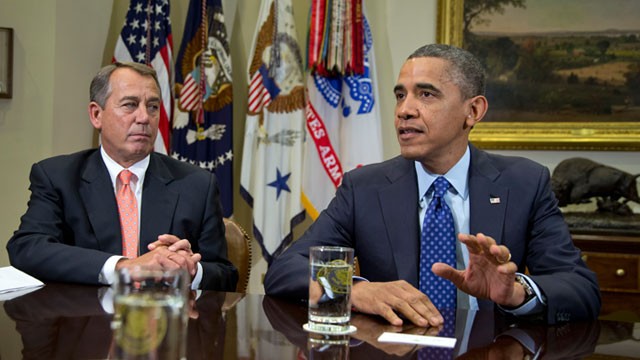 Head of the Republican Party, Senator John Boehner and leader of the Democrat Party, President Barack Obama
The current U.S. government shutdown has greatly displeased the American people, so much so President Obama's approval ratings have dropped 10 points to 37% and Congress took the biggest hit, falling to 5%. Congressional fights over
ObamaCare
, President Obama's health care program that began a rollout this month, is the center of the debate.
Can't blame people for being upset with the government, can you. The shutdown never should have happened. The massive number of furloughed government workers during tough financial times is inexcusable. The government is playing with people's pay and to very adverse effects, in conduct that needs to stop. It is punishing the people because both sides can't agree.
STORY SOURCE
Shutdown Fallout: Obama Approval Rating Slides to 37 Percent
Oct 09, 2013 - A senior White House official told the Wall Street Journal that the administration doesn't really care when the shutdown ends because they're "winning" the PR fight against the GOP. While it's true that Republicans are absorbing more blame than Democrats for the dysfunction, the gap isn't especially wide, especially compared to the 1995 rout. Plus, voters are heaping opprobrium upon all parties involved in the squabble; most people are insisting on compromise -- which isn't helpful to Obama's "no negotiations" stance. The White House must ask itself if the president may be"winning" in relative terms, but losing in absolute terms.
A new Associated Press poll shows Congressional approval at five (!) percent, which is almost within the margin of error. The American people, needless to say, are disgusted by the spectacle playing out on Capitol Hill. Despite his efforts to play the role of an above-the-fray, frustrated bystander, Obama is also taking a hit from this mess. As well he should. Between his atrocious leadership on shutdown talks, which he's single-handedly blocked, and the ongoing Obamacare meltdown, Obama's overall job approval has sunk to 37 percent. For perspective, as he prepared to leave office in January of 2009, President Bush's approval rating was 34 percent. This ain't pretty...