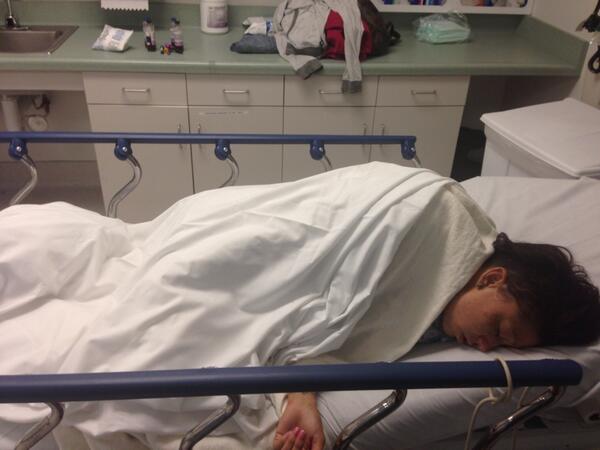 Porn star Cameron Bay in the hospital prior to finding out she has HIV
Three porn stars in California have tested positive for HIV. Female porn star Cameron Bay, 29, came forward to confirm her test results, after speculation began online regarding her health status. Bay's boyfriend, a male porn star, who goes by the name Rod Daily, also tested positive for HIV. Cameron stated Daily does straight and gay pornographic films.
A third as yet unnamed porn star connected to Bay has tested positive as well. The porn industry is fearing an outbreak, as most of their sex performers have had sexual intercourse with each other. The aforementioned positive HIV tests have resulted in a shutdown in the porn industry, based in the San Fernando Valley, a section of Los Angeles, California.
Cameron was said to have contracted HIV in July 2013. By her own admission she had sex with dozens of porn stars around that time. However, months prior she fell ill twice and was hospitalized in incidents that indicate her immune system had been severely weakened for her to become so sick that rapidly with coughing, chills, fever and diarrhea. Many HIV patients experience this, especially the diarrhea in tandem with the other flu symptoms. The photo I found of her in the hospital prior to her diagnosis did not look like someone with the standard cold. It had the appearance of something more serious. Therefore, her timeline could be off regarding when she was infected.
It is sad they have contracted HIV, but the risks for them as porn stars was far greater than average, due to their lifestyle of having unprotected sex with so many partners on a regular basis. Even with protected sex, studies have indicated condoms have a 36% failure rate. It's not totally safe. You are still taking a risk. The risks are greater in the gay community, which based on stats, is more promiscuous.
The more sex partners one has the greater chances of contracting STDS. Outside of HIV, there are other incurable STDS that damage the bodies organs and create skin outbreaks that are very unpleasant for sufferers to deal with. Sexual promiscuity has a price.
Pop culture via Hollywood has tried to glamorize the porn industry, but it has created addictions and led to risky sexual behavior by impressionable people. It has turned a number of teens into rapists and minors into perpetrators of sexual assault. Underage girls and boys have become sexually active in trying to be like porn stars on the internet, engaging in risky sexual conduct.
This week, I saw a documentary on You Tube regarding the porn industry by a Christian ministry,
www.P4CM.com
, which featured an ex-porn star, Danielle Williams, who stated the entire culture is deceptive. Men and women are given a false standard and perception due to the porn industry, regarding looks and sexual performance. She stated men who make porn films are given meds by the production crew. Translation - they pop Viagra on set all day. This is dangerous, as it damages the heart and eyesight. Studies have been done which reveal, Viagra has created blindness in a percentage of its users.
Popping Viagra all day is not a good idea. The more the drug is taken on a regular basis exceeding dosage recommendations, it will result in adverse health effects. Scientifically speaking, sex involves the heart pumping blood at an increased rate. Overworking the heart muscle beyond normal limits in tandem with a strong drug in one's bloodstream is detrimental to one's health.