Some of Gucci Mane's Twitter rant
Rapper Gucci Mane, who was arrested two years ago for picking up a woman at an Atlanta mall, whom he'd just met, then throwing her out of his moving car for refusing to have sex with him, went on a Twitter rant yesterday making claims about a number of celebrities.
Gucci Mane stated on Twitter he's had sex with female entertainers Nicki Minaj, Keyshia Cole, Fantasia, Ciara, Mya, Monica and Kelly Rowland of Destiny's Child. He also states he and fellow rapper Waka Flocka had a threesome with a woman named Black Chyna, who is the mother of fellow rapper Tyga's child. Ironically, Waka Flocka made the same claims about singer/actress Selena Gomez (
Rapper Waka Flocka's Crew Are Saying They 'Ran A Train' On Selena Gomez
).
What should concern the women he has allegedly slept with is Mane states he has compromising pics of them he is willing to sell. Mane reserved his worst treatment for Nicki Minaj, stating he knew her when she was broke, she used to sleep in his car, he put her up in a $50 per night motel, then help her to get an apartment, all in exchange for having sex with him. Now he's insulting her as a "fake" and a "h*e" with a silicone butt.
Some even posted a graphic nude photo of a woman, who appears to be Minaj before she became famous, in a snap she does not seem to realize was being taken. There is another photo on Twitter that shows Minaj fully clothed posing with Mane and another man.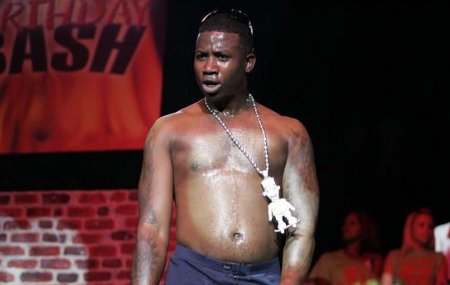 Gucci Mane
Mane also propositions newbie female rapper Iggy Azalea on Twitter, asking her if she would like to perform oral sex on him. She declined in a response that slammed him. Mane also slams rapper TI's wife Tiny as "ugly" but states he wants to have sex with her.
The most offensive of all his tweets was to producer Polow Da Don, who is known in industry circles for being a thief. What offended me is what he stated to him, "Polow d don f*c yo mother wit an Aids di*k." Some continue to stigmatize HIV and AIDS sufferers in society, making light of their pain and it is offensive. Just stop!
Mane's entire Twitter feed has become a sewer and what's alarming is some men are encouraging his behavior via responses applauding the misogyny and degradation of women. Even if any or all of the women he named did have sex with him, why did he feel the need to broadcast it to the world and in such crude terms. Why did he have to degrade them in such a manner, as that wasn't even a kiss and tell, it was a graphic recounting of explicit sex acts that was not the public's business.
After negative criticism online, Mane is claiming he was hacked, but some don't believe him. This is right up his alley and that of Waka Flocka.