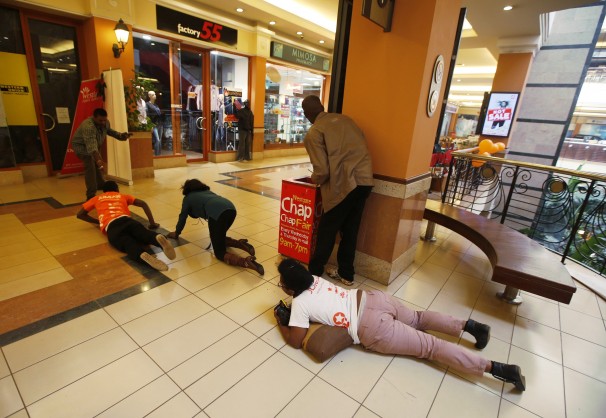 Westgate Mall in Kenya
Yesterday, Reuters stated the al Shabaab terrorist siege at the Westgate mall in Nairobi, Kenya was concluding as the military reported having the shopping complex under control. However, a group of bumptious terrorists joined Twitter and sent out tweets, as well as separate emails to the press proclaiming otherwise, stating they were still in the mall holding hostages and some of their "mujahadeen" had escaped the mall and are loose in Nairobi.
The attack is unconscionable and reprehensible. It does not provoke sympathy for the terrorists. 68 innocent people going about their business were brutally killed. A person was seen rushing a child out of the mall in a shopping cart, who appeared to be dead. Shoppers of all ages laid out on the ground, covered in blood, killed by terrorists' bullets.
The terrorists killed people from not only Kenya, but several other nations as well, as Westgate is a popular tourist attraction in Nairobi. The terrorists will never be able to complain again about their alleged plight, after the horrible pictures of the innocents they killed, were released to the public. The next time the U.S. government sends drones and bombs you (terrorists) don't say squat.
STORY SOURCE
Kenya says all hostages freed in al Shabaab mall siege
NAIROBI | Mon Sep 23, 2013 8:49pm EDT - (Reuters) - Kenya said its security forces had taken control of the Nairobi shopping mall where Islamist fighters killed at least 62 people, and that police were doing a final sweep of shops early Tuesday after the last of the hostages had been rescued.
There was an eerie silence outside the mall after a day in which gunfire and explosions were heard in the Westgate mall. A trickle of survivors escaped the building throughout the day on Monday, but the fate of people listed as missing was unclear. Somalia's al Qaeda-linked al Shabaab group has claimed responsibility for the attack, which began at lunchtime on Saturday. Kenyan officials say there were 10 to 15 attackers.
President Barack Obama offered U.S. support, saying he believed Kenya - the scene of one of al Qaeda's first major attacks, in 1998, and a neighbor of chaotic Somalia - would continue to be a regional pillar of stability...