NOTE: This article has been repeatedly hacked and deleted from the internet by Madonna's Kabbalah Center hacker. I will work to keep putting it back online each time it is unlawfully hacked and removed.
Murdoch In The Midst Of Newspaper Sell Off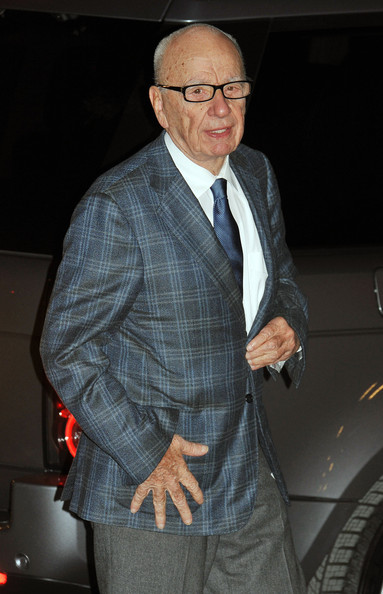 [Article background: this is another in the series of phone hacking articles the Judiciary Report has published, regarding a scandal I broke first in October 2005, via a police complaint I filed with the Metropolitan Police in London, England. 90 people have been arrested by the Metropolitan Police since the time I filed the complaint. However, the Murdochs and other key conspirators remain free and the FBI has not arrested anyone, though the crimes began and continue in News Corp's New York headquarters]
Daniel Evans, 37, a former employee of Rupert Murdoch's News Corp, who worked for the now defunct newspaper News Of The World, has been hit with four charges in relation to the phone hacking scandal and bribery of public officials. He is the first journalist to be charged with offenses in the case and one of many who has been arrested.
Gregor McGill a lawyer for the Crown Prosecution Service in Britain stated to the press, "We have concluded that there is sufficient evidence, and it is in the public interest, to charge Daniel Evans with four offences in connection with the phone hacking investigations."
In other News Corp developments, Murdoch has sold off 33 newspapers in America, under a company split, which will not solve his problems. Shareholders have also renewed calls for him to step down, due to all the bad publicity emanating from the phone hacking scandal.
Murdoch has refused to leave, though his presence has damaged the company and tarnished the brand, with recent revelations confirming the claims the Judiciary Report made from the outset:
Metropolitan Police Formally Demands Secret Tape Of Rupert Murdoch Admitting Guilt In Bribery And Phone Hacking Scandal
.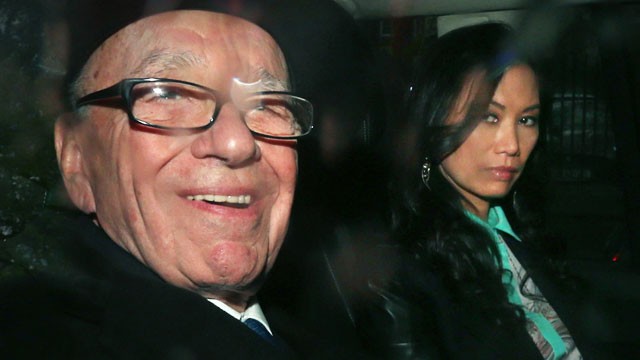 Rupert Murdoch and Wendi. Look at her giving him side eye. Now she wants a new lawyer for fear Murdoch has corrupted opposing counsel. You were fine with him phone hacking and robbing everybody in shady business deals and illegal corporate takeovers (not to mention outright theft of intellectual property via admitted hacking). Now that you're on the receiving end of the mistreatment you're upset.
The fact of the matter is if I had been lying about Murdoch at any time, especially on a platform online, my sites, that reaches millions, he could have sued me for defamation and libel. However, by the grace of God, time has revealed my allegations to be true and there's more to come...
Ironically, this man even defamed me on the Fox News site when I began uncovering his criminal conduct online and reporting his company and Kabbalah cohort Madonna to the police (as stated above I was the first to file a formal complaint about phone hacking and going public with it in 2005).
However, when I started writing about them and it took off, they started sending people up to me in public on the streets of Miami to demand I stop. They also began having people email me telling ordering me to take items down from the sites. What a bunch of hypocrites. Murdoch routinely defames people in his papers and Madonna is always arranging interviews where she talks pure crap, yet they are trying to deny me my right to free speech. They can dish it but can't take it.
I was informed Murdoch hates it when I write about his marriages, as I have been very facetious. However, this man has caused me and my family so much distress. We're enemies. What was he expecting, that I wasn't going to fight back or saying anything. Comedy is my writing tool of choice.
He's in his 80, married to a 43-year-old woman half his age, who only said yes because of his money and connections, but he convinced himself it's because he (allegedly) looks like Hugh Jackman or one of the Hemsworth Brothers and he really thought I wasn't going to write something about that. Now, had he been charming or looked like an older Paul Newman, people would have believed she married Murdoch for love. I think that kind of lack of self awareness is hysterical.
STORY SOURCE
Man charged with four offences related to phone hacking
12:09pm, Tue 3 Sep 2013 - A man has been charged with four offences in connection with the phone hacking investigations, the Crown Prosecution Service has announced. Senior lawyer Gregor McGill said Daniel Evans will appear before Westminster Magistrates' Court on 4 September 2013…
Corp shareholders renew call for Rupert Murdoch to step down - Dissident shareholders file resolution calling for appointment of independent chairman
Wednesday 8 May 2013 13.54 EDT - A resolution has been filed by News Corp shareholders in the US, UK and Canada calling for Rupert Murdoch to step down. Dissident shareholders are pressing once more for media mogul Rupert Murdoch to step down as chairman of News Corporation.
Shareholders from the US, UK and Canada filed a resolution on Tuesday calling for News Corp to appoint an independent chairman. A similar resolution attracted strong support at the media company's annual shareholder meeting last year.
The proposal was introduced by Christian Brothers Investment Services (CBIS), which manages $4.6bn for Catholic institutions worldwide. It is backed by the UK's Local Authority Pension Fund Forum, with assets of £115bn ($178.9bn), and British Columbia Investment Management Corporation, one of Canada's largest institutional investors...