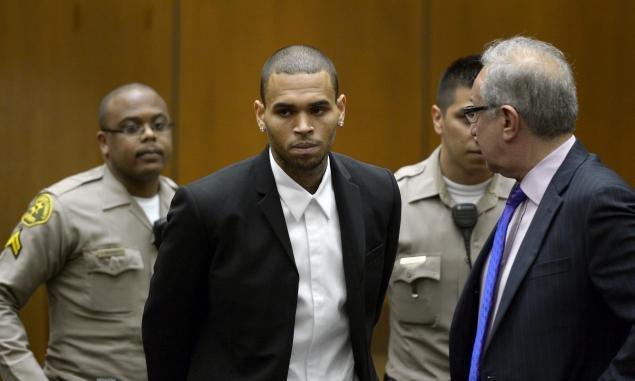 Chris Brown (center) and lawyer Mark Geragos (far right) in court last week
After public pressure and sponsors withdrawing their financial backing, the concerts R&B singer Chris Brown was scheduled to headline in Canada have been cancelled. Promoter Drop Entertainment Group bowed to pressure, due to Brown's 2009 domestic violence incident with on-and-off again girlfriend Rihanna, which resulted in his arrest and being sentenced to 5-years probation.
The planned concerts would have netted Brown at least $200,000 in income for concert performance fees. Previously, Brown lost millions of dollars in lucrative endorsements over the incident that has come back to hurt his career again four years later.
STORY SOURCE

Chris Brown concerts cancelled in Canada
TORONTO (AP) — The promoter of four Chris Brown concerts in Canada scheduled this summer says the events have been cancelled. Stephen Tobin, owner of Drop Entertainment Group, said Monday that the decision was made after consulting with Brown and in light of his recent personal and health-related issues. The R&B star had his probation reinstated Friday after he was involved in an alleged hit-and-run accident. The hit-and-run charge was dismissed earlier. Brown also suffered a seizure earlier this month...